Top 10 Web Development Companies August 2020
A Website development company on your mind? Well, while you may find hundreds of Web development companies in your very own neighborhood, developing a Website requires much more from your technological partner. Hence, you must look for the right Web development companies in the right places.
The one and only option is going through the listing on our directory Top App Creators is a platform devoted to finding out the best Website development companies.
The online platform scours the market to find the Top Ten Website development companies in each category. That is why Top App Creators has become the one-stop search platform for several brands looking for the best in class Website development companies around the world.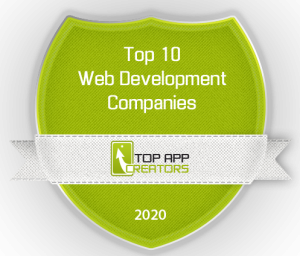 1.Systematix:
At Systematix, we believe in building applications that help companies lead the way forward. Since 2005, we have delivered over a thousand projects to our customers across the US, UK, Australia, Dubai, and Singapore.
As the name suggests, we are inspired to approach any development project systematically providing transparency and clarity to the customer in execution. With over 250+ resources across a spectrum of advanced technologies, we are geared to be a full-stack technology partner in your growth journey. 
We offer you the flexibility of various engagement models to suit your business need. We are a CMMI Level 3 appraised, ISO 9001:2015 certified, Nasscom, and CRISIL Member Company having below certifications & achievements.
Hourly Rate: < $25/hr

No. of Employees: 250 – 999

Founded In: 2005

Location: United States, India
2.Apps Maven:
Apps Maven is a leading IT Company dealing in innovative and subtle mobile apps, websites, games along with graphic designing, web designing, marketing, and SEO solutions.
We are a team of highly talented and dedicated professionals who are exceptionally versatile to turn your ideas and vision into digital reality.
Longing to craft winning experiences for our clients, we tend to provide optimal and satisfactory solutions to all of them. With our unique strategies, customized approach to the projects and excellent technical skills have helped us to stand out in delivering the right fit solutions helping businesses thrive and implementing futuristic technologies.
Our work has a separate gist by going headlong into the business model, the challenges of the market, and the positioning of the product. We hold the capacity to provide world-class user-experience to our customers and serving them with utmost credibility for perpetuity.
Hourly Rate: < $25 / hr

No. of Employees: 50 – 249

Founded In: 2014

Location: India
Dot Com Infoway is a globally recognized app development and marketing company. We manage all your IT, development, and marketing needs, so you can just focus on your core business.
Dot Com Infoway's services start right from the concept stage to span business consultation, market research, product development, multi-platform marketing and spreads through server and customer support activities. 
With over 20+ years of industry experience in IT, we know exactly what it takes to create an engaging application that connects with the hearts and minds of your audience. We have expertise in developing apps across platforms, including Android, iOS, and Windows. We also design high-performing enterprise apps to streamline operations and optimize the supply chain for businesses.
Dot Com Infoway has been a leader in creating user-centric, functional business & marketing solutions ever since 2000. We serve B2B & B2C companies with the aid of our multi-channel approach and focus on delivering outstanding results. Our internet marketing services deliver exceptional outcomes & exceed expectations.
We provide a consulting session, during which we will do a quick audit of the various aspects of your online presence and let you know how digital marketing can help you boost your business.
App marketing is another domain that we specialize in. Our mobile app marketing service team delivers robust app marketing strategies to make your app reach billions of users and offer high returns on your marketing spend. 
Hourly Rate: < $25 / hr

No. of Employees: 50 – 249

Founded In: 2000

Location: India
From 2006 we have been doing what we love and doing it the best way. We are Startup Launching Base regularly establishing successful tech products. Our team of ambitious and talented people is good at hot Idea Pitching, designing rapidly-launched MVPs, and developing efficient FFPs. We cultivate a high quality of services and deadlines.
Hourly Rate: $25 – $49/hr

No. of Employees: 50 – 249

Founded In: 2006

Location: United States, Ukraine
The Software House is a custom application development company from Poland established in 2012. We help CTOs, Product Owners and entire businesses get their software products done on time.
✔ BATTLE-TESTED TECHNOLOGIES
future-proof web development using Symfony, Node.js, React, Angular, Vue
modern mobile development: iOS, Android and React Native
✔ COMPLETE DEVELOPMENT TEAMS
140 engineers working under one roof
creators of Kakunin, an open-source E2E testing framework loved by developers
speakers at the biggest tech meetups in Poland
✔ RELIABLE AGILE PROCESS
150+ projects delivered + business-oriented project managers
mechanisms for an efficient timeline & budget control
tools for effective communication: Jira, Slack, Basecamp
✔ CUTTING-EDGE DEVOPS SERVICES
independent DevOps special forces and scalable & secure architecture made with Docker, Jenkins, and Kubernetes
cloud hosting on Amazon Web Services and Google Cloud Storage
✔ TOP-NOTCH QUALITY ASSURANCE
dedicated QA team and test automation with our open-source framework Kakunin
free code review at the beginning of the development process
Hourly Rate: $25 – $49 / hr

No. of Employees: 50 – 249

Founded In: 2012

Location: Gliwice, Poland
6.Fingent:
Fingent is an enterprise software development company headquartered in New York, with offices across the globe and 300+ employees. We have been a trusted technology advisor to more than 150 businesses, including start-ups, SMB's and Fortune 500 enterprises.
We build cohesive technology solutions on the next-generation web and mobile platforms. Our deep understanding of diverse business environments has helped us develop applications that deliver tangible business value.
Our services include Web Application Development, Mobile Application Development, Product Development (SaaS), and Enterprise Software Development. We will help you solve your business challenges through software in any technology area.
Hourly Rate: $50 – $99/hr

No. of Employees: 250 – 999

Founded In: 2003

Location: United States, Australia
 7.Graffersid: 
Graffersid is built with an aim to be a single point IT solution for tech startups.
We help startups to develop great user-centric websites and mobile applications.
Startups often start to think about the sales strategy after building the product, without realizing that small sales feature in the application could reduce the client acquisition cost by 30% and can be very handy in acquiring initial clients.
Graffersid aims at reducing the so-called "90% startup failure rate" by developing great products capable of selling themselves.
Hourly Rate: < $25 / hr

No. of Employees: 10 – 49

Founded In: 2017

Location: India
8.Merixstudio:
Merixstudio's key expertise is the delivery of high-quality and performant web applications and cross-platform mobile apps. Based on the needs of our clients, we can support them in end-to-end product development or seamlessly extend their in-house team of engineers.
Our tech stack is focused on JavaScript (Angular, React, Node.js), Python (Django, Flask), PHP (Symfony, Laravel), and cross-platform frameworks (React Native, Flutter). We also provide fully-fledged support throughout the whole project's lifecycle that covers project management, quality assurance, and product design services.
Merixstudio collaborates closely with international companies of any size, from global brands such as GS1, Volkswagen, The Independent, Toshiba, and HSBC to successfully scaled startups like Moneyfarm, Sendinblue, and Burrow, a Y Combinator-incubated company.
Our clients recognize us as a one-stop software development company with the ability to create a long-term design and development partnership. In return, we give them the best quality that stems from working with top-tier talents. We seek, recruit, and develop the brightest engineers and designers locally creating an outstanding workplace for them. Check it out for yourself!
Hourly Rate: $50 – $99 / hr

No. of Employees: 50 – 249

Founded In: 1999

Location: Poznań, Poland
9.Indus Net Technologies Pvt. Ltd:
Indus Net Technologies is an award-winning, global digital service company. We develop Mobile Apps, Mobile Games, IoT/Wearable Apps, and VR/AR Apps. We work on the entire application stack -i.e. backend with API, App and Frontend.
Our core focus:
Develop custom software solutions and applications for our clients by harnessing Mobile, Web, Analytics and Cloud technologies.
Who are our typical customers?
Our customers are mostly enterprises, early-stage companies, and fast-growing startups.
Talk to us if you need help with any of the following:
UX/UI Services
Custom Software Development
Web & Mobile Applications Development
Analytics
Modernizing existing software products and applications
DevOps Services
Test Automation Services (Web, Mobile and API)
Cloud Services
Hourly Rate: $25 – $49 / hr

No. of Employees: 250 – 999

Founded In: 1997

Location: Kolkata, India
10.Appventurez:
Appventurez is a leading Software Development company that was established with a motto of imparting end-to-end technology-oriented services to all large and small businesses and bestow enormously in enhancing their overall business lifecycle.
We have a team of highly skilled professionals having 9+ years of hands-on experience in Web and Mobile development. We have served our customers passionately in the past and have built 139+ applications in multiple domains. We partner with our clients to deliver a full range of software development services, ranging from strategy, business analysis, and UX and UI design, to development, quality assurance, testing, and project management.
Mission:
Our mission is to revolutionize the current scenario of the business world; explore and excel in various technologies to deliver the best solution to our clients ensuring their satisfaction. We wish to nurture future talents with the best practices that we learned out of our experience.
we created apps for the Fashion industry, Transportation, Security tools, Financial and Cryptocurrency markets, Entertainment, Travelling, Healthcare, and others.
We know that to make application development project rewarding and successful, choosing the right mobile technology stack is vital. The technology stack not only gives the project life but also makes it maintainable, scalable, and committed to your functional requirements. Our skilled and expert team with the knowledge of new technologies provide the services in the same.
Appventurez is a mobile app development company working for Startups, Enterprise, and Agencies. Our vision is to make a difference by creating mobile and web experiences that are intuitive, effective, and engaging. We develop custom mobile and web solutions across multiple domains. 
Hourly Rate: < $25/hr

No. of Employees: 50 – 249

Founded In: 2018

Location: India, United States