Top 10 UI/UX Design Companies October 2020
Top App Creators follows a comprehensive process of analyzing agencies based on stringent parameters. The dedicated team at Top App Creators continually monitors and evaluates UI/UX design companies in order to keep the list relevant. Have a quick look at the Top 10 UI/UX Design Companies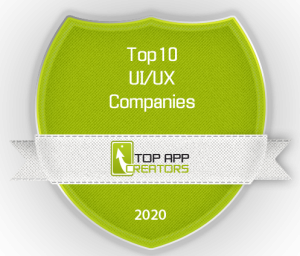 Dot Com Infoway is a globally recognized UI/UX design, app development, and marketing company. We manage all your IT, development, and marketing needs, so you can just focus on your core business.
Dot Com Infoway's services start right from the concept stage to span business consultation, market research, product development, multi-platform marketing and spreads through server and customer support activities.
With over 20+ years of industry experience in IT, we know exactly what it takes to create an engaging application that connects with the hearts and minds of your audience.
We have expertise in developing apps across platforms, including Android, iOS, and Windows. We also design high-performing enterprise apps to streamline operations and optimize the supply chain for businesses.
Dot Com Infoway has been a leader in creating user-centric, functional business & marketing solutions ever since 2000. We serve B2B & B2C companies with the aid of our multi-channel approach and focus on delivering outstanding results. Our internet marketing services deliver exceptional outcomes & exceed expectations.
We provide a consulting session, during which we will do a quick audit of the various aspects of your online presence and let you know how digital marketing can help you boost your business.
App marketing is another domain that we specialize in. Our mobile app marketing service team delivers robust app marketing strategies to make your app reach billions of users and offer high returns on your marketing spend.
Hourly Rate: < $25 / hr
Employees: 50 – 249
Founded: 2000
Location: India
2. Mobomo:
Mobomo is a premier web and mobile application development agency. We have extensive experience in creating functional, large-scale, engaging mobile, and responsive web designs.
Our process helps to uncover the characteristics of your users by learning about their needs, wants, and limitations.
Hourly Rate: $150 – $199/hr
Employees: 50 – 249
Founded: 2009
Location: United States
3.EIGHT25MEDIA:
EIGHT25MEDIA is a Silicon Valley-based full-service digital agency with world-class capabilities in strategic consulting, web design, mobile app development, eCommerce, and digital marketing services that deliver transformational work for clients such as SoftBank, Heineken, Space Systems Loral, Baird and NEXTracker.
Hourly Rate: $50 – $99/hr
Employees: 50 – 249
Founded: 2006
Location: United States
4.Ruckus Co:
Ruckus is a full-service agency that powers game-changing companies and global influencers. Our core strategic engagements in branding, platform design, and campaigns consistently drive greater consumer action and awareness.
Boasting a track record that can speak for itself, Ruckus has successfully completed hundreds of projects and been featured on prominent media outlets such as ABC, CNN, CBS, Adweek, The Wall Street Journal, and more.
Hourly Rate: $150 – $199/hr
Employees: 10 – 49
Founded: 2002
Location: United States
5.Indianic:
Our primary forte is working with Custom Web Development, Ecommerce, Mobile Apps Development, Enterprise Solutions with design led engineering practices. Craving to find out more? Reach out to us and you'll know.
Hourly Rate: < $25/hr
Employees: 250 – 999
Founded: 1997
Location: United States, India
6.Fuzzy Math:
Fuzzy Math is a leading global UX design consultancy offering Product Strategy, Interaction Design, and UX Team Training. We make businesses healthier by ensuring their users are happier.
Our firm boasts an impressive client list of Fortune 500 companies at the forefront of user experience, including Allstate, GE Healthcare, Hyatt, Microsoft, Mayo Clinic, and more.
We apply our proven user-centered design process that embraces complexity, makes room for the creative and delivers satisfying user experiences.
Hourly Rate: NA
Employees: 10 – 49
Founded: 2009
Location: United States
7.Clay Global:
Clay is a top UI/UX and web design agency based in San Francisco. They specialize in strategy, user experience design, brand identity, and development of digital products. Founded in 2009, Clay is now a team of over 30 people working with leading brands and startups.
Clay worked with a security company to design a mobile user interface that culminated in two iOS and Android apps: an anti-phishing app for web browsers and an identity theft predictor.
Across both projects with this company, Clay covered everything down to the tiniest details and offered simple, elegant designs that made the apps easy to navigate.
Hourly Rate: NA
Employees:10 – 49
Founded: 2009
Location: San Francisco, CA
Lollypop is a dedicated UX/ UI design studio, serving clients across the globe and has designed for 10 plus industries. We design meaningful user interfaces for all digital platforms.
We help our clients attain the complete attention of target customers with engaging UI Design and a better usability approach. All of our services are deployed to build user engagement so that businesses can outgrow competition.
Hourly Rate: $25 – $49/hr
Employees: 10 – 49
Founded: 2013
Location: India
9.QubStudio:
Qubstudio is a human-centered UI/UX design and branding agency. Since 2006 we've been successfully helping businesses at every step of their lifecycle – from startups to enterprises.
We make design by design. Industry-based competence allows us to provide perfect fit out of the box UX solutions for websites and apps, the same as for complex enterprise
Hourly Rate: $50 – $99 / hr
Employees: 10 – 49
Founded: 2006
Location: Lviv, Ukraine
10.UX studio:
We work on user experience design (UX) for websites, mobile and desktop apps. From research and prototyping, all the way to usability testing, we create the best user experience for your customers.
Some of our clients: HBO, UN, BOSCH, UEFA, Netflix, T-Mobile, Liligo, Wizz Air, TRIGO Group, KBC.
Hourly Rate: $50 – $99 / hr
Employees: 10 – 49
Founded: 2013
Location: Hungary