Top 10 UI/UX Companies – September 2020
If there is one thing that can take your business to global audiences, it's a business website.
User experience has been in the spotlight for a few years now, with many companies employing full-time UX designers or working with UI/UX design agencies.
Top App Creators have prepared a list of top UI/UX design firms to help you to find the right company. Here is the list of "Top 10 UI/UX Companies" Here are the best website designer lists with reviews that provide the best business web design services for your firms.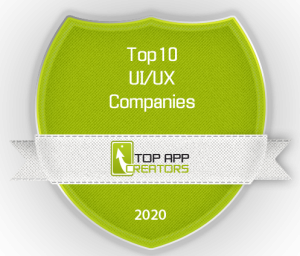 1.UX Studio:
We work on user experience design (UX) for websites, mobile, and desktop apps. From research and prototyping, all the way to usability testing. We work in UX designer-researcher pairs. This setup lets us design better digital products, faster than anyone else.
Hourly Rate:$25 – $49/hr

No. of Employees: 10 – 49

Founded In: 2013

Location: Hungary
Lounge Lizards is a Digital Marketing Agency that Specializes in Brand Development, Creative Strategy & Cutting Edge Technology. Exceptional creativity mixed with vision, marketing, and cutting edge technology is what we pour behind the bar at Lounge Lizard. Then we add a flame to fashion an exciting, eye-catching final product that makes the competitors wish they had what you're having.
Hourly Rate: $100 – $149/hr

No. of Employees: 10 – 49

Founded In: 1998

Location: Australia
Dot Com Infoway is a globally recognized app development and marketing company. We manage all your IT, development, and marketing needs, so you can just focus on your core business.
Dot Com Infoway's services start right from the concept stage to span business consultation, market research, product development, multi-platform marketing and spreads through server and customer support activities. 
With over 20+ years of industry experience in IT, we know exactly what it takes to create an engaging application that connects with the hearts and minds of your audience. We have expertise in developing apps across platforms, including Android, iOS, and Windows. We also design high-performing enterprise apps to streamline operations and optimize the supply chain for businesses.
Dot Com Infoway has been a leader in creating user-centric, functional business & marketing solutions ever since 2000. We serve B2B & B2C companies with the aid of our multi-channel approach and focus on delivering outstanding results. Our internet marketing services deliver exceptional outcomes & exceed expectations.
We provide a consulting session, during which we will do a quick audit of the various aspects of your online presence and let you know how digital marketing can help you boost your business.
App marketing is another domain that we specialize in. Our mobile app marketing service team delivers robust app marketing strategies to make your app reach billions of users and offer high returns on your marketing spend. 
Hourly Rate: < $25 / hr

No. of Employees: 50 – 249

Founded In:2000

Location: India
4.Codal:
Codal is a full-stack mobile app development and UX design agency with over 9 years of industry experience.
We are a team of innovators, creators, and makers. Based in the heart of Chicago, we have a knack for bringing out the best in every brand that we work with. For almost a decade, our clientele has ranged from small businesses to enterprise; but our philosophy has remained the same, to empower brand visibility and deliver the most elegant solutions possible.
Some of our offerings include, but are not limited to:
– User Experience and Interface Design
– Web + Mobile App Development
– Technology and Innovation Strategy
– Dedicated Development Teams
– eCommerce Development (Shopify Plus Partner)
Hourly Rate: $100 – $149/hr

No. of Employees: 50 – 249

Founded In: 2009

Location: Chicago
Thought Media is a leading website design agency that also specializes in mobile application development, video animation, and more. They have designed and created a wide variety of unique and impactful websites for various organizations around the globe. . 
Hourly Rate: < $125 – $250 /hr

No. of Employees: 10 – 49

Founded In: 2009

Location: Canada / United States
Fireart Studio is an award-winning product design and development company with over 7-year-experience in building impactful digital experiences. Since 2013, we have already delivered 700+ successful projects for 200+ forward-thinking startups and enterprises around the world.
We do not only design and develop, we really take time to understand your business. We take seeds and grow the jungle of engaging user-technology interactions. Fireart is listed among the Top 10 Teams around the world, according to Dribbble ranking https://dribbble.com/Fireart-d.
The Studio is a one-stop-shop for product design and development. 
Hourly Rate: $50 – $99/hr

No. of Employees: 10 – 49

Founded In: 2013

Location: Poland
Loginworks Softwares Inc incorporated in 2006 to build brands over the internet. Our core competencies lie in data services which include data analytics, business intelligence, ETL, Big Data, Power BI, Google Data Studio, data warehousing, data visualization, and reporting.
Hourly Rate: $25 – $49 / hr

No. of Employees: 50 – 249

Founded In: 2006

Location: Richmond, VA
8.Selleo:
For over ten years Selleo has delivered professional services on more than 150+ software development projects for clients from Europe, the US, Canada, and Australia, designing and building a number of applications throughout a wide spectrum of business domains, industries, and technologies (Ruby on Rails, Elixir, NodeJS, ReactJS, React Native, EmberJS).
Extend your in-house team
Whenever you want to handle a new project, deliver essential features or need a staff with specialized skills or industry expertise, our full-stack developers help you to increase overall productivity. We work in collocated agile teams crafting web and mobile applications with an entrepreneurial sense of ownership.
Embrace tech stack complexity
Our expert developers have not only the current capabilities you need but also the ability to build new ones rapidly. With the vast diversity of skills required and partnership with other specialized companies, we can deliver even the most technologically challenging software solutions.
Industry Expertise
Through the years we have gathered a broad spectrum of specialization in the development of custom SaaS and cloud-based business process management tools, digital dashboards, LMS and e-learning services, AdTech and marketing platforms, data analytics, and processing solutions. We enable clients to efficiently optimize and innovate processes, products, and business ventures by developing single-page applications, designing microservices architecture, and crafting web and mobile applications.
Hourly Rate: $25 – $49 / hr

No. of Employees: 50 – 249

Founded In: 2007

Location: Poland
We are a leading eCommerce web design, web development, and mobile app development agency having experience of more than 6 years. Our experienced team has got it all to successfully deliver Magento, WordPress, Woocommerce, PHP, and mobile app projects. We really love what we do for our valued customers and that's the reason why our customers love to leave great testimonials for our services
Hourly Rate: $25 – $49 / hr

No. of Employees: 10 – 49

Founded In: 2008

Location: India
10.Bachoo:
We are a Kyiv-based boutique design-house with expertise and achievements in:
– web design and development
– app design and development
– user experience
– interfaces building
– branding
– digital marketing
We are trusted by our clients, which are Mercedes AMG, Airfox, Polibius, HURU, and many more.
We have been around for five years now, and we are proud of each one of them.
Hourly Rate: $50 – $99/hr

No. of Employees: 10 – 49

Founded In: 2015

Location: Ukraine
copyrights © 2020 Top App Creators. All rights reserved.