Top 25 App Development Companies April 2020
Finding the right mobile app development company for your upcoming project can be a Herculean undertaking, also replete with uncertainty and risks. Hence, you must look for the right mobile app development companies in the right places. One option for you is to search on Google, come across literally thousands of listings, visit individual websites, and then use your discretion to hire one of them.
Another option, a far better option, is going through the listing on our directory. Here we have listed the top 25 mobile app development agencies. These companies have been vetted by our reviewers in terms of quality, expertise, trust, and their previous and current clients. All the companies listed in this "top 25 mobile app development companies" list have made their mark in their respective niches.
They have earned their trust through hard work, expertise, and experience. They are constantly setting new benchmarks through innovation and creativity.
Choosing one of the mobile app development companies from this list is going to save you a ton of money and time. These are verified listings. We use a combination of artificial intelligence and crowdsourcing to rate our companies. Want to create a successful mobile app? Go ahead. Explore our list and choose one of these for your app requirements!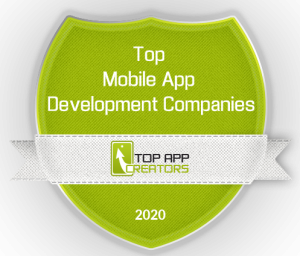 ---
We are a team of top app developers, designers and strategists passionately pursuing the bleeding, hairsplitting, cutting edge of mobile applications for start-ups and enterprise clients that get featured in app stores. At Fueled, we don't just build apps. We create the kind of apps that people talk about, that they use over and over again.
We come to work in the morning to build the best apps for the best clients. It's what makes us tick.
Hourly Rate: $150 – $199/hr
No. of Employees: 50 – 249
Founded In: 2007
Location: United States, United Kingdom
---
Utility specializes in crafting custom mobile applications and web software with innovative partners, from startup ventures to Fortune 500 brands. Utility is a New York-based mobile app and web development company and was founded in 2013. Their project included UX/UI design, live streaming architecture, and search filtering. As a result of Utility's work, the network received positive reviews.
Hourly Rate: $150 – $199/hr
No. of Employees: 50 – 249
Founded In: 2013
Location: United States, Canada
---
Dot Com Infoway is a globally recognized app development and marketing company offering cutting-edge services. With over 18 years of industry experience in IT, we know exactly what it takes to create an engaging application that connects with the hearts and minds of your audience.
We develop apps across platforms, including Android, iOS, and Windows. We also design high-performing enterprise apps to streamline operations and optimize the supply chain for businesses. We pride ourselves in developing highly customized apps while ensuring a quick turnaround time at affordable rates.
App marketing is another domain that we specialize in. Our team of 100+ qualified app developers and marketing experts has delivered robust app marketing strategies that are result driven and offer high returns on marketing spend.
   Our ace app development and marketing services will help you:
   Develop an engaging app for your business
   Grow your revenue
  Drive more leads
  Grow your user base
Considering security and transparency as the primary goal, we provide an accurate and complete client experience by developing blockchain technology for your business that eventually gives you easy and secure transaction records.
When it comes to improving lead acquisition, opportunity nurturing and building a better buyer's journey, we help clients improve results and outcomes from their digital marketing initiatives.
We help you convert your ideas into reality by developing an excelled Industry-focused IoT Apps that are transparent, engaging and captivating with Minimal Possible Turnaround Time.
Hourly Rate: < $25 / hr
No. of Employees: 50 – 249
Founded In: 2000
Location: India, United States
Incorporated in 2009 and headquartered in the USA, OpenXcell is an industry-leading & most reliable software and mobile app development company known for delivering innovative software solutions and engaging mobile apps.
Due to our unstoppable quest for adopting newer technologies & innovations, we have evolved into a one-stop destination offering end-to-end Business & Technology Consultation.
We have made a stellar reputation in the technology industry by adhering to strict timelines and quality deliverables.
We are considered to be one of the most reliable partners by our clients as we follow a customer-oriented service model.
Hourly Rate: < $25 / hr
No. of Employees: 250-999
Founded In: 2009
Location: India, United States
---
Hidden Brains Infotech is an Award-Winning Enterprise Software & IT Consulting Company committed to providing end-to-end IT services in Web, Mobile & Cloud platforms. Our deep industry expertise and forward-looking strategy help us leverage paradigm technology shifts in enterprise solutions to reimagine the potential of the intelligent enterprise.
With a progressive approach, our team is constantly experimenting with unparalleled technology innovation underscored by a series of emerging technologies such as Cloud, Chatbot, Artificial Intelligence, Blockchain, Augmented & Virtual reality, Internet of Things and more.
Our success comes with our knack for helping businesses adopt these technologies which represent the vast potential for the future and create opportunities for the future, breaking the conventional business barriers, improving different aspects of business and achieve new levels of differentiation.
We are Microsoft Certified Partner and have won several accolades like ICTIS Global Industry & Academic Excellence Award 2017 for Corporate Excellence & Deloitte Technology Fast 50 Award.
Hidden Brains Company at a Glance
Delivered 5000+ Web projects
1000+ Mobile apps, 45+ Games
2000+ clients across 103 countries
Catering to 33+ industries
Hidden Brains offer a collaborative, yet non-competitive environment and cost effective technological solutions – helping build Brands worldwide.
Hourly Rate: < $25 / hr
No. of Employees: 250 – 999
Founded In: 2000
Location: India, United States
---
Cubix is a leading mobile app, games and enterprise software development company! – expert in development, customization, and integration of complex enterprise-level solutions, business intelligence analytics, advanced web and mobile solutions. With over 8 years of experience, we have worked for clients that include individuals, startups, and organizations
Our team is constantly improving and mastering industry progression. E-Learning, IoT, Artificial Intelligence, Machine Learning, SaaS, Augmented Reality, Virtual reality, etc. Our qualified development team has mastered all and are improving the industry.
Our work speaks for itself, check out our company portfolio and our client testimonials to see what they have to say about us on our website.
Hourly Rate: $25 – $49/hr
No. of Employees: 50 – 249
Founded In: 2008
Location: United States, United Arab Emirates
---
Mercury Development offers unparalleled expertise in all aspects of digital and mobile transformation, from strategy and ideation to development and delivery. Our services include Full Stack Development, UX/UI, Testing, Quality Assurance, Business Analysis, Staff Augmentation, and Consulting.
We develop for every major mobile platform as well as emerging platforms and web/database projects.
From Startup organizations to Fortune 100 companies, our extensive platform expertise makes us the ideal candidate for multi-platform, cross-platform development and staff augmentation services.
Hourly Rate: $50 – $99 / hr
No. of Employees: 50 – 249
Founded In: 1999
Location: United States
---
"WillowTree® is an industry-leading mobile and digital product agency.
Since 2007, our team of award-winning mobile strategists, UX/UI designers, and software engineers have delivered over 1000 mobile and digital solutions to the world's leading enterprise and consumer-facing companies, including 21st Century Fox, Regal Cinemas, Synchrony Financial, National Geographic, and Wyndham Hotels & Resorts.
Service Offerings
Product Strategy
Prototyping & Concept Development
Product Design
iOS App Development
Android App Development
Web App Development
Bot and Conversational Interface Development
Interactive TV Development
Xamarin Development
SAP Development
Quality Assurance & Automated Testing
Mobile Backend Engineering
Security & Compliance
App Analytics and Reporting
Growth Marketing
Hourly Rate: $150 – $199 / hr
No. of Employees: 250 – 999
Founded In: 2007
Location: United States
---
We provide more than pretty websites and decent apps, we serve groundbreaking tech solutions and we strive not just to impress but sweep you off your feet with our work. So let technology be your ladder to success and us its builders.
Excellent Webworld is an international IoT, Web and Mobile App Development Company made in India and spread across the world. We seek to enhance the user experience creating value and impact through our products and solutions.
We have been improving the digital world and spreading smiles for a long time, one project at a time. We impact the users with our products through human-centered design and development.
As businesses need to navigate uncharted territories, our strategies aim to help them make the right decisions and accelerate their time to market.
Excellent Webworld provides web and mobile application development, enterprise product consulting, and software development services for a variety of industries, including retail, finance, entertainment, education, and healthcare among many others.
We believe a single person can change the world and our every employee's individual point of view and expertise contributes to creating amazing software solutions.
So it is not just the developers building our solutions but each and every person from marketing and sales to designing and developing making the best digital products for our clients. Our company culture reflects in each of our employee's work.
Our developers work collaboratively with clients to build superior digital experiences for global advancement. We don't just build apps but build brands.
Hourly Rate: $25 – $49/hr
No. of Employees: 50 – 249
Founded In: 2011
Location: India, United States
---
Blue Label Labs is a 64-person digital product development agency based in New York City with offices in Seattle and San Francisco.
Over the past 10 years, we have built and transformed over 300 businesses through strategy, design and development.
Our clients range from startup entrepreneurs to Fortune 500s. We're in the business of building the right product, not just any product. The right product is built by bringing together the expertise of the client, our own Product knowledge, and iterative customer feedback.
Hourly Rate: $100 – $149 / hr
No. of Employees: 50 – 249
Founded In: 2009
Location: United States, United Arab Emirates
---
AppUnite is a software development company that specializes in creating highly-usable applications for Android, iOS and web apps in Elixir and Phoenix, React, Vue.js.
Our partners range from early-stage startups to internationally recognized brands. We use the latest and the greatest technology in combination with an optimized agile approach to creating applications that are being used by millions.
Our awards and accomplishments – Clutch Leader Award as one of the Top Software Development Companies in the category of Web Development and Top B2B company in Poland; Forbes Diamonds 2020; Financial Times FT1000 ranking for fastest-growing companies in Europe.
Hourly Rate: $25 – $49/hr
No. of Employees: 10 – 49
Founded In: 2010
Location: Poland
---
Zco Corporation is a trusted custom software development vendor whose reputation for excellence spans three decades. We've created robust software solutions for entrepreneurs, startups, and Fortune 500 companies alike.
We offer our clients access to one of the largest teams of engineers, artists, designers, and project managers in the industry.
Technical Capabilities
Mobile Apps
Enterprise Solutions
Web-based Apps
Mobile Games
Custom Hardware Integration
Big Data
Virtual Reality
Augmented Reality
UI/UX Design
3D Animation
Our Clients
Golflogix
Volkswagen
Microsoft
Harvard University
Eversource
Dartmouth University
BBC America
Keystone Automotive
Samsung
APR Energy
Technical Proficiencies:
SwiftReact
Kotlin
Xamarin
React Native
Objective C
Android Java
Flutter
ReactJS
Unity
PHP
.NET Core
Go
NodeJS
MongoDB
jQuery
AJAX
SQL
AWS
C#
HTML5
JavaScript
Hourly Rate: $25 – $49/hr
No. of Employees: 250 – 999
Founded In: 1989
Location: United States
---
Appinventiv is an award-winning mobile app development agency offering impeccable mobility solutions to startups and Fortune 500 companies. The company started its journey back in 2015 with the single point aim of delivering mobile app development solutions to clients looking for transformative products.
The team made up of 500+ engineers, experts, and professionals strive towards clubbing the bridge between ideas and its digital reality while imparting a wholesome, memorable experience. Appinventiv has so far designed, developed, and deployed 900+ projects successfully, which has resulted in a very high satisfaction rate with their customer base.
On the technological grounds, the brand has experimented with and converted POCs of disruptive technologies like Artificial Intelligence, Blockchain, Internet of Things, Machine Learning, Augmented and Virtual Reality amongst others. Over the time of its operation, Appinventiv has served clients from multiple industries like Real Estate, Healthcare, Banking & Finance, Education, Entertainment and a lot more.
Hourly Rate: $25 – $49/hr
No. of Employees: 250 – 999
Founded In: 2014
Location: India, United States
---
Belatrix Software is one of Latin America's foremost agile innovators and application designers. We leverage the benefits of the Nearshore model and help our clients reach their business goals faster, by developing high-quality innovative software, QA, testing and mobile solutions.
Applying the Agile methodology (Scrum) together with a Design Thinking approach, we reduce our clients' time to market by offering access to top global talent, applied innovation and industry best practices, whilst containing costs. Our clients include both established Fortune level and emerging venture-backed firms.
Based in South America, we have delivery centers in Argentina (Buenos Aires and Mendoza), Peru (Lima) and Colombia (Bogota), as well as commercial offices in Silicon Valley, New York (USA) and Barcelona Spain).
Hourly Rate: $50 – $99/hr
No. of Employees: 250 – 999
Founded In: 2003
Location: Argentina, Peru
---
Intellectsoft is a boutique digital transformation consultancy headquartered in Palo Alto, California. The Company provides cutting edge engineering solutions for global and Fortune 500 companies with the mission to help enterprises accelerate the adoption of new technologies, untangle complex issues that always emerge during digital evolution, and orchestrate ongoing innovation.
Intellectsoft maintains its advanced domain expertise through five dedicated labs: Cognitive Computing, Decentralized Applications (i.e. Blockchain), Internet-of-Things (IoT), Premier Customer Experience (CX), and Mixed Reality (AR, VR).
Established in 2007, Intellectsoft operates across multiple offices with the engineering centers in the U.S., the U.K., the Nordic region and Eastern Europe.
Hourly Rate: $25 – $49 / hr
No. of Employees: 250 – 999
Founded In:2007
Location: United States, United Kingdom
---
We're a full-service agency focused on creating elegant solutions to solve complex problems. Federal agencies trust us. Commercial teams rely on us. Analysts named us a top custom software firm.
Services | Our Process
Discover: The goal for discovery should be more than simply taking notes and asking questions. Our approach at Mobomo is to understand quickly, iterate fast and drive projects forward. It's a guided process, a slew of techniques and unparalleled digital insights that reduces risk and puts projects into perspective quickly.
Craft an Experience: The user experience is at the core of every great design. Your design will not only be aligned with your goals, but users will be able to readily find the information they need through responsive design. Our design professionals will lead you from user flows and wireframes to style guides; high fidelity design mockups; and rapid prototypes with user satisfaction as our ultimate goal.
Build a Platform: A platform is not just an application or website but includes all of the cloud infrastructure, resources, dependencies, compliance checks, and network connections required to deliver the experience your users expect. We capture your entire platform as code, where it can be version-controlled, tested, and ensured to be repeatable on every deployment.
Hourly Rate: $100 – $149 / hr
No. of Employees: 50 – 249
Founded In:2007
Location: United State
---
Hattrick designs and builds digital products for forward-looking companies.
We leverage the world's most advanced technologies and frameworks to build outstanding mobile-first experiences. 
Whether you're looking to build a product from scratch or need help from a team of experts, we're here for you.
Hourly Rate: $50 – $99 / hr
No. of Employees: 2 – 9
Founded In:2014
Location: Uruguay
---
Founded in 2005 and headquartered in Chicago's iconic Willis Tower, Intersog a global mobile app development company of 250+ people in multiple locations.
Intersog is an international provider of custom software development and team staffing services specializing in full-service, end-to-end solutions for mobile apps, web, IoT development, AI tech, Big Data, and Cloud.
Intersog helps SMEs and established brands deliver disruptive innovation to end-users by providing cost-effective Agile Development Teams and resources onshore (within the United States), nearshore (Canada and Mexico) and offshore (Ukraine-located R&D center).
Hourly Rate: $50 – $99/hr
No. of Employees: 50 – 249
Founded In:2005
Location: United States, Ukraine
---
FreshWorks Studio is an award-winning, full life cycle, design, and development company with offices in Victoria, Vancouver, and Seattle. Our locations make us an ideal partner for nearshore software and app development.
We've worked with Fortune 500 companies and have built over 85 applications to date as part of our mission to solve problems and create value through remarkable digital experiences.
Segments we support:
Enterprise
Startups
Growth Stage Companies
Government
Municipalities
Partnerships
We handle all aspects of your project – design, development, deployment, and, where necessary, maintenance. We have in-house expertise in Web (React & Angular), Mobile (iOS & Android), Backend Development (Node, Python & PHP), and Dev/Ops (AWS, Azure, Google Cloud, IBM Cloud, OpenShift).
Our 60+ person team comes from around the world and bring unique perspectives from 14 different countries. The team includes:
Solutions Architects
Full Stack Developers
Mobile Developers
Product Owners (Certified)
Scrum Masters (Certified)
Business Analysts
UX/UI Designers
QA Analysts
We will closely collaborate with you at every step through open, clear, and consistent communication. We also value our ability to deliver premium projects at a reasonable price; we are capable of achieving this through a combination of design driven development and applying an agile/scrum development methodology. This ensures no time is wasted and projects get delivered on time and on budget.
We look forward to learning more about your project. Please contact us anytime to find out how we can help your organization succeed."
Hourly Rate: $100 – $149 / hr
No. of Employees: 50 – 249
Founded In:2014
Location: Canada, United States
---
Beetsoft is an IT Consultancy, Outsourcing, Annotation, and BPO company based in Vietnam and Japan. We cater to SME and MNC's all around the globe by providing high-end services at a very reasonable price.
With 6 plus years of IT Consultancy and outsourcing BeetSoft is playing a stellar role in honing the skills of professionals, assisting companies to achieve success in their operating field of specialization.
We as an Organisation have grown rapidly in the past two years, now with operating offices in Hanoi, Danang in Vietnam and Tokyo Japan with close to 600 employees. Beetsoft Specialises in IT Outsourcing, IT Consulting, Application Development, Software Development, Game Development, Web Development, System Development, AR VR MR, AI & IoT, Annotation & Inbound and Outbound Call Center which are our core strengths. Besides, we are also involved in projects related to Artificial Intelligence research and Robotics.
We offer high-end services at competitive rates as our development team is based in Vietnam to try and keep the cost-competitive.
Our Clients come mainly but not limited from The UK, Europe, USA, Israel, Japan, Korea, Singapore, Australia, Middle East, Hong Kong and over 20 other countries around the world.
Hourly Rate: < $25/hr
No. of Employees: 250 – 999
Founded In:2014
Location: Vietnam, Japan
---
Alphonic Network Solutions is a full-stack Mobile Apps and Web development agency established in 2013. Alphonic is a team of IIT and IIM venture. We are in business for the past six years. Operating from Jaipur, India, with a team of 40+ smart and enthusiastic masterminds working together, we have successfully delivered 200+ projects globally.
Our products and services offerings include native iOS app development, Android app development, website development, etc.
We work to deliver profitability in your business – with effective communication, consulting and interactive solutions. Following an Agile Work Approach, we make sure you get the ideal solutions at minimum expenses.
Our Philosophy starts-and-ends at the Client-first approach. Be it understanding your business requirements to choosing the right technologies, we work as a collective team that takes all the possible steps to grow continuously towards our common goal.
OUR SERVICES
* Mobile app development * Web app development * Meanstack * FullStack *
1. Native Mobile application development
2. Ecommerce Website / OSCommerce / Portal Development
3. Responsive Website
4. 2D and 3D Game for Android and iPhone
5. Mobile Apps
6. Web Programming, Web Updations and Web Integration (eg. Paypal Integration)
7. HTML Email Design / Emailer & Sales Page Creation
8. Online Forms & Database Integration
9. Usability & Interface Design
10. Web Design & Development"
Hourly Rate: $25 – $49 / hr
No. of Employees: 10 – 49
Founded In:2013
Location: India, United Arab Emirates
---
Halcyon Mobile is a full-service mobile app design and development agency that creates award-winning mobile products. We partner with startups and brands of different shapes, sizes, and backgrounds that trust us with their concept-phased projects or existing products. Our goal is to bring out the best from their vision with our world-class talents in:
Product consulting
UX / UI Design
iOS / Android Development
Web (Front-end / Back-end) Development
Machine Learning
Quality Assurance
Scaling & Maintenance
Accolades
Part of the FWA Jury
Mobile Jurors at Cannes Lions in 2016
1 x Google Play Editors' Choice App
2 x Webby Awards
3 x FWA Mobile of the Day awards
Speakers at events like Droidcon Berlin, Droidcon London, Techsylvania, Codiax and Edge Design Talks.
Press
The apps made by us were featured in TechCrunch, TheNextWeb, Mashable, Lifehacker, Re/code, iMore, The Guardian, The Huffington Post, The Independent and highlighted by Apple and Google in the app stores.
Hourly Rate: $50 – $99 / hr
No. of Employees: 50 – 249
Founded In:2005
Location: Romania
---
TechAhead is a global leader in Mobile Platforms that is trusted by Fortune 500 companies to Startups. Founded in 2009, we are a 150 people company having a decade long proven track record in engineering innovative, robust, and scalable apps at speed.
From ideation to execution, our innovation-led strategy, design, architecture, development, and maintenance services helps you to focus on your business while we as your one-stop solution partner take care of all your technology needs.
With our physical presence in the United States and India, we provide you unique onshore and offshore value propositions with the highest integrity and transparency.
Hourly Rate: $25 – $49/hr
No. of Employees: 50 – 249
Founded In:2009
Location: India, United States
---
CitrusBits is a mobile app development agency that designs and develops impactful mobile apps and responsive mobile content for businesses of all types. Having developed critical mobile apps for clients including Burger King, Quiksilver, Symantec, and Sotheby's, CitrusBits is trusted by movers and shakers across all major industries.
Yet, we've also enjoyed helping small and midsize businesses and select startups turn their mobile aspirations into juicy ROI.
We're passionate about leveraging mobile technology – including iOS, Android, augmented reality, blockchain, and The Internet of Things (IoT) – to help businesses disrupt entire industries and reach their loftiest goals.
CitrusBits has helped hundreds of businesses build game-changing mobile apps for more than ten years. Please get in touch if you'd like to talk about your next project.
Hourly Rate: $100 – $149 / hr
No. of Employees: 10 – 49
Founded In: 2005
Location: United States
---
RipenApps is an Innovative Mobile App Development Agency. Established by industry experts with a vision of helping Startups, Entrepreneurs & Visionaries building great Products on Mobile Platforms.
In a short span, RipenApps has fueled the success of 150+ startups worldwide to launch their ideas and 130+ business that administer their operations, processes, and revenues with robust Mobile Products. Believing and nurturing, Innovation, Advancement, and Growth introducing Technology and much more that we do in our routine to bring awesomeness to every product.
We never settle until we achieve the best. With a Team of 120+ Ripeners including Developers, Designers, Business Analyst RipenApps is harvesting great Mobile Products, loved and applauded by millions.
Hourly Rate: < $25/hr
No. of Employees: 50 – 249
Founded In: 2013
Location: India, India, United Arab Emirates