Top 10 Enterprise App Development Companies – September 2020
Enterprise apps are the heart and soul of any business of the day that wants to run its day-to-day business efficiently. Considering that an enterprise app is a sizable investment, it is important to choose the right development company.
Top App Creators is a platform devoted to finding out the best app development companies in Enterprise apps and make sure you to put your money in the right place and get the results you expect, we bring to you the list of "Top 10 Enterprise App Development Companies" that will surely develop a winner to power up your business for success.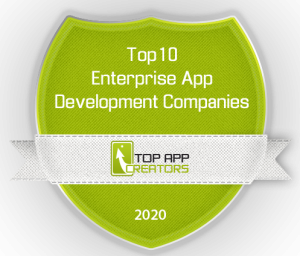 GoodCore provides software development services to startups and established businesses alike. Our team works in an agile manner and provides exceptional value for money. Innovative feature-rich apps, bespoke operational software, and much more.
We offer a collaborative fixed-cost and time-bound discovery phase to help you refine your ideas and requirements from a design and technology perspective.
Our Services
MVP Development

Bespoke Business Applications

Mobile App Development

Web Applications

Dedicated Development Team

Testing & Quality Assurance

UI/UX Design

Our team analyses your needs, aided by visual prototypes, to deliver quality working software. We have an agile process that has been refined and time-tested to deliver our software projects quickly and efficiently; on time and on budget.
Hourly Rate: $25 – $49 / hr

No. of Employees: 50 – 249

Founded In: 2005

Location: United Kingdom
Dot Com Infoway is a globally recognized app development and marketing company. We manage all your IT, development, and marketing needs, so you can just focus on your core business.
Dot Com Infoway's services start right from the concept stage to span business consultation, market research, product development, multi-platform marketing and spreads through server and customer support activities. 
With over 20+ years of industry experience in IT, we know exactly what it takes to create an engaging application that connects with the hearts and minds of your audience. We have expertise in developing apps across platforms, including Android, iOS, and Windows. We also design high-performing enterprise apps to streamline operations and optimize the supply chain for businesses.
Dot Com Infoway has been a leader in creating user-centric, functional business & marketing solutions ever since 2000. We serve B2B & B2C companies with the aid of our multi-channel approach and focus on delivering outstanding results. Our internet marketing services deliver exceptional outcomes & exceed expectations.
We provide a consulting session, during which we will do a quick audit of the various aspects of your online presence and let you know how digital marketing can help you boost your business.
App marketing is another domain that we specialize in. Our mobile app marketing service team delivers robust app marketing strategies to make your app reach billions of users and offer high returns on your marketing spend. 
Hourly Rate: < $25 / hr

No. of Employees: 50 – 249

Founded In:2000

Location: India
3.Prismetric:
Prismetric is an ISO 9001:2015 Certified Mobile App Development Company having a development center in India with offices in USA & Brazil that offer exceptional application development for iPhone, iPad, and Android devices along with other web services to provide end-to-end solutions. We have the strength of over 80+ highly skilled and competent mobile app developers and designers working with a sole mindset of customer satisfaction.
Since its inception in 2008, the company has always followed a vision to provide customized technology solutions that delight clients and today have turned out to be a leading and reliable App Development service provider.
Our main services include:-
Mobile Application Development (iOS & Android)

Cross-Platform Mobile App Development ​​​​​​

Mobile Game Development (Unity Platform)

IoT App Development

Responsive Website Development

Ecommerce Development

Wearable Device App Development

Mobile Application Marketing
We understand the importance of data for any business today and as a result, we provide Big Data Analytics services to ensure that the businesses stay ahead and improve their ROI.
Hourly Rate: < $25 / hr

No. of Employees: 50 – 249

Founded In:2008

Location: India
4.Jelvix:
Jelvix is an IT consultancy that provides custom software development services for different businesses worldwide, hiring the top 4% of engineers from the growing network of talent. We help our customers overtake the competition by building dedicated development teams and providing high quality and cost-effective development services. As a global technology partner, we help businesses to accelerate digital transformation and push their industry forward through our unique blend of world-class enterprise engineering, design, and technology consulting services.
Hourly Rate: $25 – $49/hr

No. of Employees: 50 – 249

Founded In: 2011

Location: Ukraine
MobileCoderz has established itself as the first choice of small and medium-sized businesses in the mobility space within a short span of time. We have a young & talented team of mobile strategists, UX/UI designers, and App Developers.
We have a client base that spreads across emerging startups to small & medium size Business across the globe. MobileCoderz has helped in the development of World Class mobile apps for 50+ clients, collaborating with its team of 30+ nerds. 
Hourly Rate: < $25/hr

No. of Employees: 50 – 249

Founded In: 2015

Location: United States
6.Swenson He:
Swenson He is a passionate team of skilled professionals that designs and engineers custom mobile and web software solutions. As a full-service firm, we provide product guidance, technical strategy implementation, and ongoing support for enterprise and funded start-ups.
We consistently deliver superior results by focusing on our client's success, keeping the user experience at the center of all we do. We are driven by the philosophy that strong mobile technology enhances lives in meaningful ways. It is our goal that each one of our projects advances this cause.
And our award-winning solutions have made us a top-rated firm with expertise in Media & Entertainment, Fintech & E-commerce, Healthcare & Fitness, and the Internet of Things (IoT). 
Hourly Rate: $150 – $199/hr

No. of Employees: 10 – 49

Founded In: 2014

Location: Canada
Master of Code partners with the world's leading brands to design, develop, and launch apps, chat, and voice conversational AI experiences across a multitude of channels.
Our passion for creating engaging and impactful interactions has allowed us to design, build, and launch the amazing app and AI-powered conversational solutions that are recognized worldwide.
Founded in 2004, we have grown to more than 200 'Masters' with 5 offices worldwide. Our team has the depth of experience to bring a strategic technical perspective, as well as the breadth of resources necessary to execute those technical strategies.
Hourly Rate: $50 – $99 / hr

No. of Employees: 50 – 249

Founded In: 2004

Location: California
Capital Numbers is a D&B accredited, ISO 9001 & 27001 certified global solutions provider with 400+ in-house, full-time experts. Our clients include Reuters, Conde Nast, AppDetex, Equipo, University of Colorado, Credit Sesame, Grey Digital along with hundreds of Small Businesses, Silicon Valley Founders, and Agencies worldwide.
We work with all major technology stack, including front-end and back end. Our hourly rate ranges between $15 – $25 per hour for project-based work or, you can hire full-time developers for even lower prices, which usually results in savings of about 70%. 
Hourly Rate: < $25 / hr

No. of Employees: 250 – 999

Founded In: 2012

Location: India
9.Fluper Ltd.:
We Build Fluid Apps: Affordable & Rapid Web & Mobile App Design & Development Agency (5 Million App User Engagement). Engaging & Disrupting IT Industry by provisioning "most affordable" IT Service Solutions energizing Individuals, Startups, SMEs, and Enterprises to transform all into Million Dollar Companies to reach the mission of Fortune 500 Companies with Our Specialized Consultation and Dedicated Guidance.
Specialties: Web App Designing, Mobile App Designing, Web App Development, Mobile App Development, E-Commerce App Development, CMS Development, ERP Apps Development, Android App Development, iOS App Development, PHP Development, .Net Development, Java Development.
Verticals Covered: Blockchain, AR/VR, Chatbots, Tours and Travels, Finance, Health, Education, News & Media, Lifestyle, Music, Maps & Navigation, Social Networking, Payment Systems, On-Demand Services, Augment Reality, Wearable & iOT.
Hourly Rate: < $25 / hr

No. of Employees: 50 – 249

Founded In: 2013

Location: United States
10.Magora:
We are consistently among Top 3 Mobile and Web App developers in the UK and Australia by Clutch. Magora is an international IT company with 150 employees on board with HQ in London, UK, and two development centers in Eastern Europe. We have successfully completed over 700 projects in more than 30 countries. Our team works with startups and Fortune 500 companies alike: Unilever, Danone, Cisco, HP, Toyota, Motorola.
Hourly Rate: $50 – $99 / hr

No. of Employees: 50 – 249

Founded In: 2010

Location: United Kingdom