Top 10 Enterprise App development Companies – October 2020
Our team has undergone a set of research parameters such as – expertise in Enterprise App Development, years of experience, client reviews, and online reputation. Explore these top android app developers and find the right partner for your business.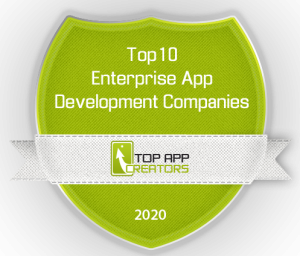 Dot Com Infoway is a globally recognized app development and marketing company. We manage all your IT, development, and marketing needs, so you can just focus on your core business.
Dot Com Infoway's services start right from the concept stage to span business consultation, market research, product development, multi-platform marketing and spreads through server and customer support activities.
With over 20+ years of industry experience in IT, we know exactly what it takes to create an engaging application that connects with the hearts and minds of your audience. We have expertise in developing apps across platforms, including Android, iOS, and Windows. We also design high-performing enterprise apps to streamline operations and optimize the supply chain for businesses.
Dot Com Infoway has been a leader in creating user-centric, functional business & marketing solutions ever since 2000. We serve B2B & B2C companies with the aid of our multi-channel approach and focus on delivering outstanding results. Our internet marketing services deliver exceptional outcomes & exceed expectations.
We provide a consulting session, during which we will do a quick audit of the various aspects of your online presence and let you know how digital marketing can help you boost your business.
App marketing is another domain that we specialize in. Our mobile app marketing service team delivers robust app marketing strategies to make your app reach billions of users and offer high returns on your marketing spend.
Hourly Rate: < $25 / hr
Employees: 50 – 249
Founded: 2000
Location: India
Konstant Infosolutions is an industry leader in delivering successful Mobile and Web development solutions across the Globe. We have been working since 2003, and have 2500+ happy customers worldwide. Having delivered 3500+ successful applications, we have served 30+ large Enterprises as well as start-ups. We are committed to success and our endeavor is to build highly performant and cost-efficient solutions.
Hourly Rate: < $25/hr
Employees: 50 – 249
Founded: 2003
Location: United States, India
3.Fueled :
We are a team of top app developers, designers, and strategists passionately pursuing the bleeding, hairsplitting, cutting edge of mobile applications for start-ups and enterprise clients that get featured in app stores. At Fueled, we don't just build apps. We create the kind of apps that people talk about, that they use over and over again.
We come to work in the morning to build the best apps for the best clients. It's what makes us tick.
Hourly Rate: $150 – $199/hr
Employees: 50 – 249
Founded: 2007
Location: United States, United Kingdom
4.Straight North :
Straight North is an Internet marketing agency specializing in SEO, PPC and responsive websites. We help firms increase sales leads and e-commerce revenue.
Our core service is SEO. We have helped hundreds of clients improve organic search visibility since 1997. We are the only SEO company that validates and reports all sales leads from phone and forms.
Hourly Rate: $100 – $149 / hr
Employees: 50 – 249
Founded: 1997
Location: Chicago, IL
5.TechAhead :
TechAhead is a global leader in Mobile Platforms that is trusted by Fortune 500 companies to Startups. Founded in 2009, we are a 150 people company having a decade long proven track record in engineering innovative, robust, and scalable apps at speed.
From ideation to execution, our innovation-led strategy, design, architecture, development, and maintenance services helps you to focus on your business while we as your one-stop solution partner take care of all your technology needs.
Hourly Rate: $25 – $49/hr
Employees: 50 – 249
Founded: 2009
Location: India, United States
6.SPEC INDIA :
SPEC INDIA is an ISO/IEC 27001:2013 company with 30+ years of established experience. We specialize in Custom Software Development, Web & Mobile Apps Development, BI & Analytics Solutions, Automation & Security Testing, Legacy Software Migration, Product Engineering, and IoT Solutions.
Hourly Rate: $25 – $49/hr
Employees: 250 – 999
Founded: 1987
Location: India, United States
7.Zealous System :
Zealous System is a trusted technology leader in software and web development services, having expertise in mobile app development for various platforms – iOS, Android – as well as in the latest technologies – Swift, Kotlin, Java, Flutter, Xamarin, Ionic, and React Native.
We believe in working in synergy and growing together. You grow, we grow!
We're passionate to code your success, which is why we embrace agile methodologies in all our clients' projects to turn great ideas into great mobile apps.
Hourly Rate: < $25/hr
Employees: 50 – 249
Founded: 2008
Location: India, United States
8.Zco Corporation :
Zco Corporation has distinguished itself as one of the best software development companies in the United States. They provide a full range of mobile app development solutions for their clients, including custom mobile apps, games, enterprise software, 3D animation, and augmented and virtual reality applications.
From startups to enterprise organizations, Zco offers top-notch software solutions that meet the needs of their clients. Zco Corporation is headquartered in Nashua, New Hampshire with offices in Boston, Massachusetts, and New York, NY.
Hourly Rate: $25 – $49/hr
Employees: 250 – 999
Founded: 1989
Location: United States
9.Fingent :
Fingent is an enterprise software development company headquartered in New York, with offices across the globe and 300+ employees. We have been a trusted technology advisor to more than 150 businesses, including start-ups, SMB's and Fortune 500 enterprises.
We build cohesive technology solutions on the next-generation web and mobile platforms. Our deep understanding of diverse business environments has helped us develop applications that deliver tangible business value.
Hourly Rate: $50 – $99/hr
Employees: 250 – 999
Founded: 2003
Location: United States, Australia
10.OpenXcell :
Incorporated in 2009 and headquartered in the USA, OpenXcell is an industry-leading & most reliable software and mobile app development company known for delivering innovative software solutions and engaging mobile apps.
Due to our unstoppable quest for adopting newer technologies & innovations, we have evolved into a one-stop destination offering end-to-end Business & Technology Consultation.
Hourly Rate:< $25/hr
Employees: 250 – 999
Founded: 2009
Location: United States, India