Top 10 Blockchain Development Companies October 2020
Top App Creators is a platform devoted to finding out the best Blockchain development companies.
The online platform scours the market to find the best ten Blockchain development companies in each category. That is why Top App Creators has become the one-stop search platform for several brands looking for the best in class Blockchain development companies around the world.
Here are our Best Blockchain Development Companies October 2020: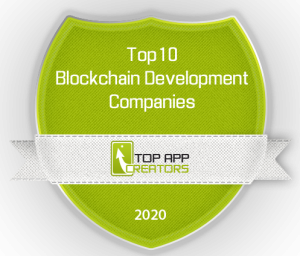 1.PixelPlex:
PixelPlex is your trusted business partner for bringing in advanced digital products and market-leading solutions. Year by year, we've been extending our office geography and growing our list of valued long-term partnerships.
Together we've handled loads of complex challenges and built a wealth of highly competitive and future-proof solutions. We love tackling new industry calls, so feel free to contact us wherever it's closer to you.
We offer a comprehensive set of services to help build competitive software that will exceed your expectations.
Hourly Rate: $50 – $99 / hr
Employees: 50 – 249
Founded: 2007
Location: New York, NY
2.Accubits:
Accubits Technologies is a full-service software provider offering product development and digital transformation services to Governments, Tech startups, Fortune 1000 companies, and Businesses.
Accubits helps organizations to be future-proof through data-driven solutions for mobile, cloud, and web platforms. Accubits is headquartered in Virginia, USA, and has offices in Australia, Canada, UAE, Hong Kong, India, Norway, Singapore, Indonesia, and Switzerland.
By focusing on emerging technologies and building a collective of unconventional thinkers and innovators, Accubits is on track to be a front runner during this industrial revolution we are witnessing.
Hourly Rate: $25 – $49/hr
Employees: 50 – 249
Founded: 2012
Location: India, United States
3.Leewayhertz:
LeewayHertz provides end to end solutions to build enterprise-grade custom software applications.
LeewayHertz has 10 years of experience building over 100 enterprise-grade digital platforms that are being used by millions of users across the world. An experienced blockchain development company with a deep understanding of AI, IoT, and cloud services.
We work with tech geeks and passionate technologists who are trained by the experts at Apple and Google and always remain at the cutting edge of technology.
Hourly Rate: $100 – $149/hr
Employees: 250 – 999
Founded: 2012
Location: United States, Canada
4.Saltlending:
As cryptocurrency becomes more widely adopted and additional real-world assets become tokenized, our mission is to offer solutions that make it possible for people to securely hold and borrow against their crypto assets.
With SALT, individuals and businesses can secure a fiat or stable coin loan without having to worry about credit checks. We offer flexible loan terms and accept multiple crypto assets as collateral including cryptocurrencies, stablecoins, and tokenized gold.
Hourly Rate: $100 – $149/hr
Employees: 50 – 249
Founded:2016
Location: United States
Ionixx Technologies is a full-spectrum development firm that specializes in mobile, web, and blockchain technologies. Our team of over 80 designers and developers have expertise in iOS, Android, Web, Server-side technologies, and Blockchain.
We work with startups and fast-growth companies as a technology execution partner. We operate out of the San Francisco Bay area, Los Angeles, Toronto, and Chennai, India where we have a development center.
Hourly Rate: $25 – $49 / hr
Employees: 50 – 249
Founded:2013
Location: LOS ANGELES, CA
6.Altoros:
Altoros is a 400+ person strong consultancy that helps Global 2000 organizations with the methodology, training, technology building blocks, and end-to-end solution development required to support digital transformation at scale.
We turn cloud-native app development, customer analytics, blockchain, and artificial intelligence into products with a sustainable competitive advantage.
Hourly Rate: < $25/hr
Employees: 250 – 999
Founded: 2001
Location: United States, Finland
7.SoluLab:
Just like old grandma's recipes, the creation of a mobile app and software products requires a pinch of most sacred ingredients. We know the "secret ingredients" of building a successful app.
SoluLab is a leading mobile, web, and Blockchain development company, started by the ex-vice president of Goldman Sachs and ex-principal software architect of Citrix. SoluLab provides full-spectrum, 360-degree services to startups, small and large enterprises helping turn their dreams into awesome software products.
Hourly Rate: $25 – $49/hr
Employees: 50 – 249
Founded: 2014
Location: India, United States
Blockchain, dApps, and mobile technology are moving fast. From intelligent hardware devices (IoT) to app-enhanced car dashboards, every industry can now participate in the smart, customer-driven app revolution.
We help our clients and partners keep pace and thrive. As an engineering team, we specialize in building hardware-integrated mobile apps and the backend systems to power them.
Hourly Rate: $50 – $99/hr
Employees: 50 – 249
Founded: 2011
Location: Germany, Poland
Oodles proficiency in the blockchain development landscape enhances the capabilities of enterprise business applications, smart contracts, fintech solutions, and blockchain-based business networks. We use a variety of tools, technologies, and protocols to develop secure and reliable blockchain applications.
Hourly Rate: < $25/hr
Employees: 250 – 999
Founded: 2017
Location: India
10.CoinBase:
In 2012, Coinbase had the radical idea that anyone — anywhere — should be able to easily and securely access Bitcoin. We see cryptocurrency as the future of money and a catalyst for creating an open financial system around the world.
Today, more than 35 million people in over 100 countries trust Coinbase to buy, sell, store, use, and earn cryptocurrency.
Hourly Rate: NA
Employees: 250 – 999
Founded: 2012
Location: San Francisco, CA