Top 10 Blockchain Development Companies August 2020
Finding the right Blockchain Development company for your projects can be a difficult job with a lot of app development agencies in competition. One option for you is to search on Google, come across literally thousands of listings, visit individual websites, and then use your discretion to hire one of them.
Another option, a far better option, is going through the listing on our directory. Here we have listed the top 10 Blockchain Development agencies. 
Our team has undergone a set of research parameters such as – expertise in Blockchain Development, years of experience, client reviews, and online reputation. Explore these top Blockchain Development and find the right partner for your business.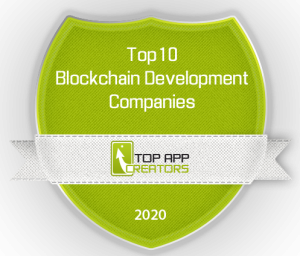 The company harnesses blockchain technology to provide enterprises with customized blockchain-driven solutions like white label crypto exchange development, P2P exchange development, security token offering and marketing, coin development, wallet development, P2P lending platform development, crypto banking solutions, procure-to-pay over blockchain, and more.
The cross-functional team at Antier supports you at every step of blockchain adoption – from design thinking-driven assessment of blockchain solutions from multiple aspects to pilot development and implementation of solutions. Forward-thinking insights, rigorous research, and one-to-one consulting help businesses to identify and seize opportunities to tap into an unsurpassed decentralized ecosystem.
Together with the innovation-led approach and unparalleled depth and breadth of expertise, Antier is navigating enterprises toward the next wave of digital business, fostering growth and driving profound, positive change.
Hourly Rate: $25 – $49 / hr

No. of Employees: 50 – 249

Founded In: 2005

Location: India, UK, US, Canada
2.Inn4Science:
Want to keep pace with modern trends? Interested in digitalization? Looking for someone to change your business? Need to create a personal application? Here at Inn4Science, we develop modern innovative IT solutions directly for your business. Get a secure product that earns you money in a reasonable time.
We offer a wide range of services to help your business work better. We focus on developing the product, that can cope with high load, is error-free, secure, and easily scalable. We will fine-tune your business with the power of Blockchain, Cloud, and Mobile tech. Our previous developments (internal APIs/modules/code parts) help us to optimize rates and frames, as sometimes we don't need to launch development from scratch. Therefore, ensuring bug-free and rapid development.
Among our cases:
Digital walletsExchanges
Payment systems
Logistics and management systems
High-load services
Financial systems and electronic document management systems
We carefully plan the roadmap for the project. Starting from collecting the requirements, developing a concept, drawing up technical specifications, architecture, interfaces, and designs to deploying the final version of a product. As a result, our clients get products that are perfectly adjusted to the business needs and marketing plans. Moreover, complete associated support documentation makes it easy to continue maintaining the product or using several development teams for upgrades.
Hourly Rate: $25 – $49 / hr

No. of Employees: 50 – 249

Founded In: 2016

Location: LAS VEGAS
Dot Com Infoway is a globally recognized app development and marketing company. We manage all your IT, development, and marketing needs, so you can just focus on your core business.
Dot Com Infoway's services start right from the concept stage to span business consultation, market research, product development, multi-platform marketing and spreads through server and customer support activities. 
With over 20+ years of industry experience in IT, we know exactly what it takes to create an engaging application that connects with the hearts and minds of your audience. We have expertise in developing apps across platforms, including Android, iOS, and Windows. We also design high-performing enterprise apps to streamline operations and optimize the supply chain for businesses.
Dot Com Infoway has been a leader in creating user-centric, functional business & marketing solutions ever since 2000. We serve B2B & B2C companies with the aid of our multi-channel approach and focus on delivering outstanding results. Our internet marketing services deliver exceptional outcomes & exceed expectations.
We provide a consulting session, during which we will do a quick audit of the various aspects of your online presence and let you know how digital marketing can help you boost your business.
App marketing is another domain that we specialize in. Our mobile app marketing service team delivers robust app marketing strategies to make your app reach billions of users and offer high returns on your marketing spend. 
Hourly Rate: < $25 / hr

No. of Employees: 50 – 249

Founded In: 2000

Location: India
4.OpenLedger:
OpenLedger ApS creates custom blockchain apps on the most versatile and powerful blockchains available.
For clients who need their own bespoke blockchains, our experienced team of developers creates custom blockchains in partnership with your team to deliver a fully-functioning blockchain, with the features you need and backed by technical support from OpenLedger.
Find out more at openledger.info
OpenLedger's 60+-strong technical team builds custom decentralized apps for businesses on the most popular, powerful, and versatile blockchains available.
Talk to us about DApps built on:
Ethereum and Ethereum Virtual Machine
BitShares/Graphene
EOSIO
HyperLedger
genEOS
We consult with partners to select the most appropriate blockchain technology to underpin the functionality you need to succeed and develop and implement solutions in partnership with your team, backed by knowledgeable, easy-to-contact technical support.
For partners who require a full permission ecosystem of their own, OpenLedger delivers custom blockchain development, consulting with you to select the most appropriate technology to develop and implement bespoke blockchains for businesses.
OpenLedger ApS is registered in Denmark, with development offices in Minsk, Belarus.
Hourly Rate: $50 – $99 / hr

No. of Employees: 50 – 249

Founded In: 2014

Location: Denmark
5.SoluLab:
Just like old grandma's recipes, the creation of a mobile app and software products requires a pinch of most sacred ingredients. We know the "secret ingredients" of building a successful app.
SoluLab is a leading mobile, web, and Blockchain development company, started by ex-vice president of Goldman Sachs and ex-principal software architect of Citrix. SoluLab provides full-spectrum, 360-degree services to startups, small and large enterprises helping turn their dreams into awesome software products.
Our expert and proficient team of professionals keeps an eye on the latest technology and market innovations to deliver the best solutions to the clients across the globe. Being an award-winning enterprise software development company, we work on emerging technologies such as Cloud, Chatbot, Blockchain, Internet of Things, Artificial Intelligence, Augmented & Virtual Reality, Machine learning, and more.
Hourly Rate: $25 – $49/hr

No. of Employees: 50 – 249

Founded In: 2014

Location: United States
Yudiz Solutions Pvt. Ltd. is an ISO 9001:2015 certified company having 8+ years of quality global exposure in leading mobile apps development platforms like Android and Apple iOS, web development, and Games development. Our qualified and experienced developers have contributed to creating industry benchmarks in different niche areas including custom apps, business apps, web apps, game apps, and much more.
Years of sustained focus and exposure in enterprise web solutions and mobile apps have set us apart as a truly future-ready web, mobile apps, and development company on the web.
Our motto is "Success for one and all". We grow with the growth of our clients and this belief has gifted Yudiz Solutions Private Limited with a long and successful track record of completely satisfied clients.
In the year 2017, Yudiz was awarded as the top mobile game and app development company by Worlds4 conference organized in London.
Over these years, we have been associated with many start-ups and have helped them achieve their business goals. We understand the challenges that start-ups face and hence we work closely with them during ideation, evaluation, and development of their app ideas to turn them into a reality.
Our services range from Mobile App Solutions in M-commerce, Health, Social Networking, business apps to Web solutions in areas like Educational, Ecommerce, Travelling, Entertainment. On top of that, we have had extensive experience in developing 2D/3D games, multiplayer games, AR/VR apps, and games.
Hourly Rate: < $25 / hr

No. of Employees: 50 – 249

Founded In: 2009

Location: India
7.Altoros:
Altoros is a 400+ person strong consultancy that helps Global 2000 organizations with the methodology, training, technology building blocks, and end-to-end solution development required to support digital transformation at scale. We turn cloud-native app development, customer analytics, blockchain, and artificial intelligence into products with a sustainable competitive advantage.
Our services range from assistance with selecting the most optimal technology stack and training, to developing complex enterprise-grade solutions, to integration and migration of legacy systems.
Altoros provides methodology, training, technology building blocks, and deep industry knowledge in telecom, logistics and transportation, healthcare, retail, e-commerce, and energy.
Main areas of expertise:
Custom software development
UI/UX design
Cloud Foundry implementation (microservices, containers, PaaS)
Integration and legacy systems modernization
Artificial intelligence and machine learning
Predictive analytics
Blockchain solutions for startups and enterprises
At Altoros, we enable companies to make a secure shift from legacy IT to the future relying on tried-and-true approaches and ensuring continuous improvement, support, and scaling of the products developed.
Hourly Rate: < $25/hr

No. of Employees: 250 – 999

Founded In: 2001

Location: United States
8.Codezeros:
Codezeros is a modern-day Blockchain Consulting Company and the only emerging tech company that pioneers complete blockchain-based solutions. With the potential and power of customized Blockchain solutions, we ensure that our clients get new prospects across businesses. Our process is simply designed to make our client's journey between idea and implementation frictionless and infallible.
As a Blockchain Solution and Services Provider, we focus on our client's ideas and how they can be implemented better with Blockchain Technology, AI, VR, and IoT. Our full range of services includes Modern Whitepaper Solutions, Pitch deck Solutions, Tokenomics, Smart Contract Creation, New DLT Solutions, and other Blockchain consulting services. Our objective is to utilize the power of blockchain to break the new grounds of business and reinvent business models to meet the modern business solutions.
Hourly Rate: $50 – $99/hr

No. of Employees: 50 – 249

Founded In: 2015

Location: United States
Espeo is a digital consultancy with a strong international presence. Born in Finland and headquartered in Poland, we've built an international team that values transparent communication, efficiency, and craftsmanship. Our expert team builds and designs custom web and mobile applications to keep our clients on the cutting edge. Exceptional industry knowledge combined with strong technical roots is where we excel.
Throughout the project, we stand right beside our clients to consult, implement, and deliver. Our focus on deep collaboration sets us apart.
Hourly Rate: $50 – $99 / hr

No. of Employees: 50 – 249

Founded In: 2008

Location: Poland
10.Itransition:
Itransition has been delivering full-cycle software development services to customers in over 30 countries worldwide. Itransition is an expert in development, customization, and integration of complex enterprise-level solutions, advanced web and mobile applications offering a well-balanced blend of technology skills, domain knowledge, hands-on experience, effective methodology, and passion for IT.
Industry Recognition
Itransition has been recognized among the world's leading software outsourcing providers by different industry authorities and highlighted in the following lists:
The Global Outsourcing 100 by the International Association of Outsourcing Partners (IAOP)
The Software 500 by Software Magazine
Technology Fast 500 by Deloitte
Inc 5000 ranking
Hourly Rate: $25 – $49/hr

No. of Employees: 250 – 999

Founded In: 1998

Location: United States