Top 10 Artificial Intelligence Companies – September 2020
An artificial intelligence-based application on your mind? Well, you may find many AI companies but it is difficult to find and important to choose the right AI companies that may serve as per your requirements.
To help you with the important decision and narrow down your search. Here is the list of "Top 10 Artificial intelligence Companies" ranked by top app creators. Our team has undergone a set of research parameters such as – expertise in AI  development, years of experience, client reviews, and online reputation.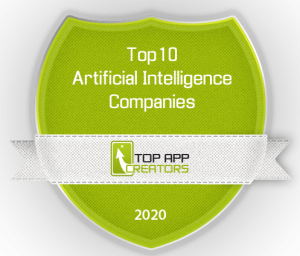 1.Arm:
Arm technology is at the heart of a computing and connectivity revolution that is transforming the way people live and businesses operate. Our advanced, energy-efficient processor designs are enabling the intelligence in 100 billion silicon chips and securely powering products from the sensor to the smartphone to the supercomputer.
Hourly Rate: $100 – $149/hr

No. of Employees: 1,000 – 9,999

Founded In: 1990

Location: United States
2.Chop Dawg:
Since 2009, we've helped launch 350+ next-generation apps for startups, first-time entrepreneurs, growing companies, and non-profits around the world. When it comes to working with Chop Dawg, Think Partner, Not Agency.
What Does It Mean For Chop Dawg to be Your Technical Partner? It's the difference between us sitting next to you at the table vs. across. It's our job, as a technical partner, to guide each company and appreneur that approaches us towards the right game plan for their app's long-term success.
Why Partner With Us? As your partner, we operate in full transparency. Set-rate, pay-as-you-go, transparent and fair pricing. Detailed project roadmaps and deliverable schedules throughout the duration of your project. Quick response times. Weekly and bi-weekly meetings to keep you in the loop on your app's progress. A dedicated project manager, US-based developers, designers, and QA-testers. Assistance on server infrastructure, product testing — even post-app launch support with our 30-Day Bug Warranty and 30-Day Maintenance Period. At Chop Dawg, we have your back, because your success is our success.
Hourly Rate: $150 – $199/hr
No. of Employees: 50 – 249
Founded In: 2009
Location: United States
3.IcreonTech:
Icreon Tech is a global software development company delivering customized digital solutions and applications. Icreon is dedicated to helping organizations and enterprises leverage technology to drive efficiencies and gain a competitive edge. Based in New York, Icreon builds web and mobile-based solutions for clients ranging from medium-sized businesses to global Fortune 500s
Hourly Rate: $150 – $199/hr

No. of Employees: 250 – 999

Founded In: 2000

Location: United States
4.InData Labs:
InData Labs is a leading data science firm and AI-powered solutions provider with its own R&D center. Having a mission to bring the power of AI to every business, we help organizations of any size create intelligent products and services or shape intelligent business processes. From small startups to large enterprises, customers choose us to find perfect solutions to their big data challenges.
Hourly Rate: $50 – $99 / hr

No. of Employees: 50 – 249

Founded In: 2014

Location: Cyprus
5.Neoteric:
We are Neoteric and are a tech partner for those who want to innovate. Get access to top software engineers, kickstart your project, and start building your success case.
No matter if you want to build a new product, develop an existing one, or introduce AI to your business, we are here to help you.
Working on over 50 projects in 5 continents as a tech partner and building 3 VC-founded startups of our own, we grew from an outsourcing company to a tech partner.
Hourly Rate: $50 – $99 / hr

No. of Employees: 50 – 249

Founded In: 2005

Location: Poland
6.ISS Art:
Your challenge is our inspiration — we build customer software solutions for the most challenging of projects.
Since 2003, ISS ART's custom software developers have been helping the world's top companies to turn their dreams into reality.
Our focus:
Machine learning – object detection and recognition, classification, clustering, forecasting
Data Science – understanding the data and underlying processes, insights extraction
Data warehouse and Big Data – data warehouse design, ETL, complex reporting based on data
Computer Vision – object detection and recognition, pattern recognition, optical character recognition
Natural Language Processing & Text Analysis – chat-bots, text parsing and information extraction, full-text search
Internet of Things – software for smart home, smart office, smart retail, smart supply chain, wearables
Hourly Rate: $25 – $49 / hr

No. of Employees: 50 – 249

Founded In: 2003

Location: San Francisco, CA
Master of Code partners with the world's leading brands to design, develop and launch apps, chat, and voice conversational AI experiences across a multitude of channels.
Our passion for creating engaging and impactful interactions has allowed us to design, build, and launch amazing app and AI-powered conversational solutions that are recognized worldwide.
Hourly Rate: $50 – $99 / hr

No. of Employees: 50 – 249

Founded In: 2004

Location: Redwood City, CA
8.PixelPlex:
PixelPlex is an award-winning software development company. With offices across the globe and over 100 carefully vetted specialists on hand, we have successfully served more than 300 businesses of all sizes.
We combine backgrounds in blockchain, artificial intelligence, big data, IoT, cybersecurity, and cloud development with cutting-edge web and mobile technologies to create groundbreaking solutions that are used by millions of people around the world.
Hourly Rate: $50 – $99 / hr

No. of Employees: 50 – 249

Founded In: 2007

Location: New York
9.Absolute Web:
Absolute Web is a full-service development agency specializing in eCommerce and business websites & applications. At AW, we understand that digital impressions matter more than ever. Our goal is to create an engaging web presence, increase lead generation, with memorable user & device friendly experiences. 
Since 1999, we have relied on our entire team of digital strategists, project managers, certified developers, and designers to give clients the look and feel they desire. 
In addition to our development team, our full-service digital marketing team is available to design and implement digital strategies for Online Demand Generation.
Hourly Rate: $100 – $149 / hr

No. of Employees:  50 – 249

Founded In: 1999

Location: Florida
10.Abto:
Abto Software is a full-cycle custom software engineering company, with 12 years of market experience.
We are a provider of software engineering services best experienced in the fields of enterprise AI, ERP, blockchain, predictive modeling, and computer vision solutions.
We deliver innovations to our customers:
Operations Management System for one of the largest Railways networks in Europe
Software solution #1 in the world for horizontal drilling that applies advanced mathematical modeling to accurately calculate drilling trajectory
Enterprise cloud software that handles millions of users each day with high performance and security level
Award-winning blockchain-based enterprise software for fast transactions.
Hourly Rate: $25 – $49 / hr

No. of Employees:  250 – 999

Founded In: 2007

Location: New York, NY