Top 15 Android App Development Companies – May 2020
Finding the right mobile app development company for your projects can be a difficult job with a lot of app development agencies in competition. Here are the 15 best android app development companies ranked by Top App Creators. Our team has undergone a set of research parameters such as – expertise in android app development, years of experience, client reviews and online reputation. Explore these top android app developers and find the right partner for your business.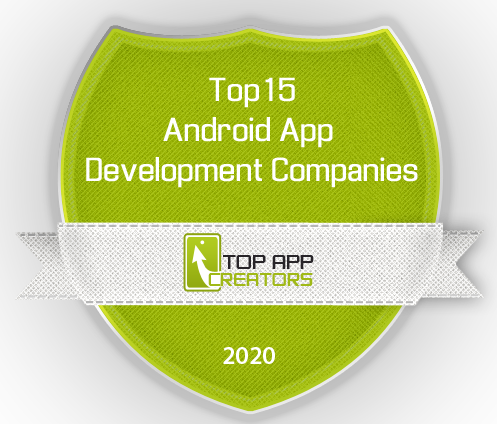 1. Y Media Labs
Y Media Labs is an award-winning digital strategy agency that empowers Fortune 500 companies and a few disruptive startups to build digital products with a lasting impact.
Our team focuses on creating world-class mobile experiences that blow the doors off expectations and establish brands as category leaders.
We offer everything in mobile – from native apps to responsive website. From engineers to designers, strategists to project managers, the YML team brings a rich tapestry of experience and talent to bear on each engagement. At Y Media Labs, we span the globe in pursuit of authentic, innovative ideas and yield to nothing to bring them to unbelievable new life.
Our work has been featured by Apple, Business Insider, TechCrunch, Forbes, and Mashable among others.
Hourly Rate : $150 – $199/hr
No. of Employees : 250 – 999
Founded In : 2008
Location : United States
Dot Com Infoway is a globally recognised app development and marketing company offering cutting-edge services. With over 18 years of industry experience in IT, we know exactly what it takes to create an engaging application that connects with the hearts and minds of your audience.
We develop apps across platforms, including Android, iOS, and Windows. We also design high-performing enterprise apps to streamline operations and optimise the supply chain for businesses. We pride ourselves in developing highly customised apps while ensuring a quick turnaround time at affordable rates.
App marketing is another domain that we specialise in. Our team of 100+ qualified app developers and marketing experts has delivered robust app marketing strategies that are result driven and offer high returns on marketing spend.
Our ace app development and marketing services will help you:
Develop an engaging app for your business
Grow your revenue
Drive more leads
Grow your user base
Boost app installs
Garner app store ratings and reviews
Considering security and transparency as the primary goal, we provide an accurate and complete client experience by developing blockchain technology for your business that eventually gives you easy and secure transaction records.
When it comes to improving lead acquisition, opportunity nurturing and building a better buyer's journey, we help clients improve results and outcomes from their digital marketing initiatives.
We help you convert your ideas into reality by developing an excelled Industry focused IoT Apps that are transparent, engaging and captivating with Minimal Possible Turnaround Time.
Hourly Rate : $25 / hr
No. of Employees : 50 – 249
Founded In : 2000
Location : India, United States , Australia
3. Rightpoint
Rightpoint, a Genpact company, is a global experience company. We design and engineer end-to-end experiences that help our clients succeed at the speed of innovation. Rightpoint serves more than 250 Fortune 1000 companies and has been named one of Crain's 50 Fastest Growing Companies in Chicago for four consecutive years. Rightpoint has 500 employees across 10 offices. For more information, visit rightpoint.com.
Hourly Rate : $150 – $199 / hr
No. of Employees : 250 – 999
Founded In : 2007
Location : Chicago, IL
4. hedgehog lab
hedgehog lab is a global digital product consultancy that partners with brands and enterprises to help them achieve their business goals using emerging technologies.
With over a decade's experience in technology, design and product development, we're experts at delivering digital solutions that deliver real, demonstrable business impact for our partners.
Whether it's iOS, Android, web, immersive or voice, our exceptional design and engineering credentials have helped some of the world's biggest organisations to challenge their status quo and provide digital experiences that have transformed their businesses.
Our passionate and award-winning team spread across offices in London, Boston, Newcastle Upon Tyne and India has delivered industry-leading results for household names all over the globe including Santander, Microsoft, Kodak Alaris, AkzoNobel, Deliciously Ella, Mitsubishi amongst many, many more.
If you've got a business challenge that you'd like to discuss with our experts, get in touch today.
Hourly Rate : $100 – $149 / hr
No. of Employees : 50 – 249
Founded In : 2007
Location : London, United Kingdom
5. Netguru
Netguru builds digital products that let people do things differently. As a company, we deliver digital products for top startups, Fortune500 companies, and well-known brands to help them solve real problems through software and product design. Our clients have changed the way people do banking, listen to music, learn languages and rent bikes. Their products have been featured in TechCrunch, Business Insider and Product Hunt.
Share your challenge with our team and we'll work with you to deliver a revolutionary digital product.
Hourly Rate : $50 – $99 / hr
No. of Employees : 250 – 999
Founded In : 2008
Location : Poznan, Poland
6. SimbirSoft
SimbirSoft was founded in 2001 to create world class software products and services for our clients. We develop custom software, mobile applications, complex web services, desktop applications, client server systems, and provide quality assurance services.
Our team of experienced software engineers, quality assurance engineers, and project managers solve complex business tasks for a variety of industries. Maintains high industry standards and invests heavily in the innovation of people, tools, products and approaches. We analyze and apply cutting edge technologies
to deliver results you can count on.
Hourly Rate : $50 – $99 / hr
No. of Employees : 250 – 999
Founded In : 2001
Location : Lexington, MA
7. AgileEngine
AgileEngine is a privately held company established in 2010 and HQed in the Washington DC area. We rank among the fastest-growing US companies on the Inc 5000 list and the top-3 software developers in DC on Clutch. Facebook, Play Store, and the Webby Awards featured the apps we've built.
Boasting the best software product developers and designers from the US, Ukraine, and Argentina, we work with VC startups and renowned tech brands. We offer a complete range of services, from dedicated remote teams to onsite consulting.
Our portfolio includes two proprietary products that revolutionize the work of thousands of developers at companies like Mercedes and Samsung.
Sky's the limit for the AgileEngine rocket ship!
Hourly Rate : Undisclosed
No. of Employees : 250 – 999
Founded In : 2001
Location : Lexington, MA
8. Fuzz
Fuzz is a mobile app design and app development company based in Brooklyn. We have successfully launched over 300 amazingly crafted apps in app store by working in agile development; leveraging our multidisciplinary teams that work together in agile sprints.
In 2016, Fuzz was selected by Forrester Research as among the "most signifiant vendors" designing and development B2C mobile applications.
Fuzz apps are used daily by millions of people around the world, across iPhone, Android and Web.
Hourly Rate : $150 – $199/hr
No. of Employees : 50 – 249
Founded In : 2001
Location : United States
We would love to be your long-term partner who takes the whole app development process off your shoulders. Why choose us?
Risk-free trial – try us for 2 weeks, retaining the rights to your code if you cancel the partnership
Receive your 1st app demo within 7 days
Be the owner of IP rights at all times
Work with exclusively allocated team 100% focused on your product
Enjoy the efficiency & transparency of the team's work ensured by our certified Scrum Masters
You don't have to spend time building your own team and looking for an office. Save time and start working on your project right away!
Hourly Rate : $50 – $99 / hr
No. of Employees : 10 – 49
Founded In : 2011
Location : Wroclaw, Poland
10. GBKSOFT
GBKSOFT is a Web and Mobile Development company. We are focused on the delivery of stable and efficient software solutions that boost the revenue of our clients' businesses.
Technologies we're honing our skills in for 8 years:
Backend development: PHP , Yii2 , Laravel , WordPress , OpenCart , Symphony , Silex , Codeigniter , Python
Front-end: Angular2+ , Vue.js , ionic , JS , React.js , Ember , AngularJS.
Android Apps: Java, Kotlin, Android SDK, Gradle, Maven, Wear OS.
iOS: Swift, iOS SDK, REALM, SQL, Sockets.IO, CocoaPods, watchOS, and tvOS.
Flutter SDK
Our working experience totals more than 412,000 working hours of development. Taking into account the 10,000 Hour Rule, we have become Development Masters 40 times already.
We pay great attention to client service and communication with customers. We dedicate 20% of our time to communicate with our clients, 10% to project planning while each and every second is spent on hard work. Thanks to this approach some of our clients work with GBKSOFT since its foundation in 2011.
Here is the list of industries, in which we have the highest proficiency and vast codebase:
Job Boards
Trading Systems
On-Demand App
Social Media Platforms (Sparkle Case Study)
Business Management Tools
Software as a Service (SaaS)
Travel & Booking Portals
Educational Websites
Gambling & Betting Web Apps
Sport & Fitness Platform
Geo- & location-based Platform (Drophook Case)
Taxi Platforms
Chats
Hourly Rate : $25 – $49 / hr
No. of Employees : 50 – 249
Founded In : 2011
Location : Kyiv, Ukraine
11. Redmadrobot
REDMADROBOT is one of the fastest-growing and efficient mobile app development companies in the app market as its design and development expertise in mobile apps allow us to anticipate and solve the complex demands of modern businesses.
When the Apple App Store launched in 2008, so did we. Since then we have built over a hundred apps for enterprise, global brands, and startups. We take pride in what we do: our apps boast robust code, user-friendly interface, and impeccable UX.
Maximizing market share, streamlining service, boosting sales and loyalty, and cutting costs via self-servicing tools and automated work. We do all of this using mobile apps.
We're especially good at making mobile solutions in the following areas: Start-ups, eCommerce, Travel, Video & Multimedia, eLearning, Pharmaceuticals, Medicine & Healthcare, Banks & Fintech, Insurance, Telecom, Retail, Media.
Hourly Rate : $25 – $49/hr
No. of Employees : 50 – 249
Founded In : 2008
Location : Russia, United States
Hyperlink Infosystem, an ISO 9001:2008 certified organization, is a renowned IT Software Solutions provider based in Ahmedabad, India.
Established in 2011, Hyperlink InfoSystem, with it's dedicated and skilled team of professionals has able to create dynamic and cost effective solutions for it's clients that are based all over the USA, UK, Japan, Canada and other parts of the World. We believe in delivering services without compromising on time or quality.
Hyperlink Infosystem is believed to be one of the popular providers of IT services. The professional company is closely structured in such a way to offer more acquirable results and solutions for use in a variety of businesses, encountering problems in information and technology sector.
We have a good and proper coordinating partnership between the company's intramural internal environments and emerging external IT surrounding. Driven by commitment and hardwork, Hyperlink InfoSystem has in very little time, been able to grow into a Mobile App Development service provider with clients spread all over the World as well as India.
A member of the prestigious GESIA, Hyperlink InfoSystem has been providing Software Development solutions like Android , iPhone and Windows App Development and Website Development,since 2011.
Hourly Rate : < $25 / hr
No. of Employees : 250 – 999
Founded In : 2011
Location : Ahmedabad, India
13. e-Legion
е-Legion team develops software for different businesses since 2005. During this time we built effective means of communication with clients and schemes of project management. We use our experience and knowledge to create the products used by millions of people.
Hourly Rate : $25 – $49/hr
No. of Employees : 50 – 249
Founded In : 2005
Location : Russia
14. Techugo
Techugo Inc is a leading Mobile and Web Application Development Firm based in Toronto with offices in the US, India, and Dubai.
Our brood of 150+ experienced and enthusiastic professionals have delivered 350+ successful applications and websites for our clients ranging from Global 2000, Fortune 500 and emerging startups hailing from 43+ nations all across the world.
Together we have conceptualized enterprise apps that are hailed amongst the best enterprise apps serving over 50 mn people. From the conceptualization of the project to technical assistance, and raising funds, our commitment to our clients is based on our foundational work ethics.
Our role is not confined, rather it goes beyond delivering technical excellence. In order to successfully complete the cycle, we include our business acumen and marketing forte, in order to help the overall app concept. We believe in creating sizzling chemistry between your services and the user base through the mobile & web app.
We believe that the key to success is teamwork and togetherness, which lets our clients experience a completely different facet of the app development process. Together we reach the zenith of success and unmatchable user experience.
Hourly Rate : < $25/hr
No. of Employees : 50 – 249
Founded In : 2015
Location : Canada, United States
15. Macadamian
Macadamian is counted among top mobile app development companies of USA for developing innovative and transformational apps for clients. We believe in work that delights and occasionally inspires exclamations of "that's like something out of science fiction!" (We're always glad to hear stuff like that).
We care about the intersections of design and usability, engineering and emotion while striving to achieve just the right amount of "wow factor."We're passionate about what we do. We listen, learn and deliver. Our creative "nuttiness", collaborative approach and unmatched technical expertise boost your capabilities and drive your success through applications that are meaningful and different. That's something to celebrate!
Hourly Rate : < $25/hr
No. of Employees : 50 – 249
Founded In : 1997
Location : Canada, Romania