One of the primary, undeniable advantages of developing in HTML5 is that it essentially excises the need to develop an app in separate platforms. This, in turn, would certainly save developers precious amounts of time, effort, and money. Nonetheless, app development in HTML5, as in other platforms, require specialized knowledge and expertise in order to consistently and seamlessly create apps using it.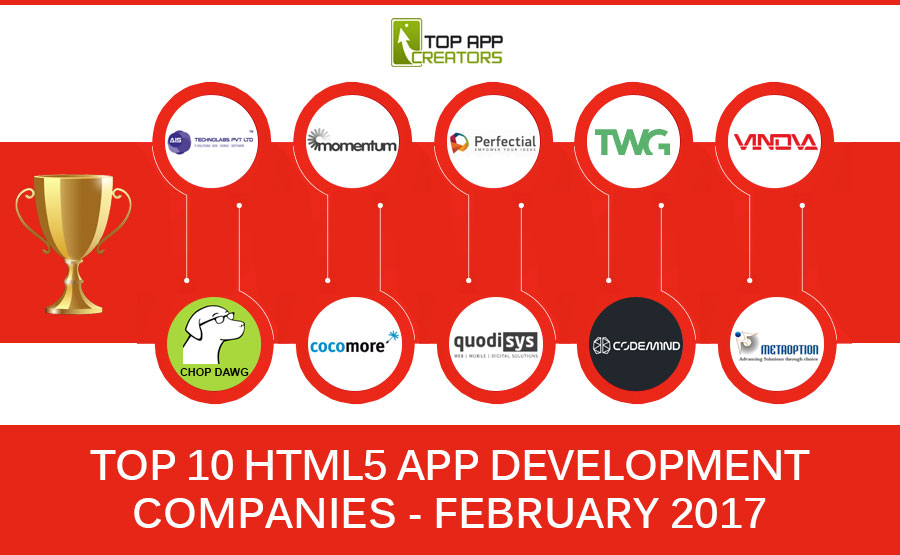 If you don't have the time to invest in learning HTML5 from scratch, then the only practical and viable option you can take is to hire an HTML5 app development company. These companies are build your app for you and you only need to relay all your app's details to them before agreeing on starting with the project. Allow us to make your search for a company quick and easy, though, by taking the time to check out the 10 Best HTML5 Application Development Firms in February 2017 that we have taken the initiative to list as follows.
AIS Technolabs is been providing excellent web development service as an IT consulting and solution provider of next-gen business to our clients with our value proposition and the ideology that we follow. The value set that we incorporate to our business model helps our relationships with our clients.

We create innovative experiences that can transform your business. Our team's design-centered approach is focused on growing your product, marketing, and brand. Headquartered in the heart of Silicon Valley, we love being part of the community of thinkers, dreamers, and doers that continue to change the world.

For over seven years, Perfectial has been a business-oriented software engineering company committed to helping businesses kickstart, develop, and succeed. With profound technological expertise in a range of business domains such as financial services, advertising & marketing, and real estate, Perfectial has implemented innovative ideas that allowed businesses – from startups to mid-sized and large companies – to scale, evolve, and prosper.

TWG is a world-class team of 75 product managers, designers, and software engineers, located in downtown Toronto. We work hard for our clients to build great software that launches faster, reduces waste, and delivers measurable results to their organization.

Vinova helps Singapore companies and individuals to make their IT ideas reality by providing Web application, Mobile application and Mobile games development services. As a Singapore based company and having Offshore development office, we are quality focused and timeline oriented. We are able deliver as promise.

Since being founded in 2009, we've been on a mission to make a difference and impact as many entrepreneurs as possible. We do this by helping our clients turn their brilliant app ideas into beautiful products and powerful brands.

Cocomore obtains this through MARKETING and IT. In concrete terms, we develop and operate complete CRM programs, deliver data management solutions, conceptualize and maintain social media presence as well as intranet and E-learning platforms. On top of this we pick up decision making processes and at the critical moment and conduct digital shopping marketing by creating and directing advertising, building websites and apps and working for the online shops of dealers and manufacturers.

Quodisys, headquartered in Ho Chi Minh City, is a rapidly emerging overseas provider of high quality development services. We have collectively over 10 years experience in mobile and web app development. For our clients we strive to be partners, taking greater ownership of the project and delivering high quality solutions.

We are a software studio specialised in building products for the modern world using latest technology and frameworks. We are a team of thinkers, makers, explorers, creators and superheroes. Taking on thought provoking projects that challenges us creatively and make us go the extra mile is what we consider a way of life. We are relentless in moving boundaries and carry out this spirited attitude into software products we make. Digital solutions that engage , inspire and make you think. Make you curious.

MetaOption LLC is a software service company with global presence since 2005. Over the years the company has grown and acquired skills in diverse IT platforms and has expanded its horizon to go beyond providing software services to creating mobile and web applications. We are proficient in providing advanced IT solutions and Quality testing services and have successful records with numerous clients.