Building a separate app for each platform and operating system can be time consuming and cost prohibitive, so companies often turn to HTML5 for the solution. HTML5 provides a one size fits all, multi-platform option that saves costs both during development and during maintenance. Whether your company is looking for an enterprise solution or a marketing app, HTML5 might be your best option.
However, not all HTML5 app developers are created equal. HTML5 app development poses its unique set of challenges and problems, which require the expert touch of a seasoned developer. This is where our top 10 list comes in. Below, you will find HTML5 developers that offer a wide range of solutions for a variety of circumstances and budgets. The companies on this list have a proven track record, an outstanding portfolio, and the experience needed to deliver the best app for the right price.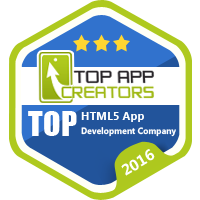 Here are our Top 10 HTML5 Application Development Companies of October 2016:
MyMobileInnovations is a top participant of the latest trends in business and consumer focused mobile application development. It is also a renowned and expert company in iPhone, Windows, Android, Blackberry, Nokia QT & Symbian Application Development.

TechnoSIP team has more than a decade of expertise providing technology solutions in area of Mobile Apps (iOS, Android, PhoneGap), large scale trading application, enterprise applications, ecommerce portals for range of complex domains and cutting edge technologies like Machine Learning, Big Data, Natural Language Processing etc for multitude of client ranging from startups to SMB to fortune top 10 wall street firms like Morgan Stanley, Citigroup, UBS, Barclays.

Icreon Tech is a global IT consultancy delivering business solutions and custom applications. Icreon is dedicated to helping organizations and enterprises leverage technology to drive efficiencies and gain a competitive edge. Based in New York, Icreon builds web and mobile-based solutions for clients ranging from medium sized businesses to global Fortune 500s.

NWAYS Software Development Company based in Sydney, Australia with 10 years of industry experience. We have the expertise on both Open Source, Microsoft & Mobile technologies. Compelling this with our experience, as well as skilled professional staff; we've successfully deployed over 1000 projects meeting the requisites of almost every industry around the world.

We are a software innovation and product lab creating thoughtful and useful products for our clients. We have a time-tested team that can create software products, platforms and solutions to support consumers across all modern devices: mobile, digital display, internet of things, etc.

Headquartered in Poznan, Netguru designs, creates and implements systems and applications. The company has been on market providing Ruby on Rails development services since 2008. As the mobile consumer market continues to grow, netguru also shapes Ruby on Rails backend for mobile apps, APIs as well as native mobile applications for Apple – iPhone, iPad as well as Android devices. On the top of that, the team of Ruby on Rails & mobile developers offers consulting services to companies looking for rapid business development.

devsAr specializes in web and mobile application development for clients of all shapes and sizes. We are a full service studio offering user experience and development based on the Django Web Framework, including everything from a simple content web site to the most complex web applications, e-commerce and social network services.

DataArt is a technology consulting firm that creates end-to-end solutions, from concept and strategy, to design, implementation and support, helping clients achieve their business goals.

Seamgen is a creative application development agency that helps innovative brands and businesses engage with their customers across multiple digital platforms. We utilize a user centric design philosophy combined with inventive uses of leading edge technology to develop web and mobile applications that connect with users on a visceral level. Since our humble beginnings in 2008 we've been driven by our mission to design and build intuitive experiences that people love.

SoftTeco is a software development company founded in 2008 that provides custom software development services. Currently, we deliver professional services to customers located in the USA, Europe and Canada.