Developing HTML5 Apps is becoming an increasingly popular option for businesses looking for enterprise apps to manage their daily functions. More and more companies are opting for HTML5 apps instead of native apps in order to reduce the involved costs and complexity. Undoubtedly, HTML5 apps are a boon for companies that need to apply apps across several platforms but finding the right app development company can mean the distance between an efficient app and one that is just a waste of time and money.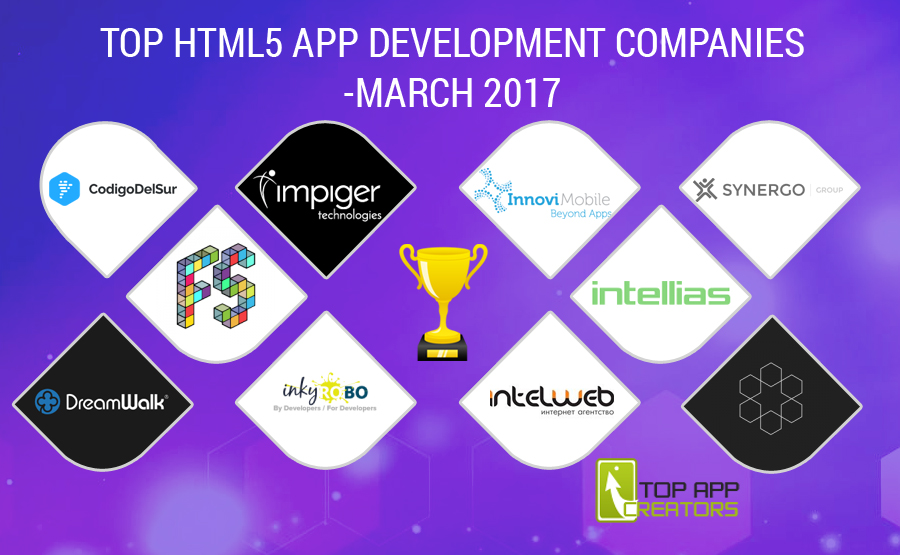 To help our users make an educated choice, Top App Creators comprehensively analyzed companies with expertise in HTML5 App Development across the globe to create a list of top 10 HTML5 App Development Companies that the readers will surely find very useful.
Here are our Top 10 HTML5 App Development Companies of March 2017:
inkyROBO has devised a feature-rich custom designing software with high-end functionality. This amazingly built online custom designer tool enables the end users to unveil their artistic streak and design the t-shirts with their desired designs. Seamless, integration with printing/e-commerce sites, easy front-end & back-end operations, print-ready format, image editing (rotate, crop), etc. are few of the striking features of this custom designing tool for t-shirts.

Team of Laravel PHP Framework Developers. Full scale web development. We offer web and mobile applications development, system integrations, business analysis and more, all with the latest technologies and competencies needed to improve your business functions and grow your online presence.

CodigoDelSur is a growing community! We expand each year, welcoming on great new projects and clients, as well as bright and intelligent team members! Our team is our biggest and greatest asset and we believe in having a professional, yet fun atmosphere to work in. We are composed of highly skilled software, web, and mobile app developers, who are excited to incorporate the latest technologies into the applications we develop for our customers. CodigoDelSur is always on the cutting edge.

At InnoviMobile, we understand the complexities of extending your business-critical applications across mobile devices.

Fan Studio has been a top UK app developer for years and is the mobile game app development partner for many businesses across Britain, USA and UAE. Fan Studio specializes in iOS game app development. Our mobile app developers are here to help you find the best strategy, launch your app and give you advice whenever you need it.

We help entrepreneurs design and develop custom digital products and avoid common early‑stage mistakes.

Impiger is a technology driven company providing high impact business solutions leveraging Microsoft, web and mobile technologies. Credited with developing over 150 web portals across SharePoint, Microsoft Azure, ASP.NET and 250 mobile applications iOS, Android, Windows Mobile, HTML5, and cross-platform frameworks. Specializing in enterprise mobility consulting and building line-of-business applications; we help enterprises improve business efficiency, productivity, and revenue.

Synergo Group provides know how for your software products in all phases: concept, design, development, deployment, support. Our offices are located in Canada, Germany, Romania and South Africa. The Synergo Group has high expertise in the following areas: Software Analysis, Design and Development, Software Integration and Administration, APIs, Data Modeling and Migration, Web and Mobile Applications, Websites, Business Intelligence, Big Data, Cognitive Computing, Machine Learning, Data Science and Internet of Things.

DreamWalk is a Melbourne-based app development company. We develop innovative and entertaining iPhone and iPad apps, Android apps and web apps that not only work, but work well. We don't just develop apps for a living, we also do it for fun and love a good challenge. Our apps have ranked number 1 on the iTunes App Store, they've been featured in just about every news outlet in Australia and have kept millions of users around the world entertained and informed.

Intellias is a challenge-driven software development and consulting company, based in Ukraine (Kiev, Lviv, Odessa), Poland (Krakow) and locally represented in Berlin and Zurich. Intellias helps ISVs, technology companies and enterprises to effectively manage the engineering and technological challenges they face and transform them into opportunities for business growth and competitive advantage.