HTML5 apps offer a cost effective solution tor companies that need an app to serve multiple platforms but only need to be built up once and can be managed from a single code. For enterprises needing multi-platform functionality, HTML5 apps offer a simpler and cheaper option as compared to developing a native app. Despite the numerous benefits, HTML5 apps also throw up unique challenges in terms of user experience and security which is why it is important to hand the development of your HTML5 app only to experts. To help you find the most professional HTML5 App Development Companies, we have compiled a list of top 10 HTML5 App Development Companies that you can trust to create an ace app for your enterprise.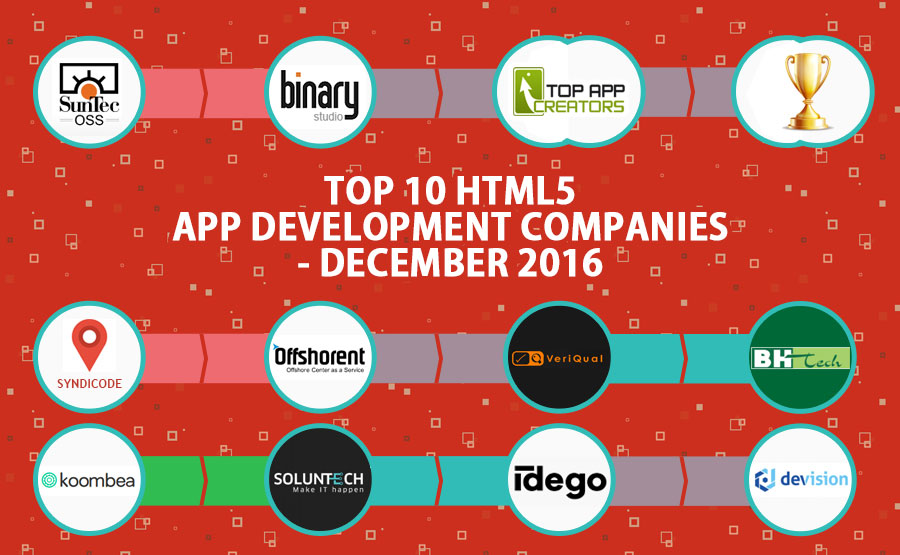 Here are our Top 10 HTML5 Application Development Agencies of December 2016:
SunTecOSS is an industry-leading Open Source Web Development Company, delivering a spectrum of eCommerce, CMS, CRM, and Application Framework Development Services to clients across the globe. With a team of 250+ developers,SunTecOSS holds a wealth of experience and expertise working with high-end open source technologies like Magento, WordPress, Drupal, Joomla, Vtiger, Zend, Ruby on Rails, to name a few.

We build dedicated software development teams to boost our clients' capacity to take on more projects or improve core software. Teams integrate closely to provide innovative solutions on challenging projects. We aim for long-term partnership with both our clients and developers, and so we set up direct communication, and work to make sure that each project uses effective project management. The best projects are those that run smoothly, consistently generating great results.

Web and mobile development agency headquartered in Ukraine, Kiev with a secondary sales office in Berlin, Germany. We create online businesses, SaaS, marketplaces, websites, microsites, with Android, iOS and Ruby on Rails technologies.

Offshorent provides a wide range of web development and digital marketing solutions. We have dedicated teams for various services including eCommerce developments, web design & development, mobile app development, web application development and inbound marketing.

VeriQual is a UK based company with development centres in Karachi and Lahore. We have been developing cutting edge software since 2004 and specialise in Ruby on Rails, iPhone, Android, JAVA and PHP development.

Bac Ha Technology Limited Company (BHTech) was established in 2002. The company has been focusing on software development of construction projects in domestic market for the first ten years. In the summer of 2012, there was an opportunity to build up a team with VINANOVA based on a long-term relationship with the Chairman of BHTech and VIANOVA. BHTech started with its on-going projects and the new one as team building service. This is a new idea in software-development service with foreigner customers.

Koombea is a digital product development company that specializes in building world-class mobile and web apps for enterprise and start-ups. We've been crafting innovative digital experiences using our own custom agile development method for almost a decade. We have offices in San Francisco, New York City, Chicago and Barranquilla. Our proven track record makes us the ideal partner for companies looking to develop new tech-based businesses.

Whether you are just starting, or have a project already running, Soluntech is your preferred software partner to validate, develop and bring your product to the right market. Our experienced UX/UI designers, backend and frontend developers, and project managers are here to help you get your product the way it meant to be.

We build Python web apps, iOS mobile apps and software, which helps to develop and improve our client's business. We use great new technology and standard tools to build fresh web apps. We have more than 5 years experience in IT. The company's deep knowledge of technology is applied to our customers in the form of advanced web applications. Our services include Python development, outsourcing of IT specialists (Python developers), systems integration and infrastructure management. We want to be the best partner for our customers, offering innovative services, products and solutions that will help them in realizing their plans.

Devision is a full-service web and mobile development company dedicated to building usable and efficient client-centric solutions. We are a multi-discipline team of technical consultants, developers and designers specializing in software development, web development, web design and mobile application development. In line with our company's name – which is derived from a combination of the words 'development' and 'vision' – we aim to develop forward-looking solutions which address complex business problems while providing an excellent user experience.