Developing HTML5 Apps is becoming an increasingly popular option for businesses looking for enterprise apps to manage their daily functions. More and more companies are opting for HTML5 apps instead of native apps in order to reduce the involved costs and complexity. Undoubtedly, HTML5 apps are a boon for companies that need to apply apps across several platforms but finding the right app development company can mean the distance between an efficient app and one that is just a waste of time and money.
To help our users make an educated choice, Top App Creators comprehensively analyzed companies with expertise in HTML5 App Development across the globe to create a list of top 10 HTML5 App Development Companies that the readers will surely find very useful.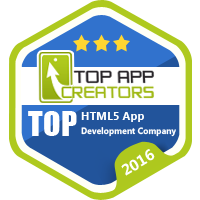 Here are our Top 10 HTML5 App Development Companies of September 2016:
Thorgate is is a digital product agency with offices in Tallinn and London. We build complex web and mobile applications starting from design/user testing till development and final live product. Our main technology stack is Python / Django / iOS / Android / React.js.

Brimit is a web development company specialized on Microsoft .NET web platform and Mobile Applications.

Truelogic is an ISO 9001:2008 certified company that specializes in custom web and mobile software development services.

Comrade Web Agency is the wonder place where talented human creatures REVOLUTIONIZE everything that relates to web design, web development, SEO, online marketing as well as mobile apps development using the latest technologies.

PNN Soft is offering a full range of software outsourcing services to businesses worldwide. Our portfolio of completed software projects and programming solutions includes multi-tier client-server systems, Internet/intranet solutions, mobile applications, backoffice and reporting systems, complex data processing services, custom visualization components and tools developed with C++, .Net, Java, AJAX, Flex, etc.

Appcelerator's solutions help you deliver native cross-platform apps, mobilize any data source, and drive success with real-time analytics.

Jinfonet Software is the leading provider of data visualization and reporting software for the enterprise. Its cornerstone product, JReport, is a leading Java reporting solution that delivers integrated business intelligence.

We are a Denver-based company offering mobile apps — iPhone, iPad, Android — and HTML5 mobile sites specifically for small business.

Being a Technology & Solution Consulting company, we co-build technology products to help companies accelerate growth. We achieve this by leveraging our technical, process and domain expertise and access to the best price-for-value Eastern European engineers. Over 100 US-based and 200 worldwide businesses have chosen us as their Technology Consulting Partner.

AppMakr.com is an online app building platform anyone, with or without coding experience, can use. AppMakr makes iPhone & Android app creation as easy as point-and-click. Make Native apps and HTML5 Mobile websites using RSS feeds, HTML5 content, and interact with users via rich in-app functions & features.