Many prospective clients are surprised to find that companies handling app development for operating systems such as Android and iOS, also offer support for the Windows phone. If your company would like to provide proprietary apps on all major platforms, or if your company has issued Windows phones to its employees and would like to have an enterprise app specifically tailored for the Windows mobile OS, this list is for you.
In this top 10, we cover the best app developers for the Windows phone. The companies listed have been chosen based on reputation, experience and success rate. After all, investing in an app can be both time consuming and expensive, and as such, it is important to hire truly competent and experienced developers. The companies listed below can develop everything from business applications to applications that deliver a full UX and provide a new marketing channel for your enterprise.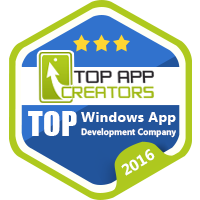 Here are our Top 10 Windows Application Development Companies of October 2016:
QArea is one of Eastern Europe's leading software outsourcing providers. They support customers with a wide range of cutting-edge technological solutions. 15+ years' experience, and certified specialists.

Nomtek is a mobile app design and development agency founded in 2009 with track record of several applications topping the application store listings.

Belatrix has been a strategic partner for top companies, from innovative start-ups in Silicon Valley to well-known Fortune 100 companies, for the past 20 years. Recognized by leading industry analysts as one of the top providers of software engineering services, Belatrix uses a unique approach to software development. By combining deep Agile development expertise and Design Thinking, we deliver high-quality, engaging software experiences to our customers.

Our mission is to build customized software systems that give our customers a real competitive advantage by improving the quality of their operations while reducing their costs. Tekton Labs' systems, in many cases, have been able to create ROI's of 20 times their investment.

Mobiwolf was established by enterprising Professionals with a strong IT background. The company's development center is situated in Kyiv, in the Center of Ukraine. Mobiwolf provides custom Android, iOS, Windows Phone software development and IT outsourcing services for its clients from the USA and Europe.

Businessware Technologies is a software development company with 10 years' experience. Our company focuses on the development of applications that improve business productivity, such as KPI systems, dashboards, CRM software, SharePoint collaborative systems, and mobile applications.

Halcyon Mobile partners with startups and brands to create amazing mobile experiences since 2005. We're a small team with a personal approach that likes to build apps we can be proud of. Thus, when we take on a project, we're all-in to bring the best out of your vision. By bringing to the table award winning product / UX design and world-class tech talent in iOS, Android and backend development.

Skylark is a pioneer Mobile apps and Web development company having deep industry and functional expertise. Although based in Singapore, our services are not restricted to geographical boundaries. We are a team of experienced, highly motivated and dynamic web designers and programmers, who deliver cutting edge, cost-effective and result-oriented solutions to meet your expectations. We never compromise our values, and handle your projects with immense passion to keep you one-step ahead from your competitors.

Spiralogics takes a practical approach to outsourcing. We recognize that our clients are experts in their respective sectors, while we strive to be the trusted go-to technology development partner. Our clients count on us for delivering technology solutions customized to their unique requirements. We provide solutions that not only drive efficiency, but also our clients' businesses.

EffectiveSoft is a leading software development company in Eastern Europe. The area of their expertise covers custom software development, mobile application development, semantic research and development.