If you are looking for an all-encompassing app targeting all major platforms including iPhone, Android and Windows, you have come to the right place. While you will find many experienced developers for iPhone and android based apps, app developers for Windows based apps may be difficult to shortlist. Little do people know that Windows apps are best suited for enterprise apps in terms of certification and publishing. Thus, anyone who is marching forward with a holistic approach cannot, and must not, ignore the Windows platform for apps.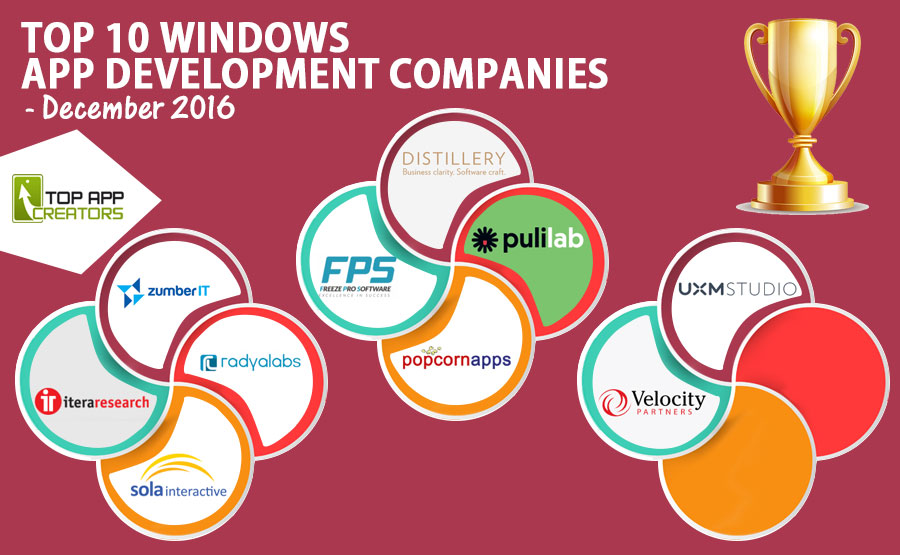 To help you build a niche Windows app, we have compiled a list of top 10 Windows App Development Companies. Each entry in the list has been meticulously analyzed on the basis of skill, experience, customer satisfaction and innovation. We are sure this handy list will help you make an informed choice.
Here are our Top 10 Windows Application Development Agencies of December 2016:
PT Zumber Informasi Teknologi (Zumber IT) is Indonesia leading custom MOBILE APP & SOFTWARE DEVELOPMENT company, providing and connecting business with advanced Information Technology. We design & develop digital products on Mobile and Web to address complex business requirements. Our team focuses on consumer-facing mobile app products, enterprise app, expert web development, development solutions and the overall strategy that turns software ideas into reality. Our paramount to success ensuring full customer satisfaction, is to commit Trust, create High-Quality software, On-Time delivery, and commit excellent After-sales service.

Itera Research was founded back in 2004 and since then we have gathered a strong IT talent pool. Our development center acquired extensive knowledge from a wide range of platforms. Itera Research has over 50 people involved in operations across North America, Western, Eastern Europe and the Asia-Pacific region. Our team is represented by expert level developers and PMI/UPMA certified management. Our developers and system administrators participate in Brainbench, Retratech, MCP, RHCE and MCSE certifications.

PT Sola Interactive is a software company specializing in mobile applications and new media technologies. We have products in the palm oil industry and in workflow management. We have developed mobile applications of various types including mobile payments, geo-tagging, point of sales and video player. Our services extend from developing new tech strategy to concept design to complete development and production. Beyond business applications, our work has included animation, interactive PC games, mobile games, print books graphics, and more. We work with customers and partners to deliver solutions that are effective, engaging, and entertaining.

Radya Labs is a mobile software development company, based in Bandung, Indonesia. We provide mobility solution to help organization transform their business and reach their customers. We have served wide-range of clients from various Industries such as Nokia Indonesia, Microsoft Indonesia, Cipaganti Group, TransCorp, and Kompas Gramedia to help them build highly functional yet beautiful mobile application.

Founded in March 2006, FreezePro Software is a custom software development and outsourcing company. It was established by enterprising professionals with a strong IT background. FreezePro Software has its headquarters in Lviv, Ukraine and London, UK. We work with customers from all over the world and build lasting relationships with them based on the fact that everything we do should be mutually beneficial.

Incorporated in New York in 1995, Diaspark Inc. is a leading provider of IT Services and Solutions to businesses ranging from mid-sized to global fortune 500 enterprises. Diaspark is a Microsoft Gold Partner and its quality processes are endorsed by the industry's leading certification standard SEI-CMMI at Level-5. It is an established company ranked as one of the fastest growing private companies in the US by Inc. 500 magazine.

Pulilab is an ideas-driven collective made up of software developers, animators, designers, and business people. We put our talents towards building innovative technology products that make a positive difference in the way people work, play, and experience the world.

At PopcornApps we have assembled industry leadership, product specialists, mobile fanatics and tech evangelists to deliver a simple vision. A vision of elegant experiences built on effective solutions in the always on, connected world. We are passionate about what technology can do to realize this vision and we work on the cutting edge of a myriad of technologies to forge answers to complex problems.

Velocity Partners operates software delivery centers throughout Latin America where we have found the culture, talent and business mindset to exceed our standards for success. We are experts in software development and quality assurance, specializing in Microsoft, Open Source, mobile technologies and QA test automation. We are proud to maintain relationships with many of the country's most respected names in business including Microsoft, Getty Images, Oracle, WebMD and MTV. We are committed to an ongoing collaboration with our customers that drives results and a positive return – and we have the success stories to prove it.

UXM is a full-service web and native mobile application studio. From the front-end design process, to the custom programming required to realize that vision, everything will dovetail with your individual identity and needs. We have a full team of strategists, graphic & web designers, and programmers all in-house. We can become your one- stop shop for all website and mobile development needs.