Every company needs an app that is compatible with different platforms especially the most popular ones such as Android, iOS, Blackberry and Windows. However, every app development company is not poised to design an app that is compatible across each of these platforms. It is essential for business owners to identify app development companies that are experienced in creating a rich app for the platform that they intend to target.
In order to help our users make an educated choice, Top App Creators has created a list of top 10 Windows App Development Companies after comparing hundreds of companies from across the world. The research team employed rigorous parameters against which the top 10 companies were shortlisted. We are sure our users will find this comprehensive list indispensable.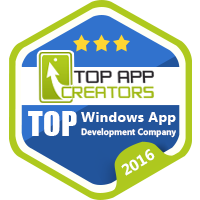 Here are our Top 10 Windows App Development Companies of September 2016:
Lemberg is a mobile and web development company with solid client base in the UK, Europe, and the USA. We have proudly provided technology solutions for digital agencies (link is external), startups (link is external), innovative businesses (link is external) since 2007. Throughout these years, we have gained a proven experience in (link is external): travel and hospitality, healthcare, enterprise mobility, communication and social networking.

QArea is one of Eastern Europe's leading software outsourcing providers. They support customers with a wide range of cutting-edge technological solutions. 15+ years' experience, and certified specialists.

Artifex Technology Consulting, Inc.

Artifex Technology Consulting has a dedicated team of web designers and graphic artists to meet all your web design needs.

Open Systems Technologies, Inc.

OST (Open Systems Technologies) is a $68 million company. OST has been focused on providing IT Hardware and Custom Sofware Solutions.

Leale Solutions is a team of experienced technologists providing solutions and consulting services in many facets and implementations of information technology.

Venture Aviator is an innovative IT services company that focuses specifically on tech startups and high-growth companies. Venture Aviator significantly increases both the efficiency and profitability of its clients by allowing them to fully leverage cost-effective, high-level global IT teams at a much earlier growth stage than has traditionally been possible.

Digiteum is a digital technology agency dedicated to solving the challenges of companies at the intersection of business and digital technology.

Xibis is an innovative web and mobile application development company operating in a wide variety of industry sectors, which include retail, healthcare and transport.

We're Future Platforms, a multi award-winning digital agency based in central London. With a strong focus on mobile, we also work across web, wearables, and games consoles for some of the biggest brands in the world.

Oxagile is an international software development company with years of experience in custom web application development and strong mobile app development expertise.