Developing an app for not only iOS and Android but also for Windows, which is already considered major player in the mobile field, could merit you with the optimal user base that you've always wanted. Of course more traffic only ever translates to more profits, and since Windows apps are showing a lot of potential, having your app offer support for Windows is, indeed, a wise marketing move.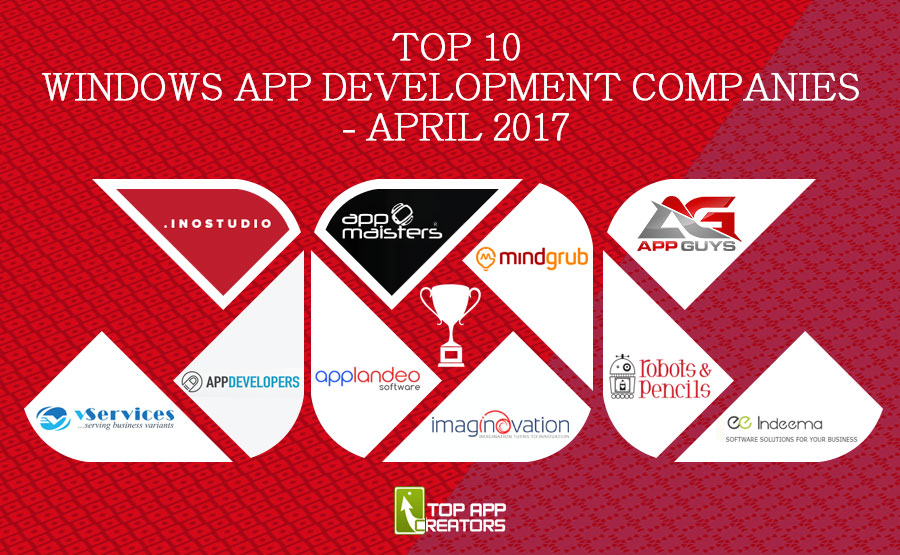 Assuming that you didn't develop a cross-platform app, you would have to rely on a company that specifically offers app development services that center on smooth incorporation of codes that would allow it to run as a Windows app. What's good is that there are now plenty of companies that offer this service, and there are even those that have exhibited proficiency in Windows app development as exhibited by their expansive portfolio. Here are the companies you should consider as top picks:
Here are our Top 10 Windows App Development Companies of April 2017:
INOSTUDIO team focuses on the professional development of complex web and mobile solutions for small and medium enterprises. We create results-driven projects that will help your buisness move to a new level.

We are an award winning UK based mobile app development agency, with a personal, honest and user-centric approach to product development. Mobile apps are about one thing; the user. You'd be surprised how many agencies take the approach of 'this is about the client'. We're sorry, but it's not. Our philosophy stands us apart from the rest because we empathise with, submerge ourselves in the mind of, and show the deference expected for the user.

We have a team of experts which provide high quality, cost-effective and need-based solutions to our customers. We specialise in product design and cloud computing services to small-to-medium scale businesses. We engage with our clients to clearly understand their needs and provide tailor-made solutions.

App Maisters offer innovative mobile apps, web based and enterprise mobility solutions. We provide end-to-end solution and develop both Native and Cross Platform Mobile Applications for iOS, Android, Windows Phone and BlackBerry.

Mindgrub Technologies is a mobile solutions consultancy and social media integrator that fuses technology with user-centric design. Mindgrub specializes in the design and development of mobile, social and web applications for corporations, government, education, and philanthropic organizations. From mobile gaming, interactive websites and multi-media to enterprise information systems, location based services and augmented reality, we do it all.

Applandeo is a software development company operating on the international IT market, specializes in mobile and web-based solutions, ensuring quality and functionality of products supplied. Our mission is to quick response to customer needs and increasing innovation in the IT market making it, along with partners, up to date with the latest technologies.

Imaginovation is a full service technology services agency that have mastered the skills of research, analysis, marketing, design, corporate branding, development, programming, and maintenance. Each skill has been refined across many business verticals so you're in capable and determined hands.

With our headquarters located in Calgary, Alberta, Canada, we are a global team of mobile app, website and software developers that are ready to help you take your ideas and turn them into reality!

Robots and Pencils is a mobile strategy and app development firm known for its top-ranking consumer apps, transformative enterprise apps and world-first learning apps. Started in 2009, Robots and Pencils has created more than 250 apps used by over 77 million people worldwide, and was named one of North America's Technology Fast 500 by Deloitte in 2014.

Indeema Software is software development company that provide a full cycle of mobile and web software development starting from researching and finishing with application release to store. Our clients are our partners cause when we cooperate we develop a business of each other! We are partners! We bring together highly talented mobile developers to provide our partners the best solutions. Our mission is to help our partners create a business of the future by providing them with top quality & cost efficient solutions.