While many companies choose to go with either an Android or iOS native app for their marketing efforts, support for the Windows phone will be appreciated by customers who have chosen this device. If your company has already reached out to customers who use iOS and Android devices, it might be a good idea to include a Windows phone version of your app in your portfolio.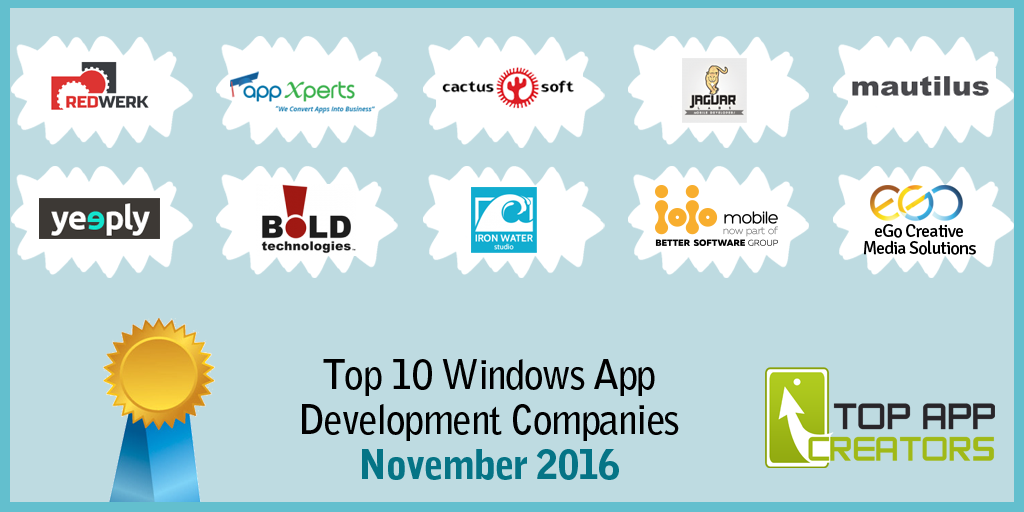 Building an app for the Windows phone is also demanded by companies that have issued Windows phones to their employees, and would like to increase the mobility, productivity and efficiency of their workforce with an enterprise app. Whatever the case may be, we have compiled a list of the top 10 Windows app development companies, based on the following criteria: experience, reputation, and success rate. We hope that this list will help make your investment worthwhile.
Here are our Top 10 Windows App Development Agencies of November 2016:
EGO – creative media solutions specializes in complex Web + Mobile + Design solutions providing for SMBs worldwide. We are pleased to provide you with a full cycle of services for the mobile app development – from creating and managing the project to publication in the App Store and Google Play.

CactusSoft has been delivering its services to customers across the USA and Europe. Our company's development practices are based on agility, continuous integration and ongoing communication. We love where we work and what we do.

BOLD! Technologies offers impactful and empowering custom software services for mobile applications and platforms to corporations and startups through innovative strategy, design and development. In today's connected world, technology is moving at the speed of light, and navigating those technologies can be daunting. At BOLD! we work with you to understand your business objectives and help you make the right technology choices to provide the best solution.

JOJO Mobile has been the first company in Poland to create solutions for the Windows Phone, specializing in innovative applications specifically for mobile devices. The company expanded the reference of the products for other operating systems like Android and iOS (iPhone, iPad).

We have been working since 2007 and dealing with development of applications for iOS, Android and Windows Phone. Our head office with our team is located in Rostov-on-Don. We create applications for clients from different spheres of activity – for business community, educational institutions and advertising and entertainment industry.

We craft spectacular applications for every screen. Meaning that we develop applications for Smart TVs, mobile platforms, HbbTV, game consoles, set-top-boxes and much more. Our services consist of consulting, designing, programming and support. We can help you in any of these stages separately, but if you decide to get an app developed, our development process comprise all of them.

Yeeply Mobile is a premium marketplace for mobile development strictly specialized in apps and mobile games; with a talent pool of vetted development teams and project managers.    Since 2012 Yeeply has helped hundreds of entrepreneurs and top brands turn ideas into real mobile projects. Yeeply offers a holistic service taking ideas right from the blueprint stage and personalised assessment, through design, development and monetization plan that includes App Store Optimization and traffic acquisition strategies.

Redwerk is a software development outsourcing company with two software development centers in Ukraine, in the cities of Kyiv and Zaporizhzhya. Our core business is to establish and service fully managed dedicated software development teams in Ukraine, as well as deliver custom software development projects for our customers world-wide.

Jaguar Labs is an innovative high tech company with over 200 completed software development projects. We have 70+ engineers, testers, and designers who are up to date on the latest technological trends. Thanks to our mix of great experience and emerging talent, Jaguar Labs can provide your business with a competitive advantage in today's digital age by developing web and mobile solutions to fit your needs!

Appxperts is a leading Mobile Applications Development Company in Melbourne & Sydney. We have the specialization and expertise in developing mobile applications for various platforms like iOS, Android, Windows, Blackberry and other platforms.