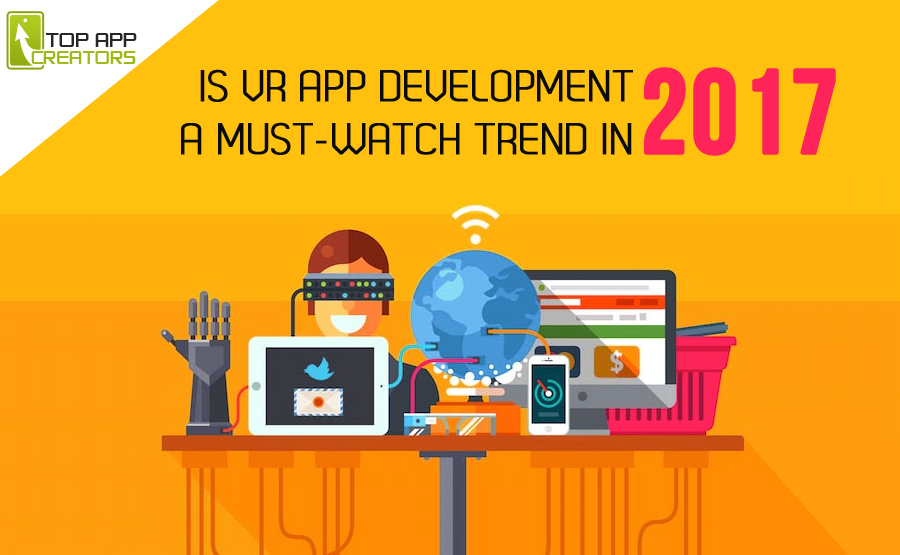 The concept of virtual reality has been around for decades, but it is only now that it's slowly permeating modern technology as evidenced by the rise of VR trends in the field of app development. While advocates of VR are ecstatic, many still question whether virtual reality would really be that significant in the future of app development. Will it really have lasting impact in the field? In the following post, we are going to highlight the pertinent signs which pretty much support those who are declaring that it would soon become a norm in the creation of mobile applications.
2017 Heralds the Normalization of Virtual Reality
This hefty statement is backed by the fact that pioneers of VR are stating it would become the new digital gold rush, in the same way mobile application development started. Another point that backs this is the growing number of big brands (Google and Dell being good examples) that are beginning to robustly invest in VR and applying it in their technology. One of the primary goals of creating apps that center on VR is to make it widely available not only to most potential developers but to the general public. With such big backers ready to fully develop it into full-pledged field that can stand on its own, it's only a matter of time before it becomes a norm.
The Limitless Possibilities that Virtual Reality Applications Bring
Of course, part of the appeal of VR lies in the completely unique experience that it affords the user. Most VR apps allow the user to participate in a virtual world that is able to react to the presence of the user who is in the form of an avatar. This is basically what you can experience at present when you use Google, Android, and iPhone headsets. It places you in a completely different universe; it technically gives you a first-hand experience of what you would have only been able to view had you used a TV or computer monitor. This practically unlocks limitless solutions for not only private but corporate and government use as well.
That being said, the most compelling reason why VR would certainly stand the test of time, as many experts are now proclaiming, is that it is, simply put, a new frontier that is mirroring how TV started. Of course, we all know that television pretty much defined an entire generation and is still pretty much evolving today. With the noteworthy VR trends that are springing up especially in the year 2017 alone, it's safe to assume that the usage of virtual reality in apps would traverse a similar route.
Offers Promising Prospects for Investors
Another good reason why VR could very well be the next big thing is that experts are projecting that the VR market could become a 30-billion dollar industry by 2020. Such projected improvements within a 3-year interval is a telling sign that it is, indeed, a booming field.
Evidently, this could not have been made possible without the impact that mobile apps brought to the world as a whole. Mobile app development pretty much laid out the blueprint for how virtual reality can finally succeed influencing people's daily lives.