By simply creating a customized mobile application for a firm or a business, it will help in making it a stand out from others. Nevertheless, there is a need to have an effective and engaging design to set it different from the rest. Through the help of mobile app developers and designers, the vision of the brand will be brought to life across operating systems and devices.
Good thing, there are mobile app developers and designers in the country narrowed down to help you settle with the best mobile app company that meets your unique needs. These designers have also proven their expertise and knowledge in the field in the development of top mobile apps.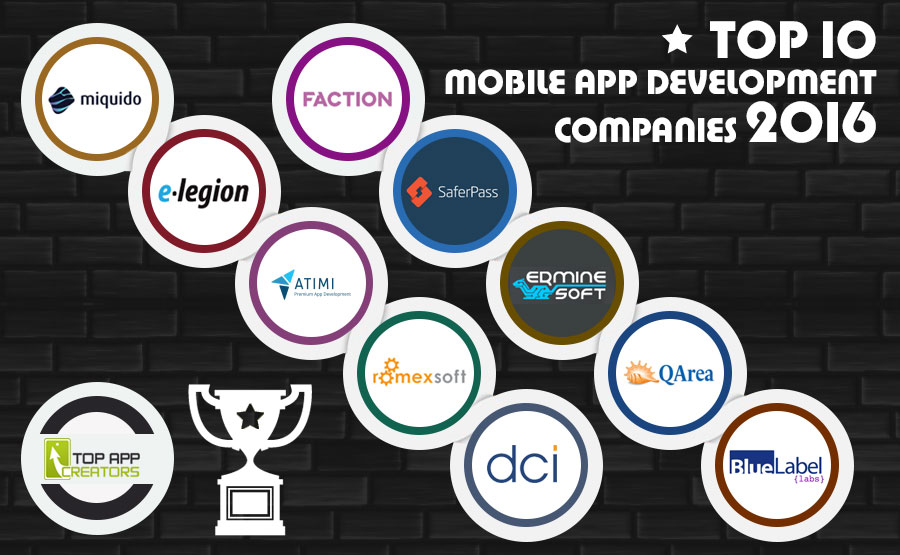 These are successful, talented and highly qualified developers that demonstrate the best performance of all companies. They are also a standout from the rest and they have produced greater and more quality work.
On top of their priorities is the development and planning of stunning mobile apps that bring the business to the level one has ever dreamed. Putting their creative energies and strategies to use, they are really effective in taking your mobile application to the next level.
Prior to the goal of reaching every audience, an owner of a website will therefore be provided with an excellent level of service. Hundreds of applications have been designed in order that businesses reach across different types. In addition to that, they are knowledgeable enough and are expert enough in delivering the best results.
Here are the Top 10 Mobile App Development Companies Rankings of 2016:
Miquido is a mobile apps design & development company, with a hint of wearable apps & smart home solutions. 9/10 our projects come from referrals, so with 90+ solutions delivered in just 5 years, transparent and well managed production process, we have become an award-winning 70+ team with proven track records!

e-Legion is a Russian leading mobile development company founded in 2005. The company has 4 branches across Russia now, with the headquarters in St. Petersburg, and 100+ professionals on the team. e-Legion developed more than 100 apps that are used by millions of people. In order to advance the mobile industry in Russia, e-Legion organizes a number of events for top managers of IT companies and developers.

QArea is one of Eastern Europe's leading software outsourcing providers. They support customers with a wide range of cutting-edge technological solutions. 15+ years' experience, and certified specialists.

Dot Com Infoway offers mobile/PDA application solutions that help organizations to communicate with their customers through custom mobile devices. Leveraging our industry intelligence and technological background, we design and build mobile applications that are customer-friendly and facilitate easy and quick data processing.

Blue Label Labs is a 27-person mobile, tablet, watch, TV and AR/VR app design, development & marketing agency based in NYC.

Atimi Software is a full-service development and consulting company for iOS app development, Android app development, BlackBerry app development, and Windows Phone app development. We know what works, what doesn't work, what will get and retain the attention of your customers, and how to do it all in a revenue-positive way.

Romexsoft is a High-load Java Application Development company founded in 2004. During the last 12 years we've developed and successfully delivered more than 100 business solutions to our clients in Fintech, HealthCare and Broadcast Media industries.

Faction Studio is a small collective of designers and engineers who are bound together by the mutual love of creating high-quality experiences for mobile and web. With a heavy focus on enterprise product development, we accept only a couple concurrent projects at a time.

SaferPass Password Manager makes life easy! – Never forget another password – Generate strong passwords that you don't have to remember – Passwords are autofilled for you as you go to your sites.

Erminesoft is a US-owned top mobile app design and development agency with 5+ years of experience in delivering solutions to enterprise and consumer-facing companies as well as startups. We take each project personally and create powerful mobile and web apps that go beyond expectations.