With the rise in usage of Wearable technology, it's only apt for marketers to start thinking of new concepts that would serve to continue the growth of the said technology. Who knows? You might end up pioneering the invention that would define this generation of mobile apps. Your ideas won't come to life if you lack the necessary knowledge to create wearable apps, though. Good news is that, if you're not yet already aware of it, there are companies that actually specialize in the development of apps that focus primarily on wearable technology.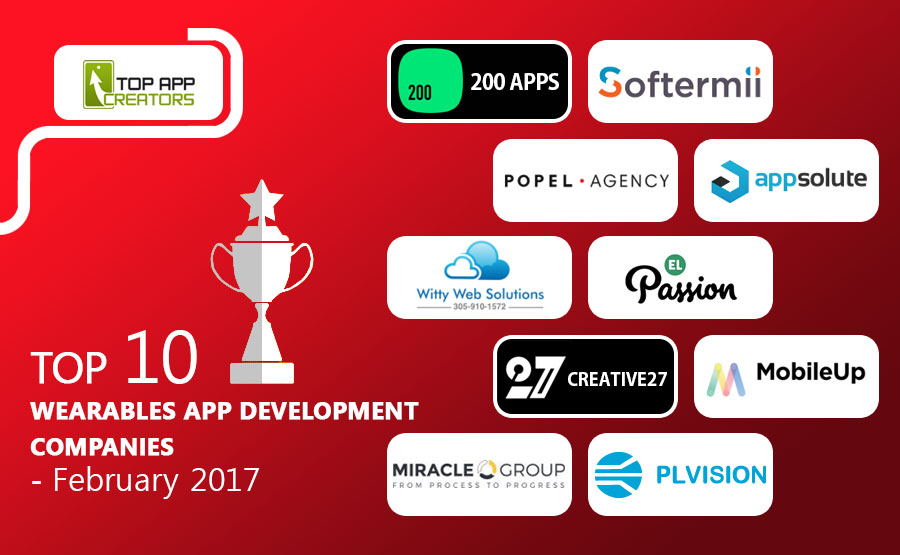 The mere fact that we have included 10 of the best ones in this list says a lot about the potential that this technology has in the years to come. Not a lot of users may be relying on wearables at the moment, but if there's continued interest in investing in the field (such as the one that you are expressing at the moment), then it wouldn't be far-fetched to say that the future is indeed bright for this tech. And, the company that you select from this list could very well serve as the key to your success.
Here are our Top 10 Wearables Application Development Firms of February 2017:
We develop top quality native mobile applications. We want your users to fall in love with your product and we're willing to do whatever it takes in order to make it happen.

Softermii provides full cycle of software development services, with main focus on Microsoft stack, Python and Mobile technologies. Since our inception in 2014 we have already served a diverse range of clients across many sectors. We are continuously looking for interesting and creative projects.

POPEL Agency is a team of people with shared values and ambitions. We work together to achieve more. Every day our specialists become a little better. We constantly monitor technological advancement, hold trainings and continued education courses for our team, adopted to fit their traits and talents.

Appsolute is a young and innovative mobile development agency based in Lyon, with a strong international dynamic. Its clients are located mainly in France, Switzerland and Belgium. Appsolute's state-of-the-art capabilities make it possible to offer complete and competitive services in the field of all-platform mobile applications: iPhone / iPad, Android (smartphones and tablets), BlackBerry, and Windows Phone.

We provide web and mobile development and support on full stack solutions with back-end, web and mobile based front ends. Most of our solutions for schools are Word Press based solutions.

A Warsaw based company that develops Ruby on Rails web applications, feature-rich iOS and Android applications for clients in Western Europe and USA, seamlessly combining intuitive design, functionality and rock solid stability.

We're your one-stop multi-award winning mobile design and development shop. Our Los Angeles based agency will support your app from conceptualization to launch. We create beautiful apps with intuitive user interfaces that help brands stand out on multiple platforms. Our work has earned us several awards including the IF Design Award, Appy Awards, and the CES Innovation Award.

MobileUp creates mobile apps that help users to manage connected systems. Including transport, medical devices, electronic gadgets, sensors and different smart things. We develop apps that run in multithreaded mode, interact with the periphery of many devices. Practicing machine learning, computer vision and DSP.

A global custom software development company focused on Agile Methodologies and Continuous Delivery. We provide outsourced professional application development and custom software development services. We are well-known by providing timely and efficient services.

PLVision is a European B2B software engineering company providing full cycle of software development and testing services in the areas of Networking, Embedded Systems, and IoT. Our mission – Effective cooperation with Technological Partners who share our passion for challenging IT projects. PL VISION's headquarters is located in Krakow, Poland, and our development forces are located in our fully-owned devcenters in Ukraine – in Lviv and Odesa. We work with customers from about 13 countries from all over the globe.