Developing apps for wearable tech is the next step in the relationship between companies and customers. Before wearable tech hit the market, it was enough to have a website, good SEO, social media presence and maybe an app or two for mobile devices. But wearable tech seems to be spreading at an unprecedented pace, which means that companies who want that competitive edge in their marketing efforts will soon implement apps for these devices.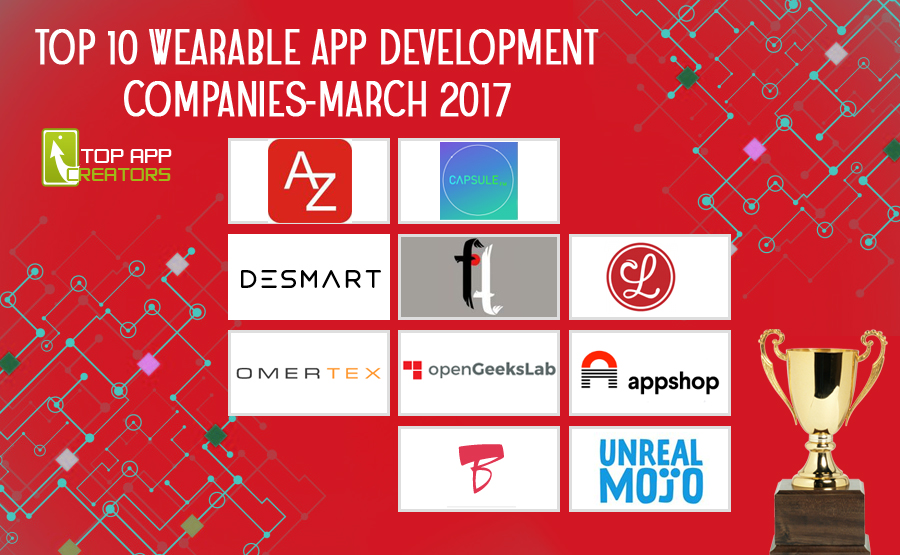 However, wearable tech requires more specialized knowledge than regular mobile devices which means that app development can be more complex and harder to optimize. This is why we've decided to compile a list of the top 10 wearables app development companies for the month of March 2017. This list will provide you with the contact information for companies that have a proven track record and market penetration to deliver high performance apps for wearable technology.
Here are our Top 10 Wearables App Development Companies of March 2017:
Omertex, Ltd. is a software development company from Belarus, focuses on .NET, SharePoint, Java EE solutions and mobile iOS, Android, and Windows apps.

Capsule.fm makes your online content audible. We're turning online into audio. Our technology connects users with online content without looking at a screen and lets people listen to popular internet content like news, weather, entertainment, social media or music. The first product build on the Capsule.fm technology is The Early Edition, a smart, talking alarm that wakes you up beautifully to the latest news, weather, entertainment and music. It's an experience that makes waking up some like a dream.

We are an outsource company, that concentrates on developing high quality and complex projects, that are in demand worldwide.

Our goal at openGeeksLab is to introduce our clients to a new world of mobile-friendly website and mobile app development. By utilising a wide array of popular platforms, we can enable your business to reach out to clients anywhere, any time and on any device.

AppZoro Technologies offers iOS, Android Application Development, Responsive Website Development, UX/UI Design and SEO services. AppZoro brings your imagination to reality! AppZoro Technologies Inc. is an Atlanta based company with a focus on Mobile App Development and Web Solutions. We have consistently delivered quality services at affordable costs to our clients. With effective practices and a talented team, we offer a range of expertise in the field of Technology and Internet of Thing (IoT) to help our customers innovate and launch their businesses.

We build apps that impact the world. Ready to radically refine your best ideas, create killer apps and win at mobile business? From ideation to app creation to market domination, we are here to walk together with you.

Unreal Mojo is a highly skilled team of professionals specializing in iOS, Android and Windows Phone 7/8 application development. Additionally, we create Mac OS X software, complex Website backends, and perform security analysis services for organizations.

Lickability is a small software studio in New York City. We design delightful apps for people like you. We like you. Founded by Brian Capps and Matthew Bischoff in 2009, Lickability has released three award winning apps for iOS, Quotebook, Velocity, and Pinpoint.

DeSmart is a Software House founded in 2003. We create dedicated software for web and mobile devices targeted to the local and international market. We were responsible for creating the technical background for UXPin – the top-notch tool for User Experience Design. We specialize in web & mobile (native) apps and RWD websites.

The Better Bunch is a digital production company. We specialize in mobile apps (iOS and Android). The core team consists of a dozen professional designers and programmers and is easily expandable for larger projects. Our primary experience lies within the area of internet of things, productivity apps and content-based apps.