Wearables are the next big thing in the market, in fact, wearable technology is already 'the' thing in the digital market. Until some time back, a great website and an app were probably good enough to propel a business to stardom, but today, in a world full of competition, it is wearable technology that businesses need to invest in to maintain their differentiating factor.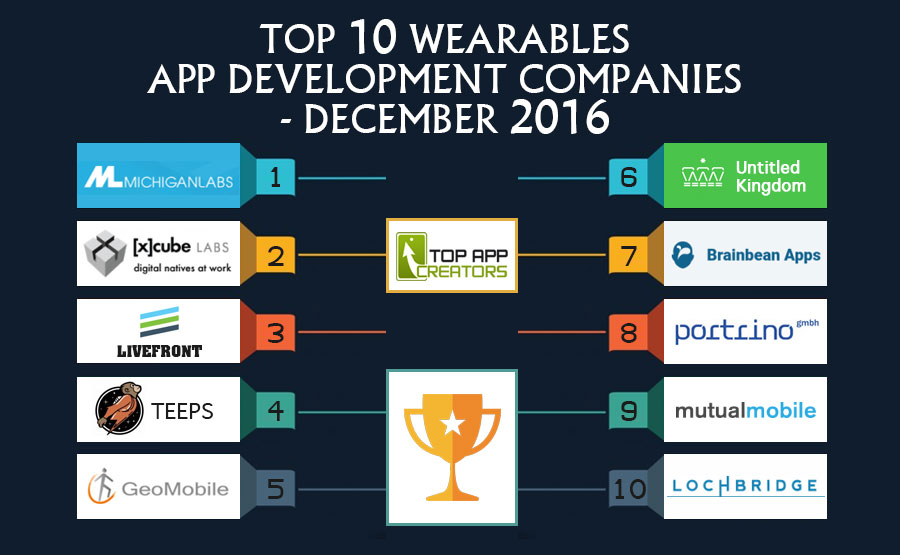 However, iPhone and android based app development companies may not be experts in creating apps for wearable devices, which is a relatively new trend. An investment that will cost you money and may define the future of your business, it is only wise to associate with an expert wearable app development company to get the best results. See below for a handy compilation of top 10 Wearable App Development companies handpicked by us to help you make an educated decision.
Here are our Top 10 Wearables Application Development Agencies of December 2016:
The purpose of MichiganLabs is to make iPhone and Android App development less intimating and more accessible for organizations, businesses, and entrepreneurs. It was founded on the basis that all companies and organizations deserve to reach mobile users.

[x]cube LABS, a division of PurpleTalk Inc., is a leader in digital innovation and strategy consulting. Established in 2008, we are born digitals with deep expertise in all things digital- social, mobile, analytics, wearables and Internet of Things. We have delivered over 700 solutions across industries, won 25+ International awards, worked with 500+ clients & created value over $2.0 bn for our clients.

Our team creates beautiful mobile apps for people in motion. We work everyday with Fortune 500 companies and startups alike to build custom software for phones, tablets, mobile payment wallets, and wearables like watches and glasses. We care deeply about quality, and we love what we do.

We are a group of talented and passionate developers and creatives. We are all like-minded and share the common goal of creating amazing mobile apps and experiences, constantly learning new ways of thinking to better our approach. We continue to be humbled by those around us. Mobile apps are our passion, and our commitment to quality is what enables us to keep reaching further.

Participating in large-scale European and national research projects and combining cutting-edge technology expertise with commercial acumen, GeoMobile exploits innovative research and development into leading products, services and technology. With our expertise in the areas of usability, accessibility and our network of renowned partners in the research area we are sought-after service provider for institutions and customers from the European Union, from the public and from the private sector.

Untitled Kingdom is a butique Software Studio placed in the heart of European Union. Since 2008, we are crafting high-quality custom apps for mobile, web and IoT. With our complementary approach to product development, we're growing ideas from their seed till the day of AppStore launch.

Brainbean Apps is a full-cycle & full-stack mobile software development company. When creating applications for Android and iOS using various frameworks and approaches, we also take care of design, infrastructure, and quality assurance. Let us accompany your product from idea to publishing & warranty support!

Based in Dresden, Germany, portrino GmbH is an agency for software development and online marketing. portino serves clients in national and international markets. The focus is on contract-specific web-based software, including mobile applications as well as online marketing and public relations in the B2B sector.

We help brands uncover the value of emerging tech. Innovative solutions to complex problems require carefully constructed teams. That's why ours mix equal parts strategy, design, and engineering, with R&D as a shared responsibility. Beneath this highly collaborative, iterative environment lies a passion for studying people that helps us craft experiences they love. We've helped many of the world's leading brands – including Audi, Cisco, Google, and Philips – cut through the clutter and prioritize their technology investments to align with their brand, business objectives and users' needs.

For more than four decades, we've been a trusted technology partner to enterprises worldwide, from GM and American Greetings to Dole and Blue Cross Blue Shield. We develop the technology that powers the future of their businesses. Apps that can start your car, smart watches that monitor your health, cars that drive themselves – and more. We deliver systems that are the backbone of leading enterprises.