However, wearable tech requires more specialized knowledge than regular mobile devices which means that app development can be more complex and harder to optimize. This is why we've decided to compile a list of the top 10 wearables app development consultants for the month of May 2017. This list will provide you with the contact information for consultants that have a proven track record and market penetration to deliver high performance apps for wearable technology.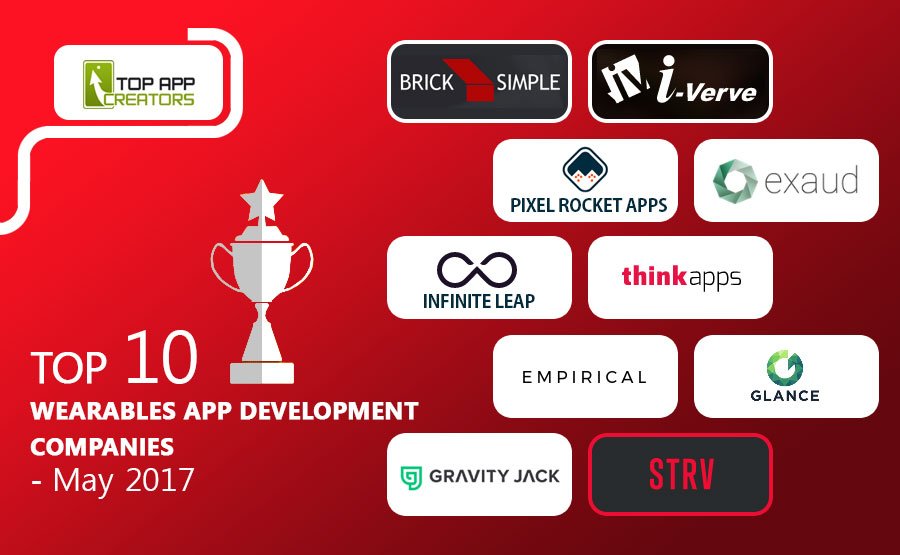 Here are our Top 10 Wearables App Development Consultants of May 2017:
BrickSimple has been building software products and solutions since 2002. With clients ranging from the Fortune 500 to start-up companies, we are recognized as one of the leading boutique mobile, IoT, VR/AR, and wearable application developers in the United States. While some firms have just begun working with these technologies, our mobile application development portfolio spans more than a decade and we've been doing VR/AR development for nearly 5 years.

i-Verve is one of the leading app design and development companies, headquartered in Chicago, IL, USA. The company focuses on the mission critical mobile or web apps development solutions. We not only bridge the highest level of enterprises, but also help small and mid businesses boost their sales by rendering immaculate web design and mobile app solutions. Our enterprise application development team is qualified, veteran, skilled and dedicated in various platforms and technologies. We refine your dreams and give them a real base through different strokes. Our web design and development foundation is robust and sleeved with years of expertise.

PixelRocket builds custom virtual, web and mobile applications for startups, enterprises and nonprofits. We also focus intensely on the UI/UX of every application we construct, which means a quicker learning curve and better experiences for your users.

Exaud is an established software development and technical consultancy company providing custom software solutions in three key areas: Embedded systems and applications, Mobile Application Development, Wearables and Internet of Things. Our expertise is built on our experience in different sectors, such as automotive, computer vision, game controllers and digital consumer devices.

We are a team of creative thinkers and engineers, dedicated to the pursuit of bringing amazing products and solutions to the world. We create mobile, wearables, Augmented Reality and IOT solutions. We believe that code can and is changing the world.

ThinkApps is an on-demand service for designing and building stunning apps for web, mobile, and wearable devices. Based in San Francisco, CA, ThinkApps powers top Silicon Valley startups and enterprise companies exploring the cutting edge.

We are software development company focused on helping entrepreneurs and startups build their ideas and products. We help them succeed by transforming product ideas into high quality working software solutions through innovation, embracing agile methodologies and delivering each project milestone on time and budget.

Glance aims to redefine how we use mobile devices by redefining the way we create apps for them. We are pushing new approaches and thinking in the mobile space.

Gravity Jack is a full-service American custom software design and development agency, headquartered in Liberty Lake, WA. Specializing in cutting-edge technologies, including mobile apps, augmented reality (AR), virtual reality (VR), visual search and 360º video, Gravity Jack creates completely custom software solutions for names like Kraft Foods, Boeing, Coca-Cola, TaylorMade Golf and more.

STRV is a top-tier, one-stop mobile app development shop working with leading startups from top US accelerators. Since 2004, we have developed more than 200 mobile apps for iOS and Android as well as frontend and backend solutions. With more than 130 rock star developers on our team, STRV is the preferred partner of dozens of top US startups which benefit from our high-quality code, sleek designs and super-fast turnaround. STRV is turning ideas into cutting-edge products users love.