Wearable technology is seeing an exceptional boost in growth in these present times, which is why if you're looking for a good business opportunity to embark on, developing a wearable app could very well be a sound investment in the long term. There aren't plenty of companies that concentrate solely on wearable app development, though, which speaks volumes about its relative youth.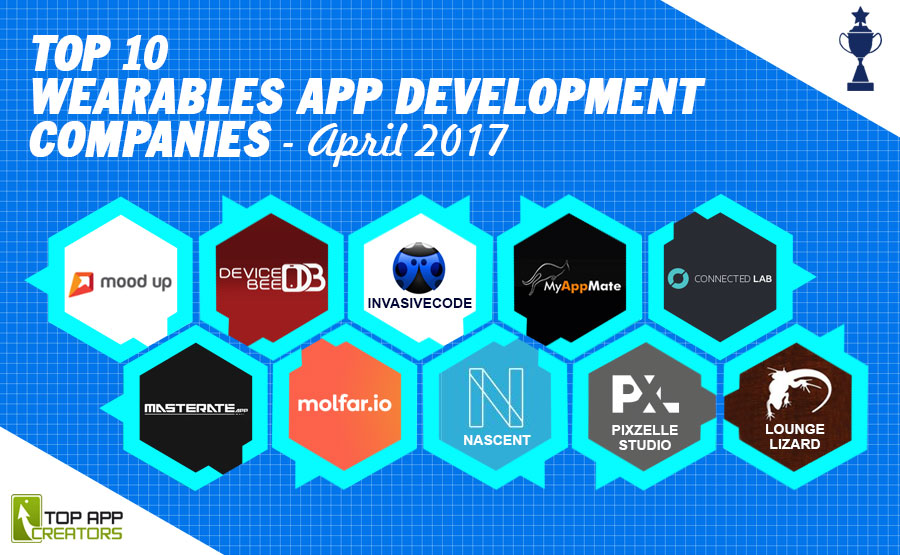 This doesn't necessarily mean that your options are limited, though, for there really are plenty of wearable app development companies that stand out at present. Whether you intend to develop an app for the Apple Watch, Android Wear, and others, then you should really consult the best companies that have exhibited excellence in their development of wearable apps for users and business owners alike. We have outlined them below. Take note that this top 10 list for this month only, showcasing the healthy competition in the said field.
Here are our Top 10 Wearables App Development Companies of April 2017:
We know everything about mobile. Our team works with smart businesses and brands to validate concepts, identify audiences and define opportunities. We believe that better UIs create better experiences, so we place a great deal of importance on look and feel. Our experts craft innovative applications for iOS, Android and web. Whether for social platforms, enterprise or eCommerce, we combine intuitive design and sophisticated functionality.

DeviceBee is a dynamic game changing software development company focusing on empowering business with cutting-edge technological solutions.

iNVASIVECODE is a premier mobile development team, founded by ex-Apple engineers, that specializes in rapidly advancing enterprises through modern mobile technology.

MyAppMate is the prominent mobile app development services provider in Australia. The company focuses on designing, developing & maintaining mobile apps.

Connected Lab is the leading product innovation and delivery firm in the world. We are experienced digital natives who have helped ship some of the most disruptive digital products of the last decade. Connected's proven start-to-finish methodology is currently helping the largest consumer brands transform. We believe that digital transformation should result in shipping better digital products.

Masterate App is your One-Stop Solution for all iOS App Development requirements ! We provide innovative and cutting-edge mobile solutions. iOS and Android and other platforms development.

We help to test digital business ideas. It's not just "create a mobile app and send it to App Store"​. Maybe, it's a surprise, but the idea can be tested even without any line of code. It can be photos, fake landing pages, prototypes, and MVPs. No need to build huge systems to validate customer demand.

At Nascent we help people become better at making great digital products.

We develop tailor-made Apps, taking your tools to reach your users, consumers and collaborators, getting close to your customers and keeping you at the forefront of the latest technologies.

Lounge Lizard Worldwide, Inc. is an award winning Web Design Company and mobile app developers located in NYC. We specialize in creating desktop, tablet, and mobile browser websites. We also specialize in creating iPhone, iPad and Android phone and tablet apps. Lounge Lizard understands the importance of brand and marketing strategy and has delivered websites and mobile applications consistent with our clients' existing corporate image without fail. Can your Website design company do that? In the cases of newly formed mobile startups Lounge Lizards staff of app developers has successfully designed, developed and launched ios and android.