Developing apps for wearable tech is the next step in the relationship between companies and customers. Before wearable tech hit the market, it was enough to have a website, good SEO, social media presence and maybe an app or two for mobile devices. But wearable tech seems to be spreading at an unprecedented pace, which means that companies who want that competitive edge in their marketing efforts will soon implement apps for these devices.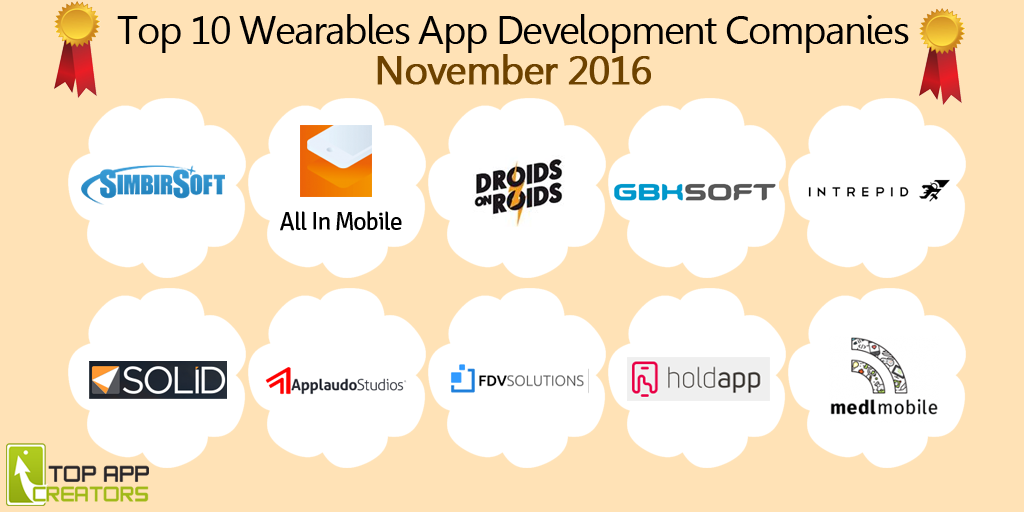 However, wearable tech requires more specialized knowledge than regular mobile devices which means that app development can be more complex and harder to optimize. This is why we've decided to compile a list of the top 10 wearables app development companies for the month of November 2016. This list will provide you with the contact information for companies that have a proven track record and market penetration to deliver high performance apps for wearable technology.
Here are our Top 10 Wearables App Development Agencies  of November 2016:
SOLID is a creative digital agency dedicated to delivering successful interactive projects, stable software, innovative products and unmatched customer service. Founded in 2007, we have the pleasure of working with a unique and diverse list of clients that provide for us the amazing opportunity to help advance their business success.

Applaudo Studios is a full service Nearshore software provider focused in Native Mobile technologies, and Web Development. We work with the largest Fortune 500 Customers in the United States, providing nearshore 100% dedicated talent for their specific projects and needs.

GBKSOFT is a Web and Mobile R&D Engineering Company. Our domain knowledge and outstanding level of technical expertise allow us to deliver complex information technology solutions and custom software products to hundreds of successful businesses worldwide. GBKSOFT provides nearshore software development services for European countries facilitating communication, research and development of professional business website.

Founded in 2010, Intrepid is an end-to-end mobile design and development company with offices in Cambridge, MA and NYC. With expertise in insightful product strategy, well-crafted design and proficient development for iOS, Android, Back-End and Rails, we help companies, from startup to enterprise, boldly navigate their mobile future.

We've fine tuned a process that builds great mobile technology. Since 2008 MEDL Mobile has helped to architect, design and develop hundreds of mobile technologies alongside a storied list of innovative companies and people.

Full-service iOS, Android and backend development company from Poland. We offer sophisticated mobile solutions from design to store release and build high-performing mobile apps for the start-ups, great brands and the largest corporations. Facebook, Disney, Electric Objects and Giphy love the quality of our code, just to name a few.

Founded in 2001, SimbirSoft provides custom software development and testing services for companies from the USA, the Russian Federation, Japan and European countries. Over the time in IT-market SimbirSoft has realized more than two hundred projects of business processes automation, document workflow and project management systems, CRM, cloud systems, financial and statistical components, web and mobile applications as well as IT-consulting services. The key technological platforms we use for development are Java, C++, .NET (C#), PHP/Ruby, Android/iOS/WinPhone.

We help start-ups and SME to reach their goals in a mobile apps environment. We focus on delivering business value at any stage of co-operation. Delivering transparent services of skilled and ambitious mobile apps consultants, designers and developers.

FDV Solutions was founded in June 2006 as a project of seven engineers from the University of Buenos Aires who believed that it was possible to create a workspace that fosters research, continuous learning, and strong interpersonal relationships and that at the same time can offer quality services to their customers.

We offer comprehensive end-to-end mobile app development services. From design and consulting, to an iterative production cycle, to delivery, distribution and beyond, we bet high on quality, deadlines and reliability.