Mobile app solutions are sought-after for both internal and external-facing purposes by companies from around the world. These apps can help increase productivity, customer satisfaction, and the efficiency of a company's marketing efforts. However, companies also take a sometimes significant financial risk when commissioning the development of a proprietary app.
In this article, we're going to help you make the best decision when choosing an iPhone app developer. With 395 iPhones sold every minute, over a billion sold since the its release, and over 101 million users in the US, the iPhone is one of the most popular mobile platforms in the world. The companies on our top 10 list have been chosen based on a variety of factors including experience, number of satisfied customers and cost efficiency, so that you can make the best decision for your company.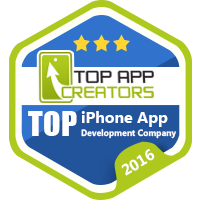 Here are our Top 10 iPhone Application Development Companies of October 2016:
We develop mobile games and apps for iOS, android, windows phone and desktop. We love what we do and always are very sure to meet client needs by having clear and constructive communication.

DreamSoft4u is an IT consulting and solutions provider for enterprises and startups globally. We do have more than 12 years of extensive experience in IT industry including technology and industry domains. We work with our customers; mostly the enterprises and startups to support them to grow their business and turn them into successful and high performance organizations.

DevelopmentNow is a growing award-winning digital product solutions agency with offices in Portland, OR and Chicago, IL. We integrate mobile, web, and hardware solutions to fit any use case, bringing innovative products to market and helping companies improve existing products. We focus on using agile methodologies, industry best practices, and innovation to deliver tangible value to businesses and organizations via new technology and reliable process.

twentysix is an award-winning full service digital communications agency, passionate about digital and experts in marketing. We deliver indispensable creative and commercial thinking that connects brands closer to their customers online.

Blue Rocket is a full-service mobile app development studio collaborating with fast growing brands and startups focused on iOS and Android devices. Mobile is our passion and it shows having created several top ranked and top grossing consumer apps.

Geeks Chicago specializes in all things digital, whether it's a new web site or mobile app we have the team to get it done. With more than 20 developers and designers available Geek Chicago can handle any size project and any size budget.

Founded in 2012, jakt is a product development studio based in New York City/. We specialize in creating bespoke digital products and experiences for web & mobile.

Copious is a digital agency that creates engaging experiences that drive value for our clients. We work with clients whose passion rivals our own.

Snappii builds native iPad, iPhone and Android custom mobile apps faster with more features and less expensively than anybody in the industry!

Boston Technology Corporation is a leading provider of Mobile and Web software development services based in Marlborough, MA. Established in 2004, Boston Technology has served a range of clients from entrepreneurs to Fortune 500 companies. Clients have engaged Boston Technology for over 100+ projects.