Mobile app solutions are sought-after for both internal and external-facing purposes by companies from around the world. These apps can help increase productivity, customer satisfaction, and the efficiency of a company's marketing efforts. However, companies also take a sometimes significant financial risk when commissioning the development of a proprietary app.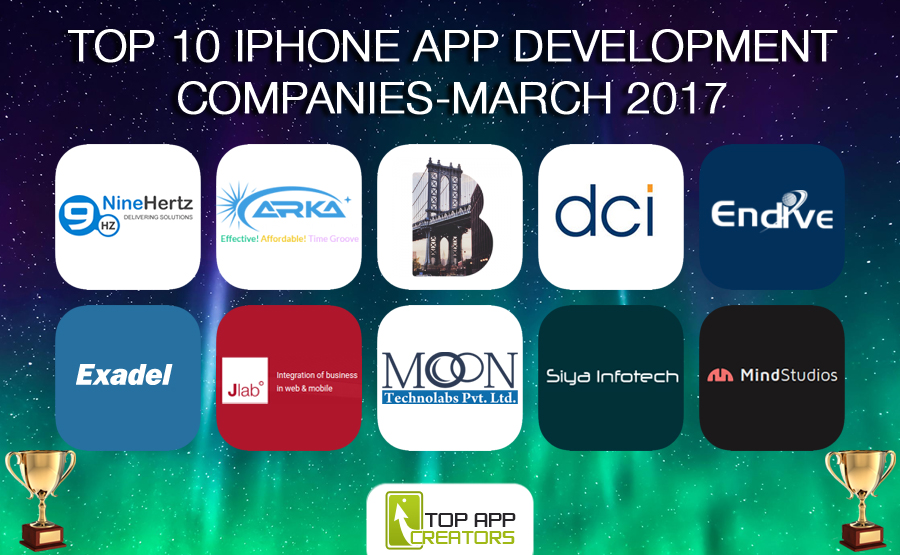 In this article, we're going to help you make the best decision when choosing an iPhone app developer. With 395 iPhones sold every minute, over a billion sold since the its release, and over 101 million users in the US, the iPhone is one of the most popular mobile platforms in the world. The companies on our top 10 list have been chosen based on a variety of factors including experience, number of satisfied customers and cost efficiency, so that you can make the best decision for your company.
Here are our Top 10 iPhone Application Development Companies of March 2017:
ARKA Softwares emphasizes on client satisfaction with stability, robustness, quality work and honesty. We focus on commitment technology and quality assurance which help us to serve our client better. We have expert professionals of various latest technologies to provide best solutions of our client's complex problem.

Dot Com Infoway offers mobile/PDA application solutions that help organizations to communicate with their customers through custom mobile devices. Leveraging our industry intelligence and technological background, we design and build mobile applications that are customer-friendly and facilitate easy and quick data processing. We have developed customized iPhone based mobile application, Java based mobile application and Windows based mobile application solutions.

We do not develop typical projects. We solve specific business problems with the help of customer projects that require serious analytical approach and further development. The uniqueness and quality of our work is determined by years of experience in the field and a team of top-notch professionals.

Mobile and Web We create useful and modern mobile applications for Android, iOS devices and responsive websites. Our hardworking developers create the best web experience for you and your users.

Endive Software has wide experience of in-house development in multifarious domains. Our 95% of the clients, who have taken our services once, have preferred us as their first choice. The credible services of Endive Software are making it the second name of trust and passion. The company has a specific focus on Web Application and Mobile Application Development, whereas it is also a certified Salesforce Development Company.

Siya Infotech Solution have more than 7+ years of experience for providing IT solutions. The firm is specialized working in iOS development, Asp.net MVC & various PHP open source technology. Our professional developers have expertise in the development of robust web and mobile app development, according to the specific requirement of our clients.As an experienced web development company, we are offering offshore outsourcing solutions to different businesses all over the world.

Moon Technolabs is a full-service Web & Mobile Application Development Company Chicago, We providing custom Web & Mobile App solutions to the clients across the world. We Offer, Mobile Application Development, Apple & Android Wear App Development, MacOS and Windows Desktop Software Developer, Website Design & Development.

The Ninehertz is a leading iOS app development company which providing services such as iPhone application development, iPad app development and Cross platform application development all over the world. We started our journey in 2008 and since then we are offering quality services in top 15+ countries like USA, UAE, Canada, Australia, India and rest of the world. In this wonderful Journey of 8 years, we have established a strong relationship with top industry leaders like Amazon, Microsoft etc.

BKLYN is a mobile & web app development agency. We core pillars are quality, integrity and communication.

Exadel is a software engineering company that provides a full gamut of software services along with products by drawing on a global pool of skills. The company primarily provides custom software applications for businesses on a project basis with an emphasis on mobile applications.