Apps are the way forward for any business. And if you are looking for maximum exposure, there is no way you can ignore the iPhone users of the world. However, development of iPhone apps requires a different skill-set as iOS is a closed system created by Apple specifically for its own devices, offering high usability and a great user experience. In fact, iPhone apps for enterprise management have also proven to be highly efficient, making operations much more easier and manageable.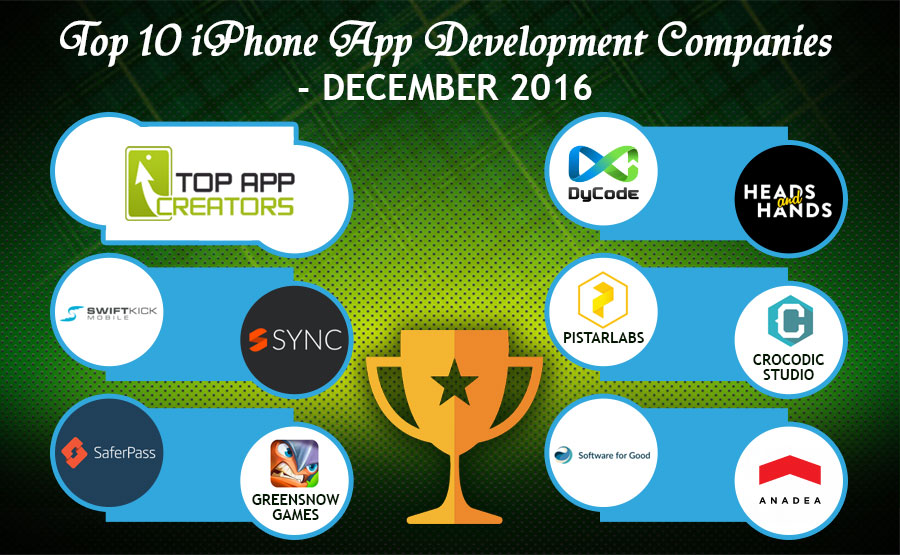 In case you are looking to leverage the iOS platform for your business, it is imperative to get in touch with only the best for a top class app to serve your purpose. With that end, we have compiled a list of top 10 iPhone App Development Companies to ensure you deal only with an expert for a highly successful app.
Here are our Top 10 iPhone Application Development Agencies of December 2016:
We founded SwiftKick Mobile in 2015 with the idea that we could build a better mobile agency. Our goal is to deliver superior app experiences by cultivating innovation, best practices, and quality standards. Our company leaders assume full responsibility for the successful delivery of every project and make daily hands-on contributions.

Sync Interactive are an award winning, full service mobile marketing agency based in Birmingham. We help global brands, businesses and startups reach new audiences, increase sales & maximise customer engagement through the use of mobile apps, technology, design & marketing. Voted 'Uk's Best Mobile Agency' in the 2015 RAR+ Digital Awards.

SaferPass Password Manager makes life easy! – Never forget another password – Generate strong passwords that you don't have to remember – Passwords are autofilled for you as you go to your sites. We save your time.SaferPass can automatically log you in, fill in form information, and help to backup your passwords. Once you login, they are stored securely encrypted with your master password. SaferPass Password Manager does utilize AES-256 encryption implemented with salted hashing.

GreenSnow Games is a game development Studio located in Moscow, Russia. Since 2011 the Studio has released 11 mobile applications. Studio's crew has high professional qualifications and experience in animation, film production, media, advertising and IT industry.

PT. Dycode Cominfotech Development or DyCode is a dynamic award-winning software development company from Bandung, Indonesia. It's founded in 2007 by highlighting the word "DyCode" – Dynamic and Code – as the company trademark. Dynamic is the company value and code is the tool to achieve company's vision. DyCode is one of few companies in Indonesia that's the first adopter of Apple iOS development platform since 2008. Not only that, now DyCode has been adopting all modern mobile platforms, including Android, Blackberry, Windows Phone 7, Symbian, Nokia S40/S60, and Meego.

Heads and Hands is a close-knit team of specialists that is always working on goals of its clients. We create complex web-services and mobile apps, focus on data and develop projects with all our hearts.

Pistarlabs is a team founded at the beginning of 2012 based in jakarta, Indonesia with mission to change how digital product is built. At the beginning, Pistarlabs founded by a web developer, an iOS developer, and a designer who work remotely from Jakarta and Bandung with vision and mission to have a team for develop a product.

We Create and Develop Android and iOS Mobile Application with "imPACTful" taste. Our core competence is in the development of applications, but the main focus We prefer to "significant positive Impact" application to the value of your company. Crocodic Studio also offers a "trusted service" indicators include clarity office address, profiles of HR, legal bond on applications developed (MOU application) and standard applications assurance warranty of at least one year so that we deserve to be a long term partner of your company.

Since 2004, Software for Good's experienced team of software engineers, designers, and digital strategists has paired cause with craft — developing web and mobile applications for organizations working toward positive environmental and social change.

Anadea is a software development company with over 10 years experience in the market. We design high-end complex custom websites and mobile applications. Our expertise and customer oriented approach allow us to build intelligent software solutions that meet our client's exact business needs.