iPhone apps can also be built for internal enterprise purposes. If your company has equipped the staff with iPhones, developing a proprietary app can help increase productivity, efficiency, mobility and customer satisfaction.
For these purposes, we have compiled a list of the top 10 iPhone app development consultants. Every development project has a risk associated to it, and developing apps is no different. This risk could endanger the significant financial investment that app development requires, which is why it is important to hire only top tier consultants, and why we have compiled this list.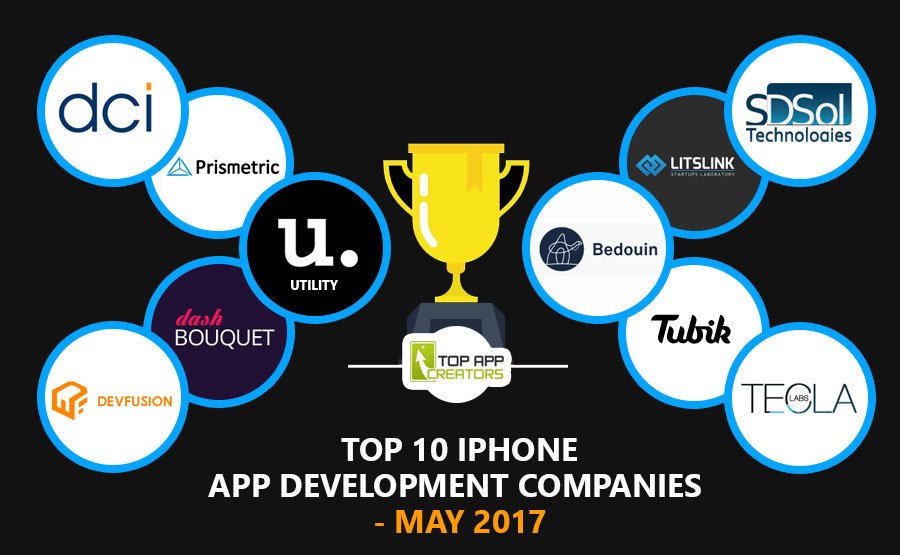 Here are our Top 10 iPhone App Development Consultants of May 2017:
Dot Com Infoway offers mobile/PDA application solutions that help organizations to communicate with their customers through custom mobile devices. Leveraging our industry intelligence and technological background, we design and build mobile applications that are customer-friendly and facilitate easy and quick data processing. We have developed customized iPhone based mobile application, Java based mobile application and Windows based mobile application solutions.

Prismetric is an ISO 9001:2015 certified Mobile App Development company based in India that offering exceptional applications development for iPhone, iPad and Android devices along with other web services to provide end-to-end solutions. Since its inception in 2008, the company has always followed a vision to provide customized technology solutions that delight clients and today have turned out to be a leading and reliable App Development service provider.

Utility specializes in crafting custom mobile applications with innovative partners, from startup ventures to Fortune 500 brands. We're made up of digital product strategists, user experience designers and engineers.

dashBOUQUET creates mobile and web apps for worldwide innovators. We focus on very few tools and use it right way. This helps us to meet requirements of the most demanding clients – software startups, enterprises and entrepreneurs.

Devfusion is a full service software design and development firm located in the heart of Toronto. We are pioneers in disruptive technology, with a core focus on Mobile and Web Applications. With a young, creative, Canadian team, we strive to collaborate with our clients to create truly memorable digital experiences. Whether you are startup or Enterprise, we have the resources and price-point to service your mobile requirements.

Bedouin is a design thinking firm. We solve business problems by solving people problems. More than consultants, we use design thinking to discover real problems and generate new ideas. Our design lab builds products and services that create an impact.

Logic IT Solutions is a fast-growing IT outsourcing company powered by innovation and outside-the-box approach. Our primary mission is to help diverse start-ups accelerate and become profitable companies. We are committed to supercharge your ideas with fast and reliable development and provide cutting-edge solutions for successful Marketing and SEO.

SDSol is a technology studio and digital agency located in the heart of Miami. We plan, visualize, collaborate, and design beautiful iOS apps, Android apps, web apps, and custom software.  SDSol works with both start ups and established businesses. Not only will we develop your product, but our marketing department will take it to the public and build your brand. We don't just launch apps, we launch businesses.

We are a digital agency based in Dnipro, Ukraine and Paris, France. We provide services in the fields of front-end, back-end and iOS development, UI/UX design for websites and mobile applications, motion design, graphic design, branding, and copywriting.

Setting new mobile development standards. We take mobile software development to new levels of quality, professionalism, and passion. Tecla Labs creates leading mobile solutions for all of your development needs across iOS, Andriod and mobile web platforms. By providing clients design, development, QA testing, marketing and maintenance solutions, Tecla Labs promises to be by your side throughout the entire development process. Now available are dedicated programmers your business can contract through Tecla Labs for all of your web and mobile needs.