In today's fast-paced mobile world, successfully sustaining your business is highly dependent on the amount of engagement a business has with its customer base. The necessity of having a mobile app isn't just limited to big brands. Small and mid-size businesses also build marketing strategies which include mobile engagement and interaction with their customers. A mobile app dedicated to your business creates a viable marketing channel through which you can build your brand and grow your customer base.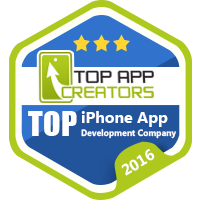 That being said, in order to ensure that your app meets all your business requirements and goals, it will need to be unique in its presentation and flawless in its execution. A poor UI and buggy functionality is a sure-fire way to drive your customers away. So, the agency that is in charge of developing you app should be highly experienced in producing iPhone applications with unique designs, user-friendly interfaces and bug-free performance. They should be adept in the latest trends and technologies in the industry, and have high standards of coding practice that allow for little to no error margins.
So, how do you go about finding the best agency for your requirements? Top App Creators is a good place to start. We have compiled the list of the 10 best iPhone app development companies, ranking them on the basis of our analysis and research. These 10 companies have stood out from their competition owing to their consistency in creating high-quality innovative apps, and gaining their clients' long-term satisfaction.
Here are our Top 10 iPhone App Development Companies of September 2016:
Five Pack Creative

Since 2008, we have created applications for clients from Fortune 500 companies to startups. Our remote team composed of the industry's best programmer, designer, and quality assurance rock stars has earned the trust of our amazing clients on over 100 successful projects.

AppBox Media PLC

AppBox Media brings together the brightest and passionate bunch of people to work on engaging mobile games and applications.

Octal Info Solution

Octal Info Solution Limited (ISO certified) is a renowned IT solution provider in the USA and specialised in offering dynamic solutions to your distinct web/app complexities.

KindGeek

KindGeek is a company of ambitious technology professionals. Our main idea is really simple – to help smart people, entrepreneurs and companies with technology aspects of their projects.

Omega-R

Omega-R Inc. is an international TOP Mobile Development Studio with offices on two continents, Russia and USA (NYC). We design and develop innovative digital solutions with a focus on mobile app solutions, UX design and responsive web.

Fishermen Labs

Fishermen Labs is a Los Angeles based mobile app development studio specializing in web, virtual reality, augmented reality, and mobile app development.

e-Legion

e-Legion is a Russian leading mobile development company founded in 2005. The company has 4 branches across Russia now, with the headquarters in St. Petersburg, and 100+ professionals on the team. e-Legion developed more than 100 apps that are used by millions of people.

Master of Code Global

Master of Code Global offers full scale design and development of integrated web, mobile and gaming solutions as well as delivers its own out of the box products like Presentain.

Messapps

Based in New York, we are a unique blend of creative designers, tech savvy developers and awesome project managers. We don't just develop apps. We build dreams.

Konstant Infosolutions

Konstant Infosolutions excels in everything mobile and web. Having served clients across more than 40 verticals Konstant brings in best of the creative, innovative and functional possibilities to modern businesses and their evolved needs