The iPhone is currently one of the most widespread smartphones in use today, and as such, companies can access a wide global market with a single app. iPhone users also spend more on average per app than Android users, so you will also be tapping into the most lucrative smartphone market in the world.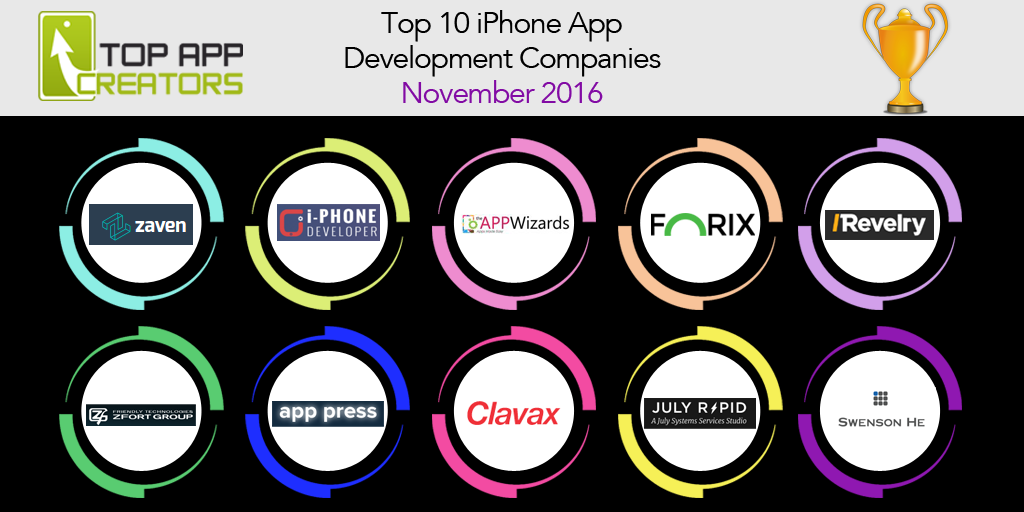 iPhone apps can also be built for internal enterprise purposes. If your company has equipped the staff with iPhones, developing a proprietary app can help increase productivity, efficiency, mobility and customer satisfaction.
For these purposes, we have compiled a list of the top 10 iPhone app development companies. Every development project has a risk associated to it, and developing apps is no different. This risk could endanger the significant financial investment that app development requires, which is why it is important to hire only top tier companies, and why we have compiled this list.
Here are our Top 10 iPhone App Development Agencies of November 2016:
July Rapid is a boutique app studio of July Systems that operates at the intersection of disruptive technologies, innovative design, and creative thinking. At lightning speed. For 15 years, we have pushed the envelope within the mobile experience industry with our bleeding UX, rapid development and cloud infrastructure management that helps you scale from 50 users to 50 million users.

i-PhoneAppDeveloper is a leading service provider in USA for mobile application design and web development for all popular platforms. We have been designing and developing mobile applications on iPhone, iPad and Android OS or many of our clients in various domains. Our web development expertise includes responsive website design and development, e-commerce and CMS websites design and development.

Clavax Technologies is a new-age of web and mobile application development company headquartered in San Jose, California. Our top-notch services are backed by a strong team of 200+ highly skilled professionals to deliver innovative, secure and scalable IT solutions to our clients. We act as your technology partners by understanding your business challenges and applying the latest engineering technologies to deliver innovative IT solutions.

We're a process-driven software development company from Poland. We help businesses to connect with their audiences using high-end web and mobile apps. Our services are: MVP for Startups, Solution for Enterprises and Outsourcing for IT companies.

We develop and market software products and services tailored to users of mobile devices.

App Press is a app development company based in Indianapolis, IN. We combine a mobile app platform that gives anyone the power to create apps without coding with a team of mobile developers, designers, and project managers to deliver custom app development services. App Press works with companies of all sizes, from solo entrepreneurs to multi-national companies to create, publish, and manage high quality, custom mobile apps.

Forix is a rapidly growing, 100+ person digital agency in Southwest Portland, specializing in e-commerce, mobile app development and custom application design. From its humble beginnings as a web software firm in the suburbs of Portland, Forix was driven to establish the new standard in custom software design and implementation. With deep roots in development, Forix has become a strong technical partner to creative agencies and thriving companies alike, creating powerful web and e-commerce systems.

Zfort Group is IT Outsourcing web development, design and consulting company, offering comprehensive, full-cycle web development solutions, from the website's planning and related consulting advice, to the application's launch and maintenance, catering for institutional clients and individuals from across the globe since 2000.

Our firm was founded in 2014 by two MIT alumni, Nick Swenson and Chao He, seeking to fulfill the increasing need companies and organizations have to build sophisticated, robust mobile apps. As a full-service firm, Swenson He brings ideas from conception to completion – projects that are otherwise impossible internally or with 3rd party developers accustomed to routine designs.

Revelry Labs is a Web and mobile product design and development consultancy based in New Orleans, LA.  We focus on delivering clean user interface (UI) design with rich interactive experiences in all the products that we build.