iPad App Development is only ever leveraged by the companies that specialize in the said craft. If most online businesses are going to ignore this and continue to rely on less-than-satisfactory means to create their apps, then they are surely missing out on what true success in iPad app development really means. If you are one of the more enlightened marketers out there who are open to working with third-party companies, then let us aid you in your search by giving you a list of the 10 best iPad app development companies.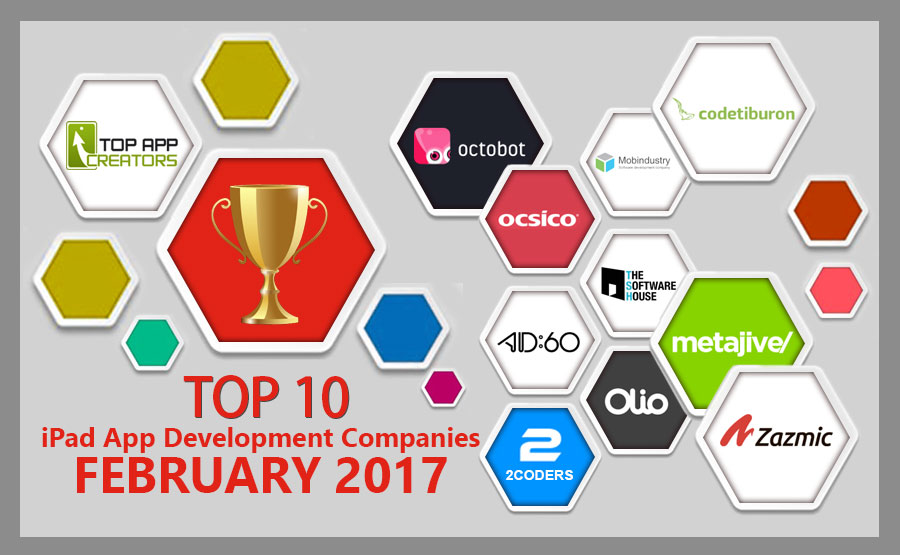 By reading the brief descriptions of every company, you would surely gain a good overview of the services offered by each one as well as a few concise background information about how long the specific company has been around. It's worth visiting the official site of every company, though, as you would certainly gain a wealth of information in their websites as well.
Here are our Top 10 iPad Application Development Firms of February 2017:
Octobot is a software boutique specialized in design and development of web and mobile products. Our goal is to craft your ideas into successful apps, through the combination of lean practices, cutting-edge technologies and an innovative team.

OCS Innovation Company (OCSICO) is a professional and reliable Eastern European software development services provider delivering exceptional, cost-effective outsourcing solutions.

AD:60 is a full-service, fully-integrated, mobile-first agency that specializes in making new brands famous and famous brands better. We do this by generating business results in a data-driven environment. We believe making data the foundation of our decision-making process makes a real impact on our partners's business.

2Coders was founded by David and Dailos in 2013. We'd been working on projects together for over a year but early in 2013 we decided it was time to join forces and offer our skills as a united package. Since then our growth has been unprecedented and we now have several specialists in our team, from our excellent new art director to our dedicated project manager and of course our great specialist ios coders.

Mobindustry is a team of young professionals that provides services in a projecting and development of mobile, web applications for IOS and Android platforms, UX design. We have been on the market since 2008, and despite the fact that the company was founded by experienced engineers we never stop learning, developing and widening our scope.

We are The Software House – a web and mobile software development company providing high-quality services for business.

Olio Digital Labs Inc. (Olio) is digital agency specializing in web and mobile design/development with heavy commercial experience. We build powerful web sites and exceptional e-commerce systems. Olio works daily to code, design, and serve custom apps for clients and their partners including The Home Depot, Staples, Hockey Canada and TSN.

CodeTiburon is a software development company and IT outsourcing service provider, headquartered in Kharkiv and delivering high-end solutions to precise specifications since 2009. We specialize in web and mobile development and committed to the creation of solid turnkey solutions for our customers.

Quality is our best friend. Since 2004, our team has created over 200 projects, from aspirational niche brands right through to Fortune 10 companies. Being a recognized leader in the industry, we speak regularly at conferences, have won numerous web awards, and been featured in key industry publications.

We are Zazmic. We have the best software development engineers in 3 top notch development locations (San Francisco, Barcelona and Dnepropetrovsk). We can help develop and grow your products. We anticipate needs and help scale businesses in a cost effective and efficient manner.