Tablets combine the convenience of a smartphone with the complexity of a personal computer, and as such they are prime targets for app development. The iPad in particular is a popular tablet that has widespread appeal. Many companies choose to develop proprietary native apps for the platform, whether we are talking about gaming apps, e-commerce stores, or innovative, disruptive apps.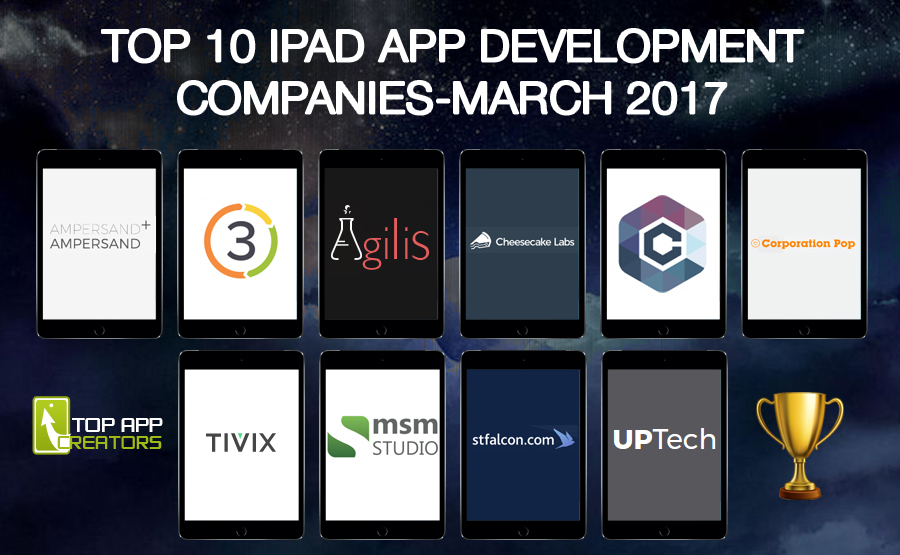 The iPad can also be home to enterprise apps that can greatly increase the capabilities of employees. For example, an iPad app that stores and distributes live information to the sales team can greatly increase the odds of a successful sale. However, native apps do come with a considerable price tag, and as such, it is best to ensure that your investment is safe by choosing a top development company. This is why we have compiled a list of the top 10 iPad app development companies for the month of March 2017.
Here are our Top 10 iPad App Development Companies of March 2017:
We are an award winning team of makers, creatives, engineers and strategists. We take pride in our work and are committed to delivering best-in-class products across mobile and the associated technologies, including wearables, nearables and the Internet of Things.

We design original, intelligent and engaging interactive tools that help our clients communicate with their audience. We do this by gaining a deep understanding of our client's needs and those of their customers.

Cheesecake Labs is a web & mobile app design and development company that is reinventing collaborative development with virtual teams. Working with passion and clarity, we partner with disruptive companies, providing support for decision making and developing systems that are true to the core ideas.

Development and design of complex sites using Symfony2, development of mobile applications and games for Android and iOS. Website design and user interfaces that increase sales. ​Effective solutions for transportation and e-commerce industries.

ClearSummit creates web services and mobile software applications for clients ranging from small startups to Fortune 500 companies. We pride ourselves on efficiency and an eye for beautiful user interfaces which combine to create a positive user experience for our clients' products.

MSM Studio delivers custom application software (mobile, web, desktop), eLearning content, artwork and animations. The high quality of our services is widely recognised by our customers from Scandinavia, the UK, the USA, Ireland and Benelux. As well as core activities in the area of app and web content development, we also act as an artist agency delivering outstanding works from illustrators and animators to publishing houses and interactive studios around the world.

Your Partner in Quality App Design & Development. We are an app design and development company specializing in software solutions for mobile.

3Advance is a tight-knit development team that creates mobile apps and data-management applications. We work with both startup founders and business leaders that want to make change in their ecosystem. 3Advance offers an on-demand, elite team of professionals that develop user-focused apps at a fraction of the cost of a dedicated internal team.

Founded in 2008, Tivix has deep expertise in building innovative solutions for our clients. We've developed new digital applications for clients in the financial services and real estate sectors; we've helped billion-dollar companies to build new software for internal efficiency; we've created new platforms for leading NGOs such as the World Food Program, European Union, and UNICEF.

Agilis Tech Labs is all about in equipping businesses with the best tools for the ride ahead. Whether it is intuitive workflow apps for mobile platforms, or wildly revolutionary e-commerce systems, it is imperative to align your company with a team that can navigate the rough waters of rapid scaling. With deep roots in development, companies around the world have partnered with Agilis Tech Labs for their IT strategy and tactical capabilities. Agilis clients can expect clear and actionable plans, backed by the extensive resources and deliverables essential to realizing business goals.