Today, you want to carry the world with you. While smartphones make this a closer possibility, sometimes it is difficult to do without your laptop. This is exactly where tabs provide the perfect fit, the perfect size and convenience of a smartphone and the functionality of a laptop, tabs do provide the best of both the worlds, and thus, the choice of many businesses to develop native apps for the platform is only natural and prudent.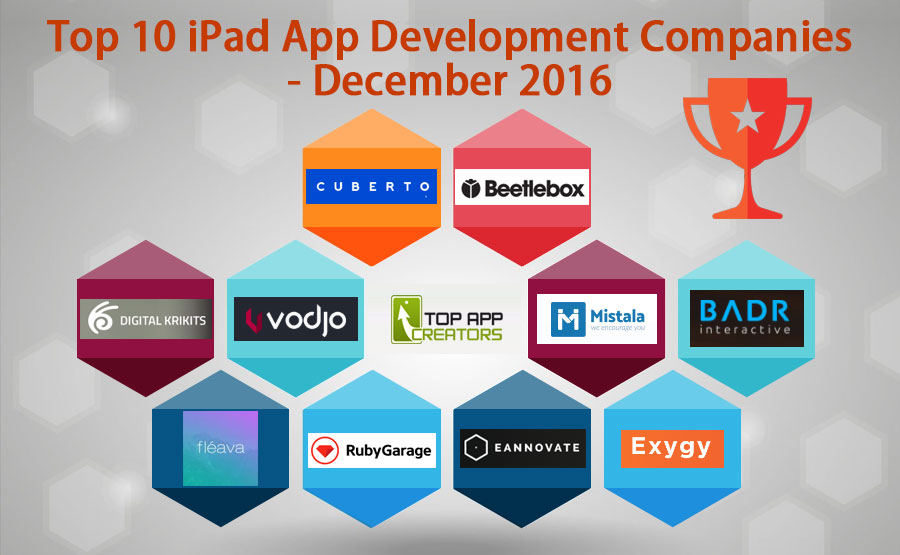 Taking the user experience from a tab another step forward, iPads have a fan following and appeal of their own. But developing a native app or an enterprise app for iPad requires expert professionals that may be hard to come by. We have developed this handy list with top 10 iPad App Development Companies after carefully comparing the skill, expertise and success rate of hundreds of companies. We are sure this list will help you make an informed choice.
Here are our Top 10 iPad Application Development Agencies of December 2016:
Our team specialise on UX researching, UI design and development for mobile apps and websites since 2010. We work with startups and large companies.

We are web and mobile app development company located in Jakarta, Indonesia. We were founded in early 2009. We are a team of designers and developers with a passion for bleeding edge web and mobile technology. Clients hire us to solve their problems.

We are a quality-driven Native App Development studio, catering to entrepreneurs and businesses looking to expand their presence in the growing mobile marketplace. We provide a streamlined, all-inclusive development solution, taking clients from proof-of-concept all the way to product launch and post-production support.

Vodjo was founded in Bandung, Indonesia. We are a team of developer, designer, and technopreneur who thrive on designing and developing great user interfaces and user experiences for websites, web applications, and mobile applications. Our vastly different backgrounds and experiences lend themselves to creating a truly unique experience for our clients.

Mistala Indonesia is an IT solution company based in Jakarta, Indonesia that specializes in helping clients to untangle the complexity of technology for businesses and institutions. Ever since 2013, we have been offering customizable IT solutions to different business industries and cater unique needs. As young professionals, we are a group of passionate talents who work collaboratively to support business IT necessities: project development, minor enhancement, application maintenance, bug fixing, application implementation, and IT infrastructure.

Badr Interactive is a web and mobile applications developer. We helped our clients to build customized technology solutions, from e-commerce to e-learning, from corporate website to the sophisticated asset integrity management systems, from apps installed in your mobile to SaaS in the cloud. As January 2016, we have done more than 120 projects from various backgrounds, ranging from private companies to government agencies.

We're a team of strong-minded, likeable individuals, passionate about providing the unique insights that lead the way to the compelling story for each brand. With years of experience, we offer a full range of digital marketing, web and mobile application, brand development and experience design services across Asia.

We are the professional team of developers, designers, business analysts and managers. Together we create awesome web applications for business. We focus on delivering high-quality products to our customers who range from e-commerce entrepreneurs to multinational corporations and government entities. We use agile development and extreme programming together with comprehensive testing in the development process, which ensures the best quality of our products.

We are a Jakarta-based Creative Technology Company, and we offer wide range of services, such as Design services, UI/UX Solution, Web Development, iOS and Android App Development, Social Media Activation, 3D Modeling, VR Virtual Reality, Augmented Reality, and Architectural Modeling. Our motto 'engineered with passion' shows how passionate we are in what we do, therefore we'd love to hear and help you realize your 'crazy' idea. Let's build it together.

Exygy is the premier agency for the social sector. We provide strategy, design, and engineering services for the world's leading change makers. As a certified B-Corporation, we believe our expertise in creating great digital solutions should be used to make the world a better place.