The iPad can also be home to enterprise apps that can greatly increase the capabilities of employees. For example, an iPad app that stores and distributes live information to the sales team can greatly increase the odds of a successful sale. However, native apps do come with a considerable price tag, and as such, it is best to ensure that your investment is safe by choosing a top development consultant. This is why we have compiled a list of the top 10 iPad app development consultants for the month of May 2017.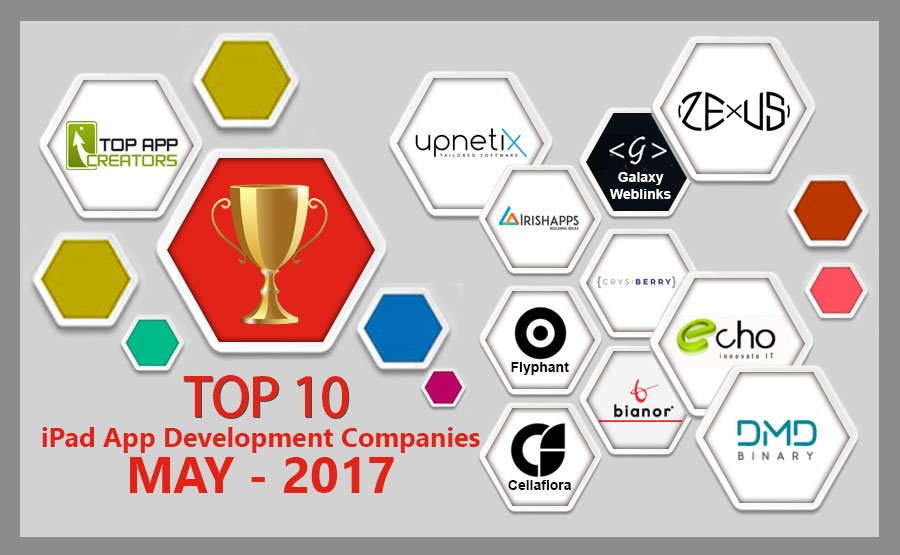 Here are our Top 10 iPad App Development Consultants of May 2017:
Upnetix is a major provider of custom client-tailored software solutions. In other words, we are the crew that is ready to take upon significant challenges and always over-deliver! Starting as a company focused primarily on mobile solutions, today we are one of the leading enterprises in Southeast Europe (SEE) when it comes to software development. No matter the 10+ years of experience our team had, the challenge of rapid growth made us learn faster than we could imagine. As a result, we formed a team of like-minded people and expanded our range of services to include Mobile & Web Apps, Enterprise Solutions, Cloud Deployments, Quality Assurance, and Consultancy.

ZEUS is a Web Services & Mobile Apps Development Company (+9 years on market and +700 apps released) comprised of expert level Developers, Designers, Business Analysts, QAs, Project Managers and Solution Architects.

At IrishApps.org, we are one of the leading app developers Ireland has to offer. We live and breathe mobile app development. Starting with the iPhone in 2007 and now specializing in Google Android app development, we can make any mobile app you desire. The only limit is your imagination.

We are a tenacious group of designers and developers who are looking to help invent and improve products. We are a relationship driven team, and we desire to work with people who prefer conversation over presentation.

Flyphant is a digital studio, based in Moscow, Russia. Our aim is to provide the most efficient and high-quality solutions. To do this, we do not blindly follow the brief but try to understand the essence of its origin.

We are Crysberry Studio, a team of highly skilled consultant mobile application and specialist software developers. Software has the power to transform your business. We have worked in the industry for four very exciting years, creating bespoke software to drive your dream into the future.

We specialise in Web Design, Web Development, Mobile App Development, eCommerce & Digital Marketing!

This is our inspiration – creating visionary technologies and far-sighted experiences. The result is bespoke solutions that empower millions of people around the globe to visually interact, engage, collaborate and enjoy hassle free video content, tailored to their needs. Our solutions – state-of-the-art utilization of latest technologies, created with a "one-step-ahead" approach.

Galaxy Weblinks is a new generation e-Business solutions providing enterprise. We develop robust web solutions that transform businesses into online management tools. From start ups to established businesses, we help people transform their web presence into an Asset by creating competitive advantages through e-strategy, development, rapid deployment, and continuous management.

DMD Binary

DMD Binary is a Ukrainian software development outsourcing team founded in 2011. DMD Binary specializes in native mobile applications. Currently the company staff exceeds 40 highly skilled IT developers who are led by skillful project managers with extended experience. We professionally deal with requirement collection and analysis, architectural and functional design, coding and testing.