With half the world on iOS platform, it becomes important for any business owner to develop an app that delivers great user experience for users hooked to their iPads and iPhones if these businesses wish to conquer the global market. Developing a world class app requires expert professionals, and in a market over crowded by app development companies, it can prove to be challenging for business owners to identify the right partner for developing an app in sync with their business requirements.
To help our users, the team at Top App Creators compared hundreds of iPad App Development Companies against several parameters including technology employed, client satisfaction and years of experience. Based on the results, we bring to you the top 10 iPad App Development Companies that are sure to deliver the results you seek.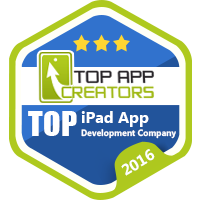 Here are our Top 10 iPad App Development Companies of September 2016:
Mobomo is a premier web and mobile application development company. We are a creative design and engineering agency. We create elegant products to solve complex problems. We have extensive experience in creating functional, large-scale, engaging mobile and responsive web designs.

The BHW Group is an Austin-based web and mobile design & development firm. Over the last decade, we have built award winning applications, including a 2015 SXSW Interactive finalist and a 2014 National Association of Government Communicators first place winner.

For 20 years Smashing Ideas has been the secret weapon to helping change agents, innovators & disrupters take connected smart products, apps, websites & platforms from research to realization.

Jackrabbit Mobile is an innovative design and development firm that builds strategic business solutions through maximizing mobile channels.

We craft unique mobile-focused applications for the world's biggest brands. Having worked with companies such as Canon, Universal Music and The Times, we understand the need for enterprise level quality and process on mobile and our hallmark honest approach is reflected in the long lasting relationships we have been able to build.

3 SIDED CUBE are a multi-award winning Digital Agency based in the UK, with a particular passion for building technology for good. Be it life saving, life changing or simply problem alleviating, they champion the genius over the generic.

We are social media strategists; development, deployment and management specialists at the core. Web & mobile enthusiasts by nature, our team is always at the cutting edge of online trends and web-based community life. We simply can't get enough of this stuff.

Table XI is a Chicago-based digital consultancy, focused on building web and mobile applications for mid-market companies. For more than ten years we've been crafting awesome software that delivers business value to our customers.

Rocket Farm Studios is where innovation, deep technical expertise and "WOW" converge. A premier mobile design and development firm located in Boston, MA, Rocket Farm Studios is known for transforming businesses to take advantage of a connected world.

Xplode Marketing Sarasota Web Design Company has a small team of creative web designers, iphone app designers/developers, graphic artists, writers, SEO marketers and PPC consultants that know how to get online results.