Tablets combine the convenience of a smartphone with the complexity of a personal computer, and as such they are prime targets for app development. The iPad in particular is a popular tablet that has widespread appeal. Many companies choose to develop proprietary native apps for the platform, whether we are talking about gaming apps, e-commerce stores, or innovative, disruptive apps.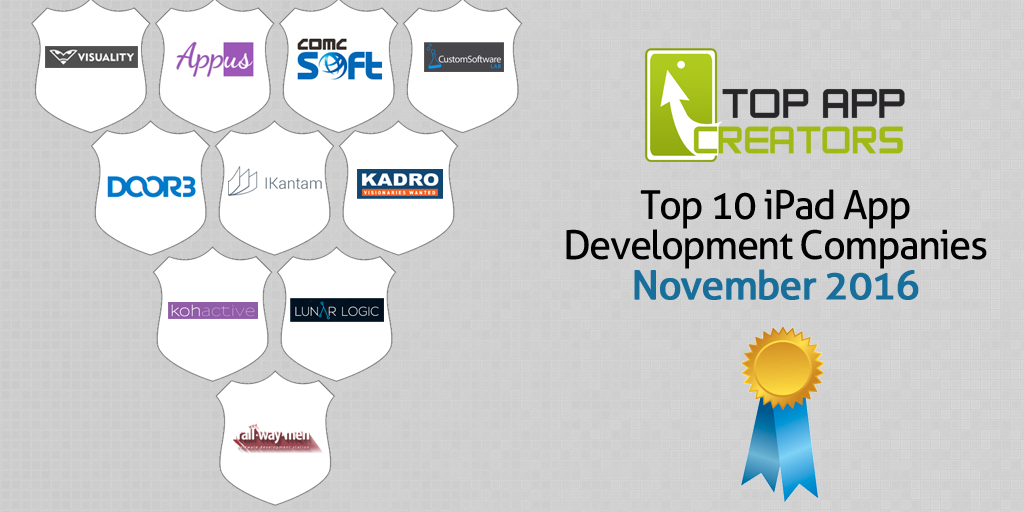 The iPad can also be home to enterprise apps that can greatly increase the capabilities of employees. For example, an iPad app that stores and distributes live information to the sales team can greatly increase the odds of a successful sale. However, native apps do come with a considerable price tag, and as such, it is best to ensure that your investment is safe by choosing a top development company. This is why we have compiled a list of the top 10 iPad app development companies for the month of November 2016.
Here are our Top 10 iPad App Development Agencies of November 2016:
Appus is an app development studio located in Ukraine, with a skilled and passionate staff on board. We have created more than 200 apps, and we never outsource our work to other parties. We take great pride in our work and guarantee your satisfaction with the end result. You can trust your app development to us.

ComcSoft is a global provider in mobile development and outsourcing services. ComcSoft provides one-stop shop solutions on iPhone/iPad, Android, and mobile websites. ComcSoft is headquartered in Dallas, Texas.

kohactive is a boutique web and mobile development shop that specializes in UX, design and development. We work with startups and innovative brands to build digital products. We've been working with clients of all sizes for over 7 years.

Founded in 2002, DOOR3 is a privately held digital agency, headquartered in New York City, with offices along the Eastern seaboard and in Europe. DOOR3 offers a full suite of digital services in Strategy, User Experience & Design, cross-platform Application Development and Maintenance & Support. In collaboration with our clients, we plan, design and build interactive applications for web, social and mobile media.

Visuality is a Ruby on Rails development team. We are enthusiastic about Agile methodologies and user-centered design. If you seek someone who can take your idea and create a unique, solid and perfectly designed application – look no further! We are here for you!

Custom Software Lab is a custom web development company made out of talented custom software developers and UI designers that aim to provide customized and innovative web applications, Mac & PC desktop software and native mobile apps. Our goals are simple; to visualize, to execute and to deliver exceptional custom software to all our clients projects.

Our team is a well-blended mix of seasoned experience and innovative enthusiasm. Started in 2009 by three friends who share an unabashed love for Ruby on Rails technology and collectively bring more than eleven years of experience to the table, the Railwaymen team loves nothing more than building software and apps that will help you build your business.

Founded in 2001, our employee owned firm has consistently delivered scalable, enterprise class solutions that work. Our expertise, our ability to evolve with the needs of our clients, and our commitment to customer service results in a common experience of very satisfied and loyal clients. At Kadro we believe in the power of efficiency through automation and design. Our solutions framework and applications enable a variety of industry leaders and enterprise clients to meet their core e-business objectives.

Lunar Logic is an Agile Software House which crafts together web applications using the latest cutting edge technology (i.e., Ruby on Rails framework, iOS and Android, Redis and MongoDB data bases). The company bases its activity on Agile values and rules. Achieving market success is a combination of key elements such as flexible cooperation with clients, committed engagement in working towards the best possible results plus focusing and elaborating on the key elements in IT solutions.

iKantam is a mobile, web application and e-commerce development company with the main headquarters in Minsk, Belarus. Our team helps business owners & online entrepreneurs implement their vision by using our experience, skills and ideas.