Enterprise apps or business apps are important for achieving operational efficiency in any organisation. These apps are crucial for big businesses as they can efficiently organize and restore data, empower workers and enable sophisticated data collection and analysis that is the backbone of any successful enterprise. While developing custom enterprise apps has become a norm, developing one that meets all the ends it is expected to, is not everyone's cup of tea. Developing a scalable enterprise app requires in depth knowledge and experience, and is also a costly investment. To ensure you put your money in the right place and get the results you anticipate, we bring to you the list of top 10 Enterprise App Development Companies that will surely develop a winner to power up your business for success.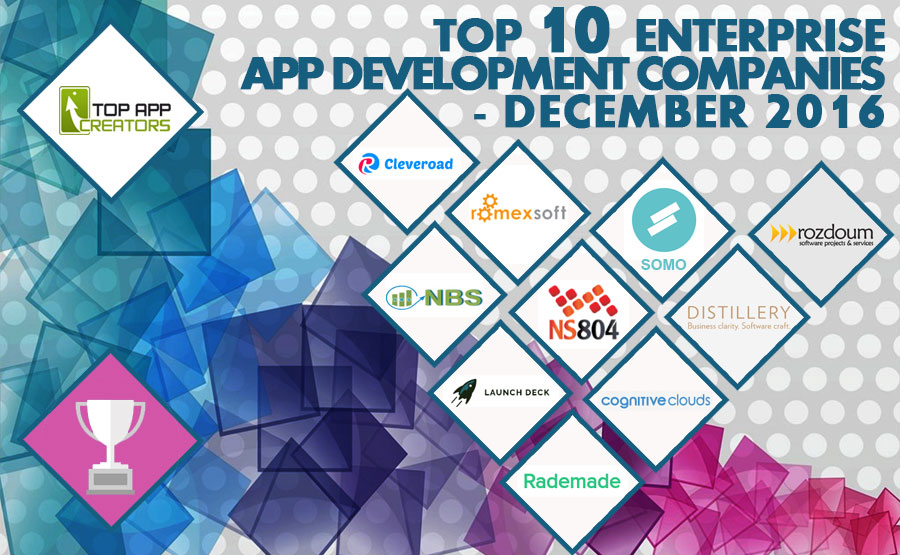 Here are our Top 10 Enterprise Application Development Agencies of December 2016:
Cleveroad is a software development company that provides IT outsourcing services to a broad range of clients and businesses worldwide. The company provides a full stack of development services – Mobile (iOS and Android), Web, Desktop apps development, user-first UI/UX design, backend integration, etc. Having delivered over 130 projects, we worked out our elaborate and flexible approach to gain great results.

Romexsoft is a High-load Java Application Development company founded in 2004. During the last 12 years we've developed and successfully delivered more than 100 business solutions to our clients in Fintech, HealthCare and Broadcast Media industries.

Nomers Business Services is one of the well known partners for your organization's accounting service requirements. They offer a complete suite of Accounting, Bookkeeping, Payroll, Tax and Business Set-up services with high in-depth intelligence on what it's really like to work within an industry.

Somo has built some of the most innovative and creative mobile products and campaigns in the market for leading global brands such as Audi, De Beers, BP, and The New York Times. Founded in 2009, the privately-held company of more than 150 employees is headquartered in London with offices in New York and Bristol.

Mobile App development for iOS and Android. Our specialty is working to partner with you on your project and giving solid guidance using our years of knowledge to accomplish your goals. We work with Idea people, startups, and Corporations to bring their idea to life. Our unique build process and ability to think outside of the box to solve complex tech problems an innovating daily. If you want a company that will simply code your project NS804 is not for you , we are the group that contributes, and takes your concept to the next level.

Our founding team has a proven track record of successfully launching disruptive products. Numerous mobile apps launched and marketed by our team currently top the charts in Education in the App Store and Google Play.

Rozdoum is a professional Ukrainian outsourcing team with a complete cycle of software development process and more than 10 years of experience in following domains: Model Driven Software Development, Atlassian product line, Liferay portal solutions, GPS tracking and monitoring systems, Financial systems, BI software, Open Source E-Commerce systems, Email Marketing Distributed Applications, Lead Management Cloud based systems and IP-telephony.

Distillery is a full-service software development company. We work with enterprises, start-ups and entrepreneurs to create new products and fundamentally improve existing ones. We are a seasoned product team that knows what success looks like. With a team of over 100 employees, we bring expertise to a wide range of software and business challenges. We are dedicated to providing an easier path to success for entrepreneurs and intrapreneurs. Everyone shouldn't have to learn all the startup lessons the hard way every time. Build, launch, and grow with an experienced team that is committed to your success.

We help top startups and companies build remarkable web, mobile and tablet products. The products we build help early stage startups raise millions & established companies crush their sales targets. We're among a handful of companies who can turn simple sketches into fully featured products that work on any device. Focus is what creates value, so we utilize our proven process to take your first version product across the finish line. We work with diverse founders and product owners in industries that range from agriculture to travel, so you can be assured that our team has the expertise required to help you build the right product for your target users.

Rademade is a professional development team that has the ability to actualize any of your web projects: marketplaces, SaaS, mobile apps, or high-traffic complex websites. We guarantee satisfaction by providing support at every step of bringing your ideas to life.