However, enterprise apps are notoriously hard to develop, with many of these apps failing to meet business needs. Considering that an enterprise app is a sizeable investment, it is important to choose the right development company. To help you with this important decision, we have compiled this list of the top 10 enterprise app development consultants for the month of May 2017, using such criteria as experience, customer satisfaction reports, and a varied portfolio.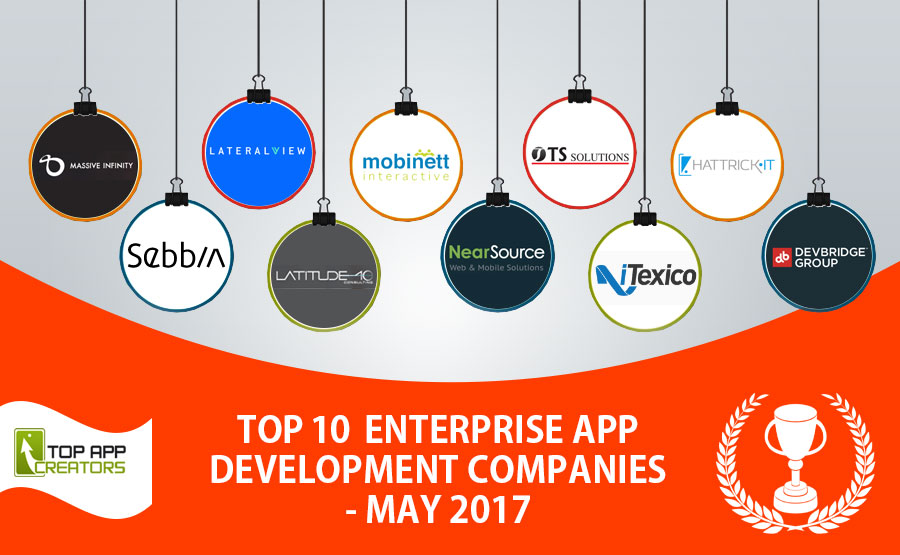 Here are our Top 10 Enterprise App Development Consultants of May 2017:
Massive Infinity [MI], is a mobile apps and web systems developer based in Singapore. Leveraging in best-in-class resources and expertise across multiple disciplines – from business automation tools and mobile applications with good design, to e-commerce and media productions such as 3D animations and augmented reality campaigns – we are happy to have produced high quality Digital Assets for our clients.

Native development under all popular mobile platforms. Exceptional quality. We are recommended to colleagues.

For enterprises, leading brands and medium-sized companies that demand highly innovative solutions, Lateral View is a mobile and design expert that offers end-to-end services with a focus on bringing the client's business to the next technological level. For each project, we provide a small and focused team that works closely to them.

Latitude 40 creates custom software applications of all types and sizes, ranging from small apps for mobile devices to large-scale custom ERP solutions for large businesses. We also offer business consulting services to help you streamline procedures and work out the right technological direction for your company.

At Mobinett Interactive, we have worked on and developed expertise in numerous solutions and technologies over the years. Our mobile solutions not only just involve the Apps on iOS, Android, HTML5 and technologies like phonegap, ionic, sencha but also include complex backend server side infrastructure to server and process the data. Additionally, we build easy to use responsive web dashboards for management and customer facing websites.

NearSource, provider of web & mobile solutions, offers web site design, web site development, web site hosting, and web site maintenance services for businesses and organizations, along with software application design, programming services, mobile app development and more. We listens to what customers want and deliver what they need.

OTS Solutions (www.otssolutions.com) is NY based Software Development Company. We have helped entrepreneurs & enterprises in developing digital products since past 14+ years. OTS offers solutions for Web & Mobile Apps, Cloud & SaaS, Software Development, QA / Testing & Support, CRM Software, E-Commerce, Sharepoint Portal services in US and across the globe.

iTexico is an Austin-based nearshore technology company that provides businesses with full lifecycle mobile application services including architecture, experience design, mobile and web development, testing and quality assurance.

We are a small and flexible mobile development company that prides ourselves on our focus to detail and obsession with pleasing our clients. Our iOS and Android apps for smartphones, tablets, and point-of-sale devices have delighted our clients and the users who have used them.

Devbridge Group is a Chicago-based software design and development company founded on the belief that software shouldn't be mediocre. That's why we invest heavily in top talent: Experienced product managers, the brightest designers, and visionary software engineers. Together, we rapidly turn ideas into extraordinary digital products that drive business value.