Enterprise apps are the heart and soul of any business of the day that wants to run its day to day business efficiently. These large scale business apps need to be result centric and scalable to help businesses manage their routine functions ranging from leave management to email functionality to managing information on sales and revenue. Undoubtedly, business owners need apps that are scalable to their business and moulded according to their business model and needs.
Keeping in view the importance of partnering with the right app development company, Top App Creators has prepared a list of top 10 Enterprise App Development Companies from across the globe after rigorously comparing them on basis of their results, technology and efficiency. We are sure our users will find this list very useful.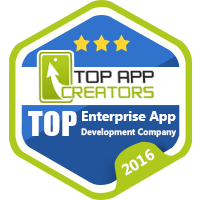 Here are our Top 10 Enterprise App Development Companies of September 2016:
Segue Technologies is a small business that provides innovative web, data, and mobile applications. We approach our projects from a technology-agnostic standpoint, focusing on tailoring our solutions to our customers' business processes.

Flatstack is a web and mobile application development company specializing in Ruby on Rails, UI/UX, and iOS & Android development. Specializing in staff augmentation, our team of experts will work with you to scale your team so you can build quickly. Our agile methodology allow you to flex up or down on a monthly basis to build products efficiently while meeting the demands of your business. Our customers include funded startups and enterprise & SMB companies building tech products to support their business needs. We also work with early stage startups led by experienced technical founders looking to quickly get an MVP in market to test and iterate.

Softweb Solutions Inc. is a Chicago based tech consulting and development company working with organizations across the world to implement the best-of-breed solutions and processes to help them meet their business challenges.

Enola Labs creates digital products to address complex business requirements using mobile, web and all the latest underlying technologies. We serve clients from venture funded early stage companies to the Fortune 500, all with the same level of professionalism.

AndPlus is a highly innovative company that develops custom software and hardware solutions for customers in different verticals.

Portland Webworks develops custom software and web applications for the enterprise, specilaising in an agile, user-centered approach and leveraging open source technologies.

Miquido is a mobile apps design & development company, with a hint of wearable apps & smart home solutions. 9/10 our projects come from referrals, so with 90+ solutions delivered in just 5 years, transparent and well managed production process, we have become an award-winning 70+ team with proven track records! We work with clients around the world: startups, growing companies and enterprises from banking, telco, helthcare, entertainment, travel and other industries.

We're a team of brilliant developers, UX/UI design experts and Agile certified professionals focused on building great web and mobile apps since 2007. Creating meaningful experiences within web and mobile apps is our expertise and passion. We strongly believe output isn't the ultimate goal. It's what we build and its powerful impact what matters.

DIY App Builder for Busy Small Business Owners. Create Android and iOS apps quickly and without writing a single line of code. Create Apps for any business type in minutes using one of our pre-built business templates and customise your App's colour scheme, content and features. Make an App for your business for free, and don't pay anything until you're ready to Publish to the App Stores.

Atimi Software is a full-service development and consulting company for iOS app development, Android app development, BlackBerry app development, and Windows Phone app development. We know what works, what doesn't work, what will get and retain the attention of your customers, and how to do it all in a revenue-positive way. We have been building custom mobile apps for more than 10 years and one of a few North American based Apple Mobility Partners.