Enterprise apps are recognized by many companies as the gold standard when it comes to increasing worker productivity, mobility and efficiency. They can be built to suit numerous needs, from ensuring that the right documentation goes to the right people in an expedient manner, to creating a customer-facing platform that makes it easier for clients to place orders and understand your business.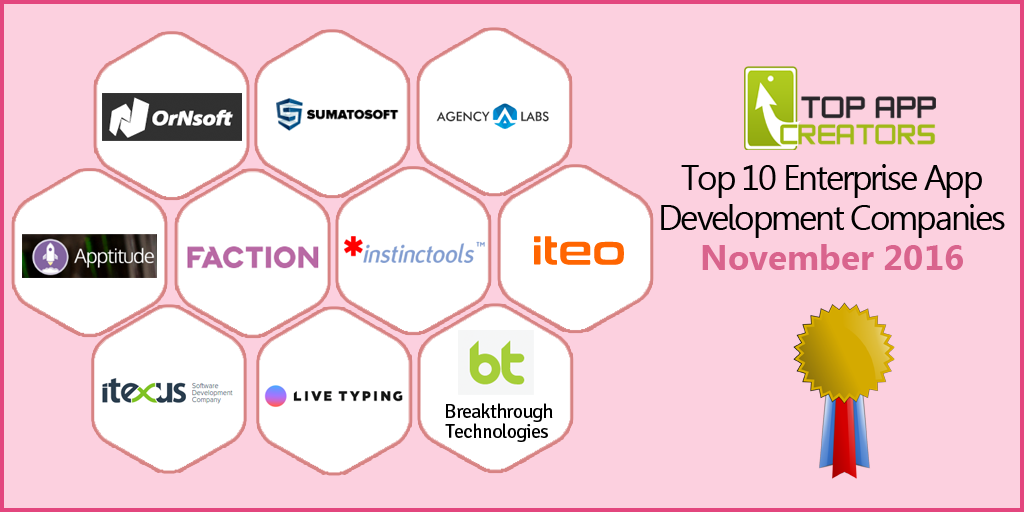 However, enterprise apps are notoriously hard to develop, with many of these apps failing to meet business needs. Considering that an enterprise app is a sizeable investment, it is important to choose the right development company. To help you with this important decision, we have compiled this list of the top 10 enterprise app development companies for the month of November 2016, using such criteria as experience, customer satisfaction reports, and a varied portfolio.
Here are our Top 10 Enterprise Application Development Agencies of November 2016:
We are Live Typing, mobile and web app design and development agency in business since 2009. During this time, we have successfully completed more than 150 projects. With native iOS, Android, and Windows application development capabilities, when going cross-platform, Live Typing has got you covered. We have worked with well-known clients like Vogue (was featured by Apple), Samsung, Groupon.

Faction Studio is a small collective of designers and engineers who are bound together by the mutual love of creating high-quality experiences for mobile and web. With a heavy focus on enterprise product development, we accept only a couple concurrent projects at a time.

Agency Labs is a powerful and trusted engineering partner that collaborates exclusively with marketing, advertising, digital and creative agency teams. We build websites, software and mobile applications for some of the world's most innovative organizations. Sometimes we build our own.

SumatoSoft is a software development company specializing in development of rather challenging and complex web, mobile and chatbot projects.

Apptitude was founded in New Orleans in 2012 with a simple purpose: to make great apps and websites for great people. We're a company that places emphasis on design and user experience above all else. We help you connect with your users in new and improved ways on mobile, desktop, and wearables.

Since 2011, we consult, design, build and deliver custom software solutions. We do enterprise web applications, native mobile applications, SaaS products and hybrid MVPs. We work with enterprises, SMEs and Startups.

Itexus is a one-stop shop for teams of Ruby on Rails(link is external) & .NET developers with a strong focus on custom-tailoredenterprise and financial apps.

Founded in 1998 by three Chicago-based senior software engineers, Breakthrough Technologies, LLC serves clients by creating innovative web, mobile and software solutions for complex problems. We believe that collaborating with our clients and partners gives us the opportunity to combine emerging technologies with innovative thinking to empower organizations, facilitate communication and create positive change on a global scale.

Founded in February of 2006 and headquartered in Miami, Florida, OrNsoft™ made it a point to hire great people, continuously refine our project management processes, and invest in the ongoing development of technologies and expertise. In sunny Miami we have come to understand what life and business is like, and more specifically what works for a Miami business that might not work for the same business elsewhere.

instinctools specializes in development of software solutions and products based on Eclipse, J2EE (both desktop and web applications) and mobile platforms.