Android app development has advanced robustly in such a short period of time that one can only ever expect it to continue to gain momentum in the coming years. This fact is all the more backed up by the number of successful Android app development companies that are still in operation. Much of the value behind such companies lie in the fact that they really take care of the entire creation process of an app for you.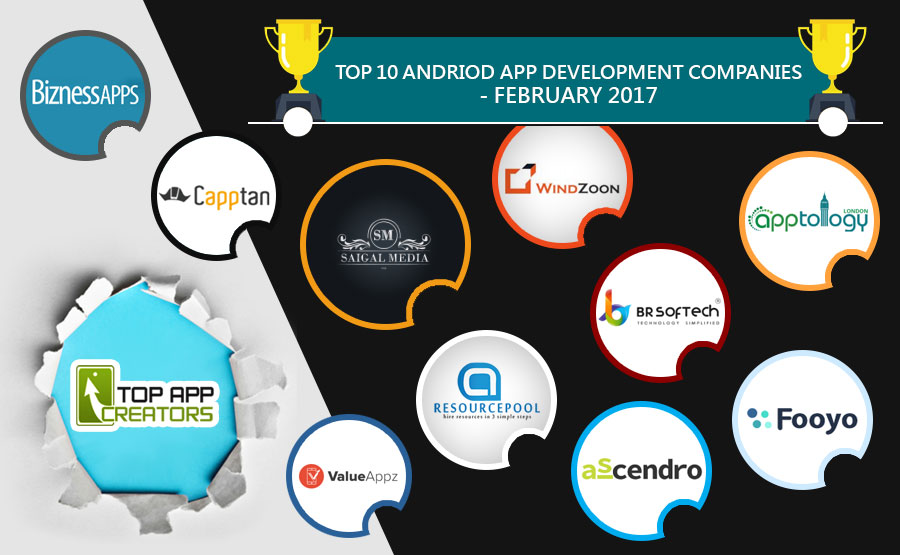 Nonetheless, you also have to acknowledge beforehand that relying on them would require a certain investment of time and funds on your part. Even though there are millions of Android smartphone users worldwide, there are equally numerous apps already available for them. In order for your app to outshine the competition, the company that you choose would have to be great, as proven by the number of successful apps that they already have under their belt. Below are 10 of the best ones that we highly recommend you to start partnering with.
Here are our Top 10 Android Application Development Firms of February 2017:
Bizness Apps is the easiest way for small and medium sized businesses to create a mobile application without any programming knowledge needed. We develop native iPhone, iPad, Android and Tablet apps as well HTML5 mobile websites.

Brazilian mobile software house focused on custom application projects and outsourcing. More than 80 projects delivered and 90 million downloads in brazilian application stores.

Saigal Media is a leading software development and mobile application development company in Toronto, Canada. Saigal Media offering a wide range of services such as iPhone app development, Andriod app development, iPad app development, Blackberry app development, Web Design and Development, Web Hosting services, SEO and Online Promotion. If you are looking for high quality, cost effective and time bound iPhone app development, Android app development or Mobile web design.

This is the mantra of AResourcepool. A company that was started in 2011 as a brainchild of OptimizationToads is all set to rule the world of Web design & development, Application development, Branding and corporate identity, Seo services for small business, Social media optimization, Content marketing, Pay per click, Analytics and everything that comes in the circumference of creating & promoting a brand.

Value Appz provide a platform to small business owners to build White Label mobile apps. Create an app for your store using powerful features with easy CMS.

Windzoon is a premium brand in Web Design, Development & Internet Marketing Solutions based in India and USA, aptly extending digital services.Web and Mobile Application Development, Web and Graphics design, SEO,SMO, Digital Marketing, Outsourcing,Open source etc are some uberly efficient offerings Windzoon provide. With its vastly experienced team, it has been marveling the digital arena since 7 years.

We have successfully delivered 450+ native & hybrid applications for the ios and Android platforms, and also 900+ applications in the web development. Our laudable developers keep themselves updated with recent technological trends in website designing and development, for example, Ruby on Rails, Laravel, PHPNuke, CodeIgniter, Opencart, Shopify, Prestashop, Zend Framework, Share Point, Angular JS, Node JS and many more.

Our mission is to empower businesses from different industries by using our web and mobile technology expertise to build successful products together with our partners and customers. Our vision is to bring life to business ideas we believe in. We use the best ingredients from web and mobile technology to ascend great ideas from concept to market. We strongly believe in a collaborative, people-centric environment.

Apptology is a leading mobile application development and mobile marketing company. Unique in their service offering is a comprehensive suite of solutions for the mobile application industry targeted at any business size. The management team includes industry pioneers from Silicon Valley and Fortune 500 companies working with and developing mobile, interactive and new media technologies.

Fooyo is a lean tech company based in Singapore. Our mission is to create useful and innovative products that have potential to make this world a better place. Fooyo believes that smart creatives can work together to impress and influence.