In this edition of our monthly Top 10 list for Android app developers, we're going to take a look at the developers that have managed to deliver the best results over and over again. Developing an enterprise app requires a serious time and monetary investment, and as such, it's important to know where to look if you want to get the highest quality app for your company.
When deciding on an operating system, you cannot go wrong with Android. In 2015, 81% of smartphone owners used an Android phone, and Android tablet shipments amounted to 62.36% of the global market share in 2013. So the user base is there, all you need is an app. This is where we come in. Check out this top 10 list of the best Android app developers for the month of October 2016.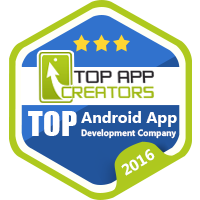 Here are our Top 10 Android Application Development Companies of October 2016:
QArea is one of Eastern Europe's leading software outsourcing providers. They support customers with a wide range of cutting-edge technological solutions. 15+ years' experience, and certified specialists.

Aumcore is a leading NYC Digital Marketing Agency offering 360° solutions from SEO and web design to social media and creative campaigns. With proven strategy driven by results, Aumcore excels in innovative direction, development and design generated for impactful impressions and business growth. Highly experienced in B2B and B2C business models in a spectrum of industries, Aumcore can help you achieve your business goals leveraging the latest technology innovations and creative expertise.

Erminesoft is a US-owned top mobile app design and development agency with 5+ years of experience in delivering solutions to enterprise and consumer-facing companies as well as startups. We take each project personally and create powerful mobile and web apps that go beyond expectations.

Smartum is a team of professional developers able to convert your amazing idea into a successful business. We provide high quality mobile and web application development services and we focus on cutting edge technologies and your busuness value.

Impekable is a full service UX UI digital studio that helps clients from startups to Fortune 1000 companies solve their mobile or web design needs.

N-iX is an Eastern European IT service provider with 500 expert software engineers onboard that power innovative technology businesses across North America, UK and Europe. Since 2002 we have formed strategic partnerships with a variety of global industry leaders including Canada's largest software company OpenText, infrastructure software provider Novell, one of Europe's fastest growing mobile companies Lebara and over 100 other medium and large-scale businesses.

Crystalnix helps companies to improve their customer experience and reduce service costs by creating consumer-centric and engaging mobile apps. This is proven by our apps resulting in thousands of 5-star reviews and followed organic product's market share growth. Many customers realise up to 4x product delivery speed-up. All of them highlight our proactive and ROI-focused approach in helping to identify their clients' needs and creating an engaging application.

Sigmapoint is a Cracow based software house specializing in developing mobile apps & backend systems for both B2B / Enterprise and startups. Our developers team is trusted by clients from Sweden, United States, Switzerland, Germany and United Kingdom.

MojoTech is a leader in web, mobile and IoT development. With offices in New York, Boulder, Washington, DC. and Providence, MojoTech leads clients of all sizes and maturities through full product development cycle – from ideation to realization.

Rubyroid Labs is a Software Development business, specializing in Web and Mobile RoR development, eCommerce and web design. We help our clients solve and achieve real life issues and reach new levels of performance with Internet Based Solutions.