In this edition of our monthly Top 10 list for Android app developers, we're going to take a look at the developers that have managed to deliver the best results over and over again. Developing an enterprise app requires a serious time and monetary investment, and as such, it's important to know where to look if you want to get the highest quality app for your company.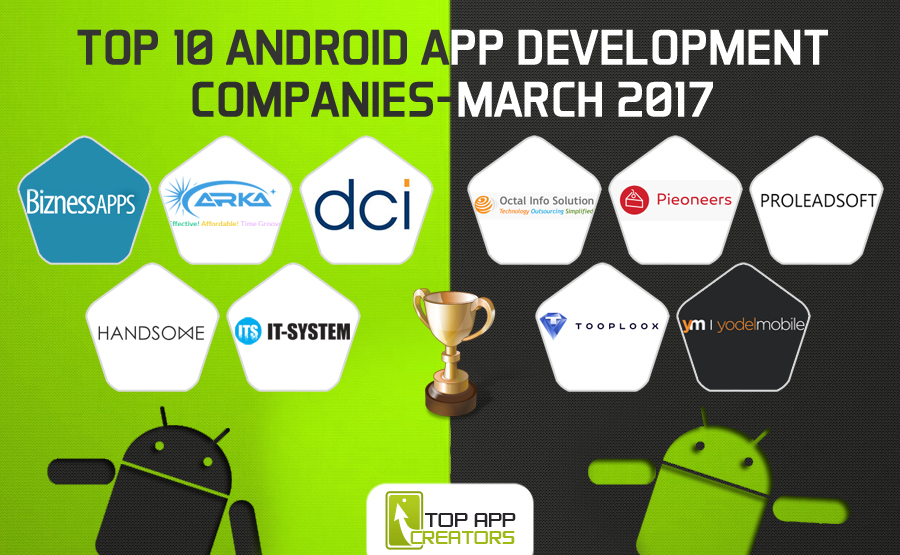 When deciding on an operating system, you cannot go wrong with Android. In 2015, 81% of smartphone owners used an Android phone, and Android tablet shipments amounted to 62.36% of the global market share in 2013. So the user base is there, all you need is an app. This is where we come in. Check out this top 10 list of the best Android app developers for the month of March 2017.
Here are our Top 10 Android Application Development Companies of March 2017:
ARKA Softwares emphasizes on client satisfaction with stability, robustness, quality work and honesty. We focus on commitment technology and quality assurance which help us to serve our client better. We have expert professionals of various latest technologies to provide best solutions of our client's complex problem.

Dot Com Infoway offers mobile/PDA application solutions that help organizations to communicate with their customers through custom mobile devices. Leveraging our industry intelligence and technological background, we design and build mobile applications that are customer-friendly and facilitate easy and quick data processing. We have developed customized iPhone based mobile application, Java based mobile application and Windows based mobile application solutions.

Bizness Apps is the easiest way for small and medium sized businesses to create a mobile application without any programming knowledge needed. We develop native iPhone, iPad, Android and Tablet apps as well HTML5 mobile websites.

IT-SYSTEM has its origins in 2001, for several years we participate in the creation of the Internet, of what it is and how it looks. For lat few years we help our clients to achieve their goals. We have extensive experience in programming mobile applications for Android and iOS (including iPhone, iPad and iPod). We are here to fulfill every challenge you give us.

Pro Lead Soft is full service creative digital agency having focuses on mobile app development, web apps and web development.

Octal Info Solution is the leading Web & Mobile App Development Company, catering every business need with the best technology solutions. We excel in driving our force towards achieving the goal of excellent development immersed with quality.

Tooploox started with just three passionate guys and grew to around sixty people in just over three years. So far we have worked with both Polish and international companies, ranging from small startups to big players in their respective markets. And we keep growing. We develop apps for both Android and iOS, as well as web back-ends and front-ends in various technologies, using the right tool for the job. Having UX/UI and data science problems? We can help with that too! Our goal is to be the best at what we do and we are super excited about building great products. Focus, simplicity and quality are what we deeply care about. But above else, we value people greatly.

Award-winning web & mobile development studio in Vancouver, BC that delivered 50+ successful web applications, iOS apps with seamless & responsive UI. The team works with established businesses and ambitious startups in the US and Canada and creates high-value web applications, iOS apps, Android apps reinforced with great user experience, interface and product strategy.

We created Handsome to focus on creating successful digital products for our clients. We partner with clients to create successful digital businesses, products and experiences by applying a set of core beliefs.

Yodel Mobile is a full-service global mobile marketing agency. We work alongside brands and apps with mobile at the heart of their business to acquire and build a meaningful relationship with customers in the mobile ecosystem. Yodel Mobile offers mobile advertising, mobile strategy, mobile CRM, App Store Optimization and mobile development across UK, European and global territories.