Today, smartphones have invaded every aspect of our life and increasingly people are relying on mobile apps for even the smallest of tasks. Be it ecommerce, fitness, beauty or games, having an app for your business is the only sure way of taking it to millions of users who throng app stores for new and exciting apps every day, and undeniably, choosing the android platform is a wise choice considering the higher penetration of android devices in the market.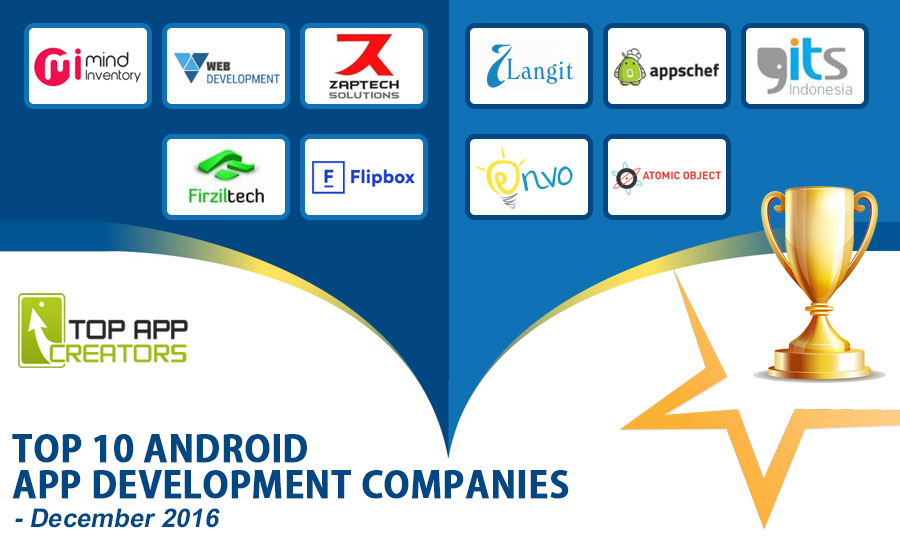 However, investing in an app will cost you oodles, which means it is necessary to find and partner with experts in the field, to ensure your money is well spent on an app that will work wonders for your business and one that users will love. To help you in your quest, see the list of top 10 Android App Development Companies prepared painstakingly by our team for your benefit.
Here are our Top 10 Android Application Development Agencies of December 2016:
Mindinvetory is a leading web and mobile app development company that focus on mobile application development and web development services that will improve the business sector. Mindinventory prides itself in a team of innovative developers who provide IT solutions for different kinds of organizations. The key areas that Mindiventory provides services include iPhone app development, iPad app development, Android app development, and web development.

Vwebdevelopment is a full-service website design and website development company in United States that aims to provide high quality web development solution on varied platforms such as PHP, ROR, CMS, e-commerce, iOS development, Android app development across the USA.

Zaptech Solutions adopts new-age trends and technological advancements in the field of mobile apps to make sure that clients get future-ready solutions. The company has a team of experienced mobile application developers who address the most root-level issues and develop apps that solve specific problems. Clients can be assured that they will get sustainable growth with the mobile apps developed by Zaptech Solutions.

7Langit is the developer of premium mobile applications in Indonesia. We are committed to create impressive, brilliant, and distinct mobile apps. From the onset, we have been fascinated in the development of mobile applications which may benefit smartphone's users and companies utilizing mobile applications to package their communication activities. As Indonesian mobile apps company, we proudly support "Being a Host in Our Own Country" campaign by creating mobile applications which fulfills international standard.In 7Langit, we build ideas, we shape dreams.

Appschef is a world class Android and iOS developer Indonesia striving to build something good everyday. Mobile app development is our biggest passion. Our clients have ranged from large enterprises to startups. We see ourselves like passionate chefs, happy to see our customers enjoy our deliverables.

GITS Indonesia has been active in IT Industry since 2010. Since then, we have developed a lot of applications, both initiative projects and client requests. We are familiar with desktop, website, and mobile programming, but we are currently focusing in mobile. As for mobile applications, many of our works are done for Android platform, but we are also skilled in iOS, Symbian, and Harmattan application development. We are eager to learn new platforms, and are currently exploring Windows Phone 7 and BlackBerry.

Firzil Tech focus on developing mobile applications, the real work we have many quality products. Products of mobile applications that we have developed is created based on creative ideas, and we will continue to develop mobile applications based on creative ideas that will create a mobile application that is useful for our lives. Our clients come from startups to large enterprises to support their business needs.

We are Flipbox, a mobile company located in Depok. We have intention to explore what's your business needs, your problems, and your ideas are. So we can expose the solutions into the reality that you can use to improve your business value and your business process.

Envo develops mobile apps for iPhone, iPad, and Android. We are developing Investguide finance apps, interactive books, productivity, entertainment, and corporate apps. Some of our apps have reached top paid apps on App Store, delivering user experiences and valuable contents.

Atomic Object creates applications for web, mobile, desktop, and devices. We help companies innovate and grow with custom software products that are beautiful, reliable, and easy to use. Our team of designers and developers can bring your idea to life — from planning to implementation. We'll help you mitigate risk, make smart trade-offs, and get the most value possible for your budget.