If you want to commission an enterprise app, Android is perfectly suited for internal purposes as well. Considering that Android devices are generally cheaper, you can equip your staff with Android smartphones and tablets, and then commission the development of a native app. However, both enterprise and customer-facing apps can require a considerable investment, which is why it's important to make sure that you only work with consultants that can deliver great results. This is why we've compiled this list of the top 10 android app development consultants for the month of May 2017.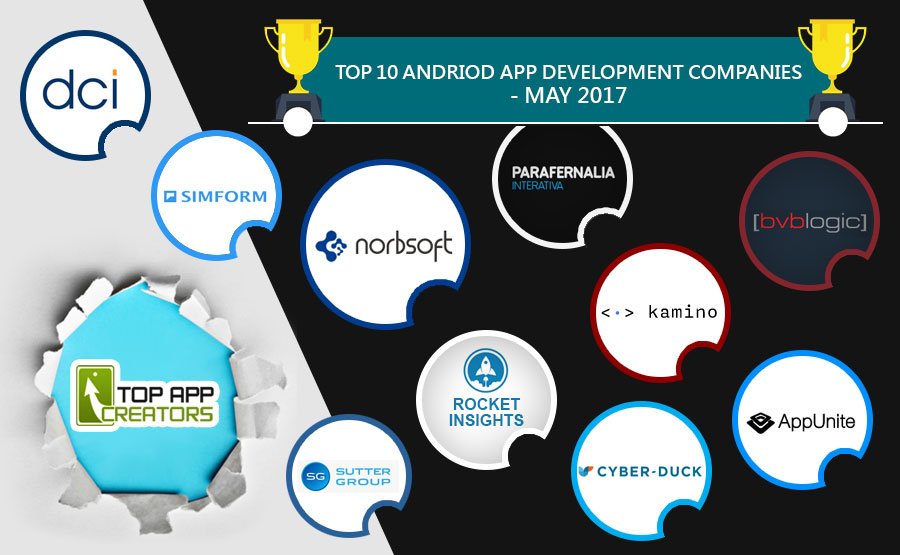 Here are our Top 10 Android App Development Consultants of May 2017:
Dot Com Infoway offers mobile/PDA application solutions that help organizations to communicate with their customers through custom mobile devices. Leveraging our industry intelligence and technological background, we design and build mobile applications that are customer-friendly and facilitate easy and quick data processing. We have developed customized iPhone based mobile application, Java based mobile application and Windows based mobile application solutions.

Simform LLC helps companies unlock new growth opportunities using Mobility, Internet of Things (IoT) and Business Intelligence. In the connected era, businesses can innovate faster than ever. By leveraging IoT, Mobility, and Business Intelligence we help our customers uncover breakthrough business results, create new revenue streams, and deliver better experiences.

Norbsoft designs and builds remarkable mobile applications for brands, media, advertisers and enterprises on all major mobile platforms and devices. Founded in 2003, we are a leading mobile application developer comprised of highly skilled professionals with expertise in mobile strategy, user experience design and custom application development. To date we have created over two hundred innovative and compelling mobile applications.

We are a team of strategists, designers, and developers creating phenomenal digital experiences that grow our clients' and partners' business online. We develop and deliver mobile apps, web apps, and APIs which work together to provide robust digital services.

Rocket Insights is a full-service development firm, focused on creating beautiful apps for Android, iOS, IOT and the Web.

Sutter Group is a creative agency that designs and develops custom digital marketing solutions proven to increase brand consistency and retention for national companies and associations.

We are a mobile product partner, that can help you maximize your potential in the vast ecosystem behind the screens of our smallest, but most used devices.

As a full service agency, we have all the digital expertise you need, under one roof. Our projects are fuelled by a unique blend of growth-oriented creativity, technology, and usability that achieves results.

[bvblogic] is Ukrainian-Polish software development company. We began our operations in 2008 from the small group of developers. Currently, we have evolved into one of the regional leaders serving more than 500 clients all over the world. We have already successfully implemented more than 800 projects in various industries and technological areas.

AppUnite is a software development company that specializes in creating highly-usable mobile applications for Android, iOS and web apps in Phoenix Framework and Rails. Our partners range from early stage startups to internationally recognized brands. We use the latest and the greatest technology in combination with an optimized agile approach to create applications that are being used by millions. We help our partners perfect and realize their visions of digital products!