Having an ace app is the ultimate determinant of a business's success in today's mobile driven world. Going by the figures, more than few thousand apps are added to the Google play store every single month and creating an app that is distinct and can incite as well as retain the interest of users is paramount for every business owner. In this milieu of apps and as many app developers claiming to be the best in the market, it can be tough for business owners to identify the right partner for creating the app for their business.
Top App Creators understands the dilemma faced by its users in choosing the right service provider and has curated the list of top 10 Android App Development Companies after comparing them against stringent parameters. We are sure our users will find this list very handy.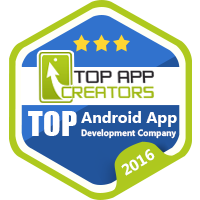 Here are our Top 10 Android App Development Companies of September 2016:
tmob is a mobile-focused technology company designing and developing smart mobile solutions and services for companies since 2009.

SmartLogic builds the web and mobile software products our clients take to market. We continuously engineer our development process to be low stress. We work with both funded startups and established enterprises. Strictly speaking we're technology-agnostic; however, we specialize in RoR, iOS, Android, HTML5, backbone, ember, React, and node.

MindSea creates mobile apps to grow your business and delight your customers. Our creative team has deep expertise in mobile design, development, integration, and project delivery for iPhone, iPad, Android, and Blackberry platforms.

Red Foundry is a custom mobile app development company. We help our clients 'Mobilize Their Business' by creating award-winning native apps for iOS and Android.

App Partner is a Brooklyn-based mobile app developer specializing in the design, development and deployment of apps for iOS and Android.

DeveloperTown helps founders turn their ideas into a business. They understand the challenges of an early-stage venture, know how to turn those risks into benefits, and they teach founders what it takes to get your product to the market faster, and on a stronger technology foundation.

Brightec are a web and application development agency based in Brighton, UK.We provide radical solutions to data integration helping our clients utilise their data, by providing informed consultation and relevant solutions.

Provectus is a Palo Alto-based premium software development service provider with delivery centers in Eastern Europe. We focus on staff augmentation, providing software delivery and product innovation in UI/UX design, mobile, web, wearables, and connected devices.

Since 2007, Stuzo has been helping to accelerate forward-leaning companies through digital product innovation. We define, design, and deliver highly useful and usable digital products for Mobile, IoT, Web, Augmented & Virtual Reality, and AI bots.

The Distance App Developers is a creative digital agency, specialising in mobile app development for iOS, Android and Windows smart phones.